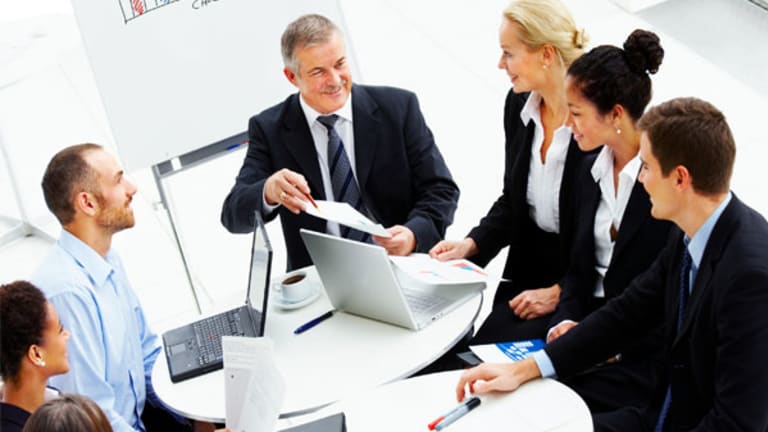 The Case for Faster Chinese Growth in 2012
Chinese officials appear to be teeing up an economic re-acceleration.
The following commentary comes from an independent investor or market observer as part of TheStreet's guest contributor program, which is separate from the company's news coverage.
NEW YORK (
) -- China's slower economic growth is just one of many things weighing on investors' minds in 2011, and some posit a Chinese hard landing is in store in 2012. However, our analysis finds a re-acceleration far likelier.
Taking just a surface look at November economic data, hard-landing fears may seem reasonable. Industrial production growth slowed to its lowest rate in two years, headline and wholesale inflation fell to 4.2% and 2.7% year over year (low by emerging markets standards), loan growth continued cooling and money supply growth fell to 2008 levels. Retail sales, beating expectations at 17.3% year over year, seemed the lone bright spot.
Yet any analysis of Chinese data must account for a unique variable: its government. China's economy, despite market-oriented reforms over the past 30 years, remains largely centrally planned. Officials tightly control money supply (primarily through loan quotas), and they've been known to speed or slow growth as needed to support their political aims. For example, the Communist party ushers in new leadership every five years with party-wide elections (such as they are). To minimize the risk of another Tiananmen-style uprising, they want to pacify citizens as much as possible during the planned transition. One relatively easy way to keep folks happy is a robust economy, so officials have historically wanted to juice growth during an "election" year, which necessitates an engineered slowdown in the year prior.
Follow
TheStreet
on
and become a fan on
Recall that 2012 is another election year, and it becomes clear the government was likely using its available throttles to slow the economy in 2011. Exhibit 1 plots money supply, bank lending and inflation. Inflation typically lags money supply and lending growth by roughly six months. Lending peaked in late 2009, coinciding with reset loan quotas. Lending growth has slowed dramatically since then, and inflation has rolled over sharply in sympathy. It appears the government tightened lending to engineer an inflation slowdown, which should allow officials to loosen in 2012 without causing problematic price pressures.
Exhibit 1: Chinese Money Supply, Loan Growth and Inflation
Source: Thomson Reuters
In recent weeks, we've seen several signs of forthcoming monetary and fiscal loosening. Premier Wen Jiabao directed banks to increase lending to small-to-medium enterprises in October, and local governments were permitted to extend maturities on bad loans. Restrictions on municipal bond issuance were also relaxed, allowing regional governments to borrow to finance infrastructure investments. Income taxes were also cut in September. While power prices were raised for 2012, this should encourage production and reduce energy rationing. And of course bank reserve requirements were cut in December.
But what of loan quotas? These are typically set at China's annual closed-door economic conference, which wrapped up Wednesday. Officials didn't announce the new quotas (they typically don't, though an unofficial leak seems likely), but an English translation of their official statement (published by the state-run Xinhua news agency) said they will "guarantee steady growth of the economy." Officials also said they'll "use various monetary tools to keep a reasonable growth in money and credit." A mention of plans to "structurally lower taxes" suggests tax cuts will be part of the government's approach.
In our view, this sets the stage for China to reaccelerate in 2012, right in line with historical patterns -- a potential tailwind for Chinese equities and perhaps an underappreciated positive for global markets.
This commentary comes from an independent investor or market observer as part of TheStreet guest contributor program. The views expressed are those of the author and do not necessarily represent the views of TheStreet or its management.