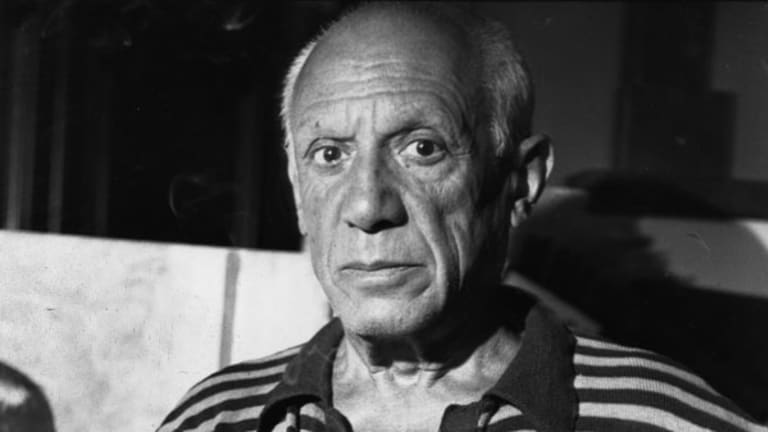 The Business of Being an Artist
To reach an audience, the artist has to put the work out there as a product, just like every company.
NEW YORK (
) -- I love getting thoughtful emails from readers, the ones where we disagree and still have a reasonable discussion. I learn from those, even if we can't convince each other.
A couple of weeks ago a reader took issue with
. I wish I could replay the whole exchange, but the topics we covered were pretty wide-ranging and I don't want to open all of them here.
One point that came up, though, I think bears more discussion. The reader noted that Bowie is "one of the most brilliant marketers in the history of rock 'n' roll," adding, "He is all about the money and he goes with 'flow of the times'."
So ... is that a bad thing? I'm not being facetious (well, maybe slightly). The reader has a great point. As a culture, we view artistic integrity as inversely proportional to marketing.
Good art sells itself. That's the assumption. The pure artist simply opens his mouth and sings, devotes himself entirely to his craft. It is the wayward, mediocre artist who concerns himself with packaging, pleasing his fans, branding.
>>>Read "Michelle Shocked: One Stray Shell Is All it Takes" on TheStreet
That assessment contains a flaw that is probably obvious to most of
TheStreet's
business-savvy readers: Nothing sells itself. To reach an audience, the artist has to put the work out there as a product; somehow, he has to generate interest in his art.
As I thought about it more, though, it seems to me this assumption about art and marketing goes deeper than that.
If we look at a successful company and its products --
Apple
(AAPL) - Get Free Report
, for instance -- we find marketing at work not just at the final stage, but at
every
stage. In the community a company builds around itself of vendors, suppliers and consultants, in the design process behind any product, even in the hiring of employees -- at all these points, important aspects of the company's identity have to be communicated and cultivated.
For a company's products to have value for a consumer, that company has to have the tools to create that value, has to have a brand that represents that value, has to have people that represent the company's ideals and has to have products that naturally represent the goal of that overall vision.
And
the company has to be able to make money.
That is the art of running a business.
Reversing that, I submit the business of being an artist requires exactly that same type of consistency and focus. The business of being an artist is an art in itself.
The example of David Bowie may seem overly obvious. Bowie tailored his music to fit each era, embracing styles from folk to glam rock to soul to electronic music and "drum and bass." From Ziggy Stardust to the Thin White Duke to the strung-out Berliner artiste, he paraded ever-changing personae. At various points, he wore dresses, zoot suits, sci-fi clown costumes, an 18th Century-looking jacket made out of the British flag and a businessman's suit and tie. More recently, his attire has resolved into a casual tailored look -- a kind of "Real David Bowie" persona, the actor playing himself.
But all of that seemed to grow spontaneously out of the music he was making, with an intended audience in mind. As a musician he remained his own man, pushing boundaries, diving deep into poetry, saying only what he wanted said, performing the way he wanted it performed. The ability to frame his art, represent it well to public, made his career particularly noteworthy and helped his music reach a wider audience. Every aspect of Bowie is part of his art and part of his business.
So that's Bowie. As I say, kind of obvious.
>>>Read "Lululemon's Reaction to Yoga Pants Mishap: Brilliant Marketing" on TheStreet
In my response to the reader's email I drew a comparison from the visual art world to better illustrate the point: Picasso and Van Gogh. The two artists weren't that far apart historically or geographically -- Picasso was a child when Van Gogh died and both spent formative years in France. But judging from their careers they may as well have been from different planets.
Pablo Picasso was a master of self-definition. As an artist, viewed as synonymous with his art by the public, self-definition was marketing. His artistic style changed radically through the years, sometimes turning on a dime to allow him to do exactly as he pleased and to take advantage of the venues and audiences available to him.
He cultivated relationships and a mercurial public persona that made him appear a celebrity even before he was a celebrity. He charmed the literati, the art dealers, the wealthy buyers. He schmoozed with the best of them, or ranted and shook his fist -- whatever it took to project the image of himself that he felt necessary at that moment.
It worked. He and his art were successful beyond reason, beyond any objective measure of quality. Perhaps that personality would have been successful in any field that involved maneuvering through the public, creating an aura for itself.
For that same reason, Vincent Van Gogh failed utterly and miserably. He had no skill for self-promotion, no gift for the art of business. He had few friends, and a dark psychology that strained the few relationships he maintained.
He was devoted to his art and his vision was wonderful and radical. But Van Gogh never caught the public imagination, never was able to build an audience. Picasso sold everything. Van Gogh sold one painting in his lifetime. It's a miracle his work was preserved after his death, a miracle that he is remembered for the great artist he truly was.
Do we value Van Gogh more highly because he never considered his audience, focused on his art and died miserably? Perhaps. His misery had the unintended marketing consequence of allowing later generations to romanticize his suffering. Maybe we love him more because he fits our preconception of the tormented artist.
Do we value Picasso any less because he was a cad and deliberately successful? Clearly, no. There are price tags on Picasso's work that prove the point.
Here's my conclusion: One important part of being an artist is
surviving to make art
and yet another part is
reaching your audience
-- preferably while you're alive. Misery does not add value. Carefully considered, marketing is not the enemy of art.
-- Written by Carlton Wilkinson in Asbury Park, N.J.