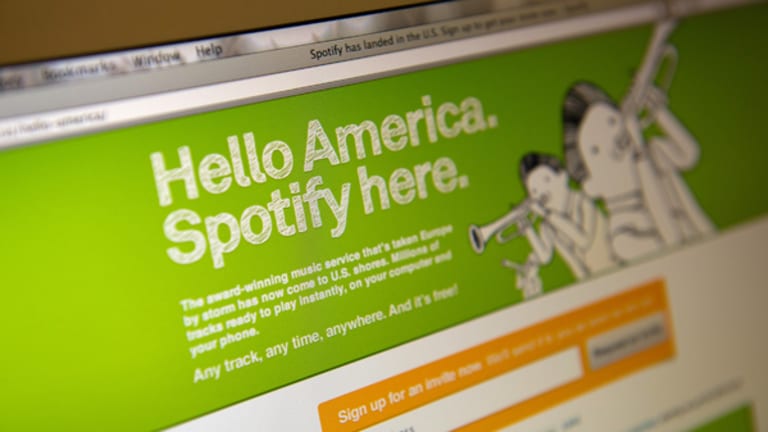 Publish date:
The Bubble Around Spotify
A venture-capital bubble is surrounding this streaming music service.
A venture-capital bubble is surrounding this streaming music service.
NEW YORK (TheStreet) -- Spotify's latest venture-capital injection of $250 million values the streaming music service at more than $4 billion, which is leading the Twitterati to ask whether there might be a social bubble around the company, one that might be about to pop.
Maybe. Or maybe what we have is a venture-capital bubble instead.
Fact is, this isn't a "round" of venture capital in the traditional sense, with a bunch of firms getting together and taking pieces of the deal. This is one firm, Technology Crossover Ventures, paying $250 million for what amounts to 1/16th of the target company.
Why would TCV do this?
One reason might be that it's awash in money it needs to invest. Its current portfolio includes such companies as Netflix (NFLX) - Get Report, Facebook (FB) - Get Report, Expedia (EXPE) - Get Report, and Groupon (GRPN) - Get Report. Past investments include CBS' (CBS) - Get Report CNET, Electronic Arts (EA) - Get Report, and (somewhat to my surprise) TheStreet.com (TSC) - Get Report.
There are lots of winners here. Big winners. We think of venture capitalists as making 10 investments, hoping maybe three will break even and one will be a 10-1 win. TCV's batting average looks to be considerably better than that.
TCV is not alone. The success of Facebook has brought a new level of wealth to Silicon Valley. Thanks to Facebook Jim Breyer of Accel Partners is now the hottest venture capitalist out there, and he's in Spotify. He's said to be worth $1.5 billion. That's right up there with John Doerr, long the valley's top dog, who is worth $2.9 billion.
Yet Accel is only the 16th largest venture-capital firm, according to VentureBeat, and Doerr's Kleiner Perkins is no longer in the top 20. Neither is TCV. Getting to the top of this industry now means competing directly with Intel (INTC) - Get Report and Google (GOOG) - Get Report for deals.
So there is a huge amount of money chasing after the next Facebook and the next Twitter (TWTR) - Get Report. TCV's $250 million binge on Spotify merely confirms the venture-capital bubble, and its own ambition to play with the big boys.
What is TCV getting for its money, beyond a seat at the grown-up table?
Music Ally estimates Spotify had revenue last year of $577 million, double 2011's figure, but lost almost $78 million. It had an estimated 24 million users, 6 million of them paying customers, and was drawing big-time advertisers such as McDonald's (MCD) - Get Report to the service.
To a user, Spotify's main screen looks much like the one for Apple (AAPL) - Get Report iTunes, only festooned with ads until you pay. The hook is that anyone can create their own lists of tunes and share them, competing for followers as on Twitter. As a new user, I found dozens of old friends I hadn't seen in years, and quickly learned what they're listening to, letting me share their experience. Even the President has a Spotify playlist to share. 
Our Rocco Pendola is practically obsessed with whether Spotify will fail or save the whole music industry.
The company's big problem is that while it's paying big money to draw a crowd, that's leaving it very little money with which to pay artists. The company acquires music through major labels, a model that favors established artists over new music.
Finnish pop artist Anssi Kela complains this means he made around $3,100 for 1 million plays of his biggest hit in a decade, a ditty called "Levoton tytto." 
Numbers like that have caused some established artists, such as former Radiohead front man Thom Yorke, to pull their new projects from the service. 
Cellist Zoe Keating shared her streaming revenue as a Google Doc which did a great job of demonstrating Spotify's dominance of the sector. She got more streaming plays through Spotify in one month than from Amazon (AMZN) - Get Report and Apple iTunes in six, combined.
So there are opportunities and risks here. Spotify is a proven success, but its revenue is under threat from the people who make the service possible. It's not going to be an easy business problem to handle.
But for as long as the venture-capital bubble lasts, it's going to get plenty of help.

At the time of publication the author owned stock in Apple and Google.
This article was written by an independent contributor, separate from TheStreet's regular news coverage.