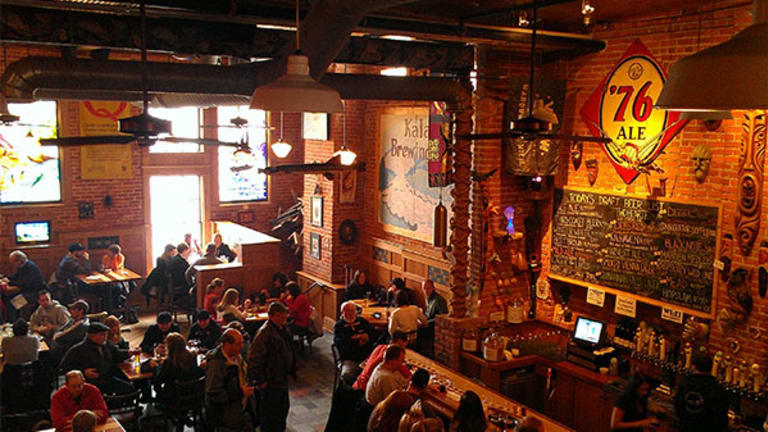 The Brewpub Is Craft Beer's Golden Goose
More than half of new craft beer breweries are restaurant-based brewpubs, which is a great thing for a beer industry running out of shelf space and beer lovers who like to drink locally and take beer road trips.
PORTLAND, Ore. (TheStreet) -- The brewpub is the essential core of the U.S. brewing industry. Considering it a marketing ploy or the weak spot of a "beer bubble" misses the entire point of small and "craft" brewing.
While brewpubs were once a fixture throughout the early United States, Prohibition pretty much wiped them off the map. It wasn't until Scottish brewer Bert Grant opened his Grant's Brewery Pub in Yakima, Wash. in 1982 that the burger-and-flight-of-beers brewpubs that we know today came into existence. At the end of 2013, the Brewers Association craft beer industry group noted that of the near-record 2,722 breweries in the U.S., more than 1,200 of them were brewpubs. According to the Beer Institute industry lobbying group, more than half of the 948 permits for new breweries issued in 2013 went to brewpubs. This is a great thing, especially for local businesses, local tourist economies and locals just looking for a better place to drink a beer and eat dinner.
Back in 2012, my wife and I made our way from Boston to Portland through a series of stops that had great brewpubs at each. Our trip took us past Empire Brewing in Syracuse, N.Y. (which was established during my time at Syracuse University in the mid-'90s); Fat Head's in Cleveland just outside our stop in Sandusky; Revolution Brewing in Chicago; Monks House of Ale Repute in Sioux Falls, S.D.; Firehouse Brewing Company in Rapid City, S.D. (nice Gorgonzola Ale soup); Laht Neppur in Walla Walla, Wash.; Maritime Pacific Brewing's Jolly Roger Taproom in Seattle; and then home to dozens of brewpubs in Portland alone. We would have stopped at one in Bozeman, Mont., but mixing your brewery and restaurant is a big no-no there.
At each spot, the brewpubs were a huge source of pride. Hotel concierges love pointing them out, the brewers themselves love showing off what their town can make and the towns seem to love having them as anchors to downtown dining and entertainment districts. The residual benefits seem to make them great and desired neighbors.
Granted, there are naysayers who remember empty tanks in vacant storefronts after the initial microbrew bust of the '90s and consider brewpubs the devil incarnate. The problem wasn't the pubs themselves, but pub owners who weren't content with flipping burgers and brewing small batches, but had no real plan for packaging, distributing and selling their beer on a broader scale. They were owned by folks who either had no idea how to run a restaurant, no idea how to brew and sell beer or some terrible combination of both.
Today's brewers have largely mitigated those first and third scenarios by hiring restaurant managers and chefs who know what they're doing and can create menus adequate enough not to detract from the beer. In talking to the folks behind new brewpubs Ecliptic Brewing in Portland and Pfriem Family Brewing in Hood River, Ore., last year, experience in other brewpubs and willingness to spend time and money on both menu and management were key components for the success of each.
It also helped that Ecliptic's John Harris and Pfriem's Josh Pfriem had a wealth of experience in the brewing industry and could already produce great beer. Without the beer to back it up, just about any brewing operation -- brewpub or otherwise -- is going to have a tough time sticking around for very long.
If you're confident in your beer, then a brewpub is perhaps the best way to get it out there. A brewpub owner doesn't have to pay for packaging, doesn't have to worry about distribution agreements and doesn't have to buy up a lot of space or extra hands for their brewing operations.
It's only when a brewpub owner dreams of becoming a "Brewer" that things get complicated. A few years back, The Washington Post ran a great piece about brewpubs with ambitions that outgrew their facilities and the perils associated with expansion. They noted the the feel-good story of Oskar Blues, which expanded from a brewpub in tiny Lyons, Colo., to a huge operation in both Colorado and Brevard, N.C., with multiple facilities, skyrocketing production and near-national distribution and recognition.
But that's just one side of the story. The other involves small breweries that suddenly find their beers on a rack with those of dozens or hundreds of other brewers and competing for distribution and dollars with all of them. The Beer Institute notes that there are 3,700 permitted breweries in the U.S. this year, and there's a very real concern about whether or not there's room for all of them in the current market.
There is, but maybe not on the shelves, barroom taps or in the beer aisles. There is, however, plenty of room for brewpubs on a local level. When I left Boston, there was exactly one brewpub in Boston city proper: The Beer Works chain. While perfectly serviceable, Beer Works was serving a huge city and an even larger metro area that even outposts like Cambridge Brewing Company and the John Harvard's chain weren't quite reaching. When Trillium Brewing's new brewpub opened in Boston's Fort Point neighborhood in 2012, it became immediately apparent that the city had more than enough room for both it and Harpoon Brewing's new beer hall just down the road.
That's just how it works. When Wynkoop Brewing Company's brewpub opened in Denver in 1988, it not only helped revitalize that city's LoDo district, but paved the way for Oskar Blues and other Colorado brewpubs. One of that brewery's cofounders, John Hickelooper, is now Colorado's governor. Mendocino Brewing Co.'s brewpub in Hopland, Calif., was only the second in the country when it opened in 1983, but it inspired Buffalo Bill's in Hayward and Triple Rock in Berkeley to follow suit in 1984 and 1986, respectively. Those pioneering brewpubs laid the ground for the Bear Republic, Russian River, Pizza Port, 21st Amendment and other great California brewpubs that followed.
More brewpubs are a welcome addition for both U.S. beer industry and its local and traveling beer lovers. It's only when that brewpub is viewed as a formality in the quest for every-increasing volume and profit that they turn from brewing oases to a bursting beer bubble's first belch.
-- Written by Jason Notte in Portland, Ore.
>To contact the writer of this article, click here: Jason Notte.
>To follow the writer on Twitter, go to http://twitter.com/notteham.
>To submit a news tip, send an email to: tips@thestreet.com.
RELATED STORIES:
>>5 Craft Brewers Who Need A Super Bowl Ad
>>Wait, We Weren't Finished With Dark Holiday Beers Yet!
>>Some Craft Beer Resolutions for 2014
Jason Notte is a reporter for TheStreet. His writing has appeared in The New York Times, The Huffington Post, Esquire.com, Time Out New York, the Boston Herald, the Boston Phoenix, the Metro newspaper and the Colorado Springs Independent. He previously served as the political and global affairs editor for Metro U.S., layout editor for Boston Now, assistant news editor for the Herald News of West Paterson, N.J., editor of Go Out! Magazine in Hoboken, N.J., and copy editor and lifestyle editor at the Jersey Journal in Jersey City, N.J.