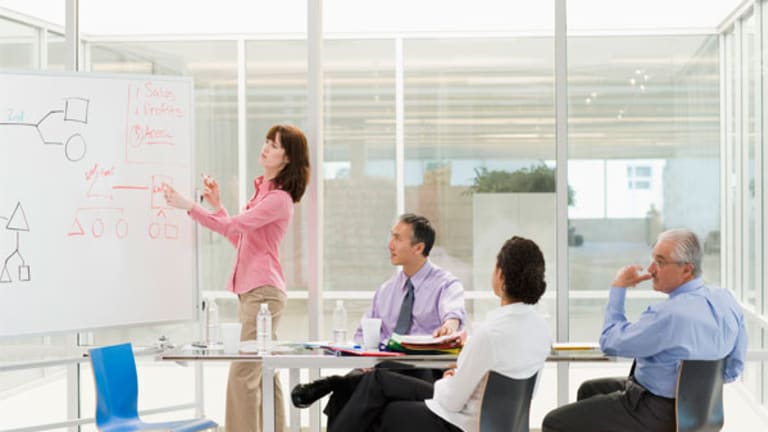 The Boom in Solar Real Estate
Panel makers hope to survive the current shake-out with utility-sized deals supported by governments eager to create jobs.
NEW YORK (TheStreet) -- An entrepreneur friend called me Thursday, all excited.
He had found a large plot of land near the intersection of two interstate highways, and he had a plan to develop it. As a solar farm.
Despite low natural gas prices, solar real estate is hot right now. Developers arrange long-term leases on big plots of land, buy and install solar panels on the land, then sell the project's power through a Power Purchase Agreement, or PPA, to a local utility with an eye to then selling the whole project.
This is the "buy side" of the solar business, and it's where the profits are. Whether the power is sold by a power company through "green energy certificates" or through a state program of "renewable energy credits" as in New Jersey, which
the Chicago Tribune reports just renewed its program
, someone has to pay the difference between the capitalized cost of the solar plant and the current grid price of electricity.
What may surprise you is how many people are willing to do just that.
Sometimes, as with stores such as
Kohl's
(KSS) - Get Free Report
and
Starbucks
(SBUX) - Get Free Report
, the motivation is to tell consumers they are buying "green" power. Sometimes it's to meet a state government's goal for renewable power generation.
However it's done, it's the chief survival strategy of panel makers right now.
OCI Solar Power
, a Korean company, this week signed a deal with a San Antonio utility for 400 MW of power, promising 800 jobs
according to Cleantechnica.com
, from making and installing the equipment.
Despite this, not every panel maker is going to survive.
Amonix
, which made "concentrated solar power" systems, which are mirrors that angle the heat of the sun toward a central power generation point, closed its operations in Las Vegas this month,
after using up $21.5 million in federal tax credits.
Abound Solar
of Colorado closed this month despite a $400 million federal loan guarantee, saying it could not produce panels profitably at current prices, again
But failures in the "sell" side of the market seem to have only accelerated government efforts to build the "buy" side.
The federal government has given its approval to the solar gold rush with a document identifying 285,000 acres of public land in six western states considered ripe for solar development,
The document, when published next month, should make permitting such projects easier.
Developers can get one-stop shopping for such plants through so-called "engineering, procurement and construction" or EPC companies like
Swinerton Renewable Energy
, part of a larger San Francisco building company.
In California,
PG&E
it expects solar will be 40% of its renewable energy mix by 2020, as developers compete avidly for projects.
The solar real estate boom is separate from the growth in small-scale solar projects, some of which use the same incentives. If you put panels on your house, you are the primary buyer of the power. If you put them in a field, you need a utility to buy the power.
It becomes a game of contacts and contracts. Can you get local politicians to permit the project, to zone the land and greenlight the development? Can you get a utility to buy the power at a price that lets the numbers work? Can you find a reliable construction manager who will bring the project in on time and on budget? Can you turn around the project -- sell it on -- and get your money out?
My friend says he can. Lots of folks say they can. And until we get "crossover," with panel power truly competitive with fossil fuel energy costs, five or more years down the road according to
, the industry will be betting its life on such deals.
At the time of publication, the author has no investments in the companies mentioned in this story.
.
This article is commentary by an independent contributor, separate from TheStreet's regular news coverage.