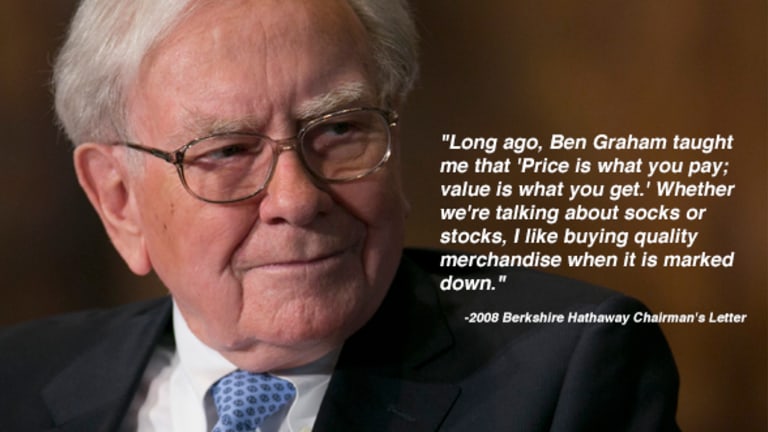 The Berkshire Hathaway Bear Roars Again: Doug Kass Challenges Warren Buffett
Betting against Buffett gets one noticed. Over the years, TheStreet's Doug Kass has provided smart counterpoints to the thoughts of legendary investor Warren Buffett.
Often one needs to take an extreme or unpopular position to garner attention in the crowded 24/7 financial media space. Nouriel Roubini and Marc Faber routinely compete for the moniker "Dr. Doom." Faber even publishes a newsletter called "Gloom, Boom & Doom Report." It seems that one can make a handsome living selling pessimism.
TheStreet's Doug Kass has garnered a reputation as Buffett's bear on Berkshire Hathaway (BRK.A) (BRK.B) . While many found great optimism in Buffett's recent annual letter, not surprisingly, Kass has penned a piece entitled "Buffett's Letter Shows Berkshire Hathaway Faces Many Headwinds."
Kass questions Berkshire and Buffett on many fronts:
He contends that as Berkshire gets larger and larger, it is more difficult to outperform. To an extent, I agree with him on that point. However, Berkshire's size and reputation as a "hands off" manager allows it to get deals not offered to other firms.
Kass also points out that float diminishes in value when rates are near zero. While certainly on point, I am willing to wager that rates won't be near zero for the remainder of my investment lifetime. I don't believe that near-zero interest rates are the "new normal." Too often we are subject to recency bias, or overweighting the recent past. I believe that having a significant float will be very advantageous in the not-too-distant future. In Berkshire's case, the cost of float is actually less than zero based on consistent underwriting profits (at least over the last decade or so). Even in a very low interest environment, Berkshire has an economic advantage.
Kass refers to Todd Combes, Ted Weschler and 3G as a "less accomplished group of capital allocators" than Buffett or Charlie Munger. If Buffett and Munger are Ruth and Gehrig, then Combs, Weschler and 3G are Pujols, Trout and Harper. It is certainly tough to compare greats from different eras, but despite what Oscar Robinson believes, the NBA player Stephen Curry would be a star shooter in any era. In addition, these new capital allocators will get better studying at the feet of the masters.
And finally, I take issue with Kass in his belief that Buffett concentrates on "very old economy" firms like Coca Cola, IBM, Deere and Wal-Mart, among others. Many of these investments, he says, are "breached moats" that are not well suited for the future and a changing economy. All I have to say is, the four most dangerous words in investing is, "This time is different." 
In the final issue for 1999, Barron's columnist Andrew Bary posed the question, "What's wrong, Warren?," stating that the market had passed Buffett by and that Berkshire's business model was no longer relevant. Over the next three years, the company outperformed the S&P 500 by an astounding 24.1% annually. Not 24% over three years, but 24% annually.
Ironically, this week the same Andrew Bary wrote a Barron's article explaining why Berkshire Hathaway is currently undervalued.
data by
data by
This article is commentary by an independent contributor. Robert R. Johnson is president and CEO of the American College of Financial Services. At the time of publication, the author held positions in Berkshire Hathaway.