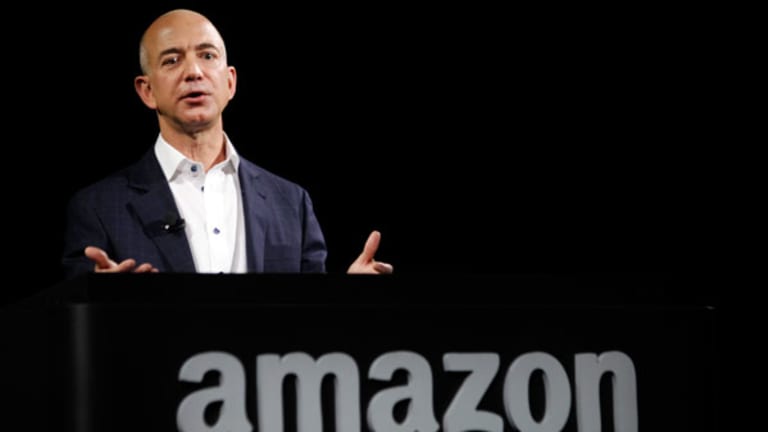 Publish date:
The Amazon Juggernaut Is Only Going to Pick Up Speed
Consumer confidence recently took a dip, but Amazon will continue its long-term path for growth and market dominance.
Consumer confidence recently took a dip, but Amazon will continue its long-term path for growth and market dominance.
Amazon.com (AMZN) - Get Report founder and CEO Jeff Bezos is a man the financial press rightfully admires: He's a master strategist, astute planner and entrepreneurial visionary.
His e-commerce giant is hitting new areas such as fast-fashion apparel and on-demand delivery, while strengthening its presence in regional markets of the future including India. It's also building a global logistics network codenamed "Dragon Boat" that should reap huge efficiencies and boost margins.
Recent reports that consumer confidence is lagging should have little bearing on this unstoppable e-commerce juggernaut. We explain why Amazon stock belongs in your long-term wealth-building portfolio.
The more than 17% drop this year in the company's stock price gives you the perfect window to widen your exposure in this turbo-charged opportunity, in what could be tomorrow'sWal-Mart. Amazon is well suited for those with an eye toward long-term retirement investing. And yes, this company has endless shelf space.
Twenty years ago, Bezos was driving deliveries to the post office himself and hoping that his little company might one day afford a forklift.
Fast forward to 2015 and you have a story that's only improving: Amazon clocked a net sales growth of 20% and touched the $107 billion annual revenue mark. Operating income was $2.2 billion, compared with operating income of $178 million in 2014. Net income was $596 million, or $1.25 a diluted share, compared with a loss of $241 million in 2014. 
This year should continue in the same vein. Analysts project Amazon to clock nearly $130 billion in revenues by the time the year ends in December 2016, which would mean 21.3% topline growth, and a net income a share of $4.53 (nearly three-fold the $1.25 in 2015).
E-commerce is Amazon's core. That said, the company is also entering new and explosive growth area. It's planning a strong push into fast-fashion apparel. Bezos clearly wants to remove the middlemen and is already selling private labels successfully. Apparel has always been a key management area of focus for Amazon, but the scale and volume that Amazon brings into the equation could make it the number one apparel retailer in the U.S. by 2017, topping Macy's.
AMZN data by YCharts
Additionally, Amazon's on-demand delivery gambit has tremendous possibility. This should help it cut costs and trim dependence on external factors, which sometimes hits the Amazon service experience. A tight leash on shipping costs (they ballooned to $11.5 billion last year) via its on-demand delivery plan is sure to help the company eke out better margins.
What many investors forget is that the company's cloud business (Amazon Web Services, or AWS) is a strong avenue for growth. Big businesses are all cozying up to Amazon to reap the benefits of public cloud computing synergies.
Legacy telecoms such as Verizon Communications and CenturyLink have been dipping into cloud computing and, as you may have guessed, are struggling by far.
Amazon on the other hand hasn't faced any of those headaches, with its cloud business on track to become a $10 billion a year segment. AWS, as a standalone business, is probably worth more thanHewlett-Packard.
Amazon has been building on its strengths, while at the same time lunging forward into newer areas for growth. The company's hawk-eyed focus on margins is exemplary. In 2015, gross margins in large part boosted by AWS rose to nearly 32% from less than 30% in 2014.
The company's finances are also in stellar shape. Amazon ended the fourth quarter with $19.81 billion in cash and $17.55 billion in total debt, making it a net-debt free company.
Next time this year, shares should be trading at at least $750 apiece. That's a $4,000 profit from just a small investment of $10,000 in Amazon shares if you buy now.
Buying Amazon stock now is the right move. Are you making the right investment moves for your retirement, or are you blowing it by making all-too-common money mistakes? There are crucial steps that you should be taking now, to build wealth over the long haul. To find out whether you'll have enough money in your later years, download our free report: Your Ultimate Retirement Guide.
This article is commentary by an independent contributor. At the time of publication, the author held no positions in the stocks mentioned.