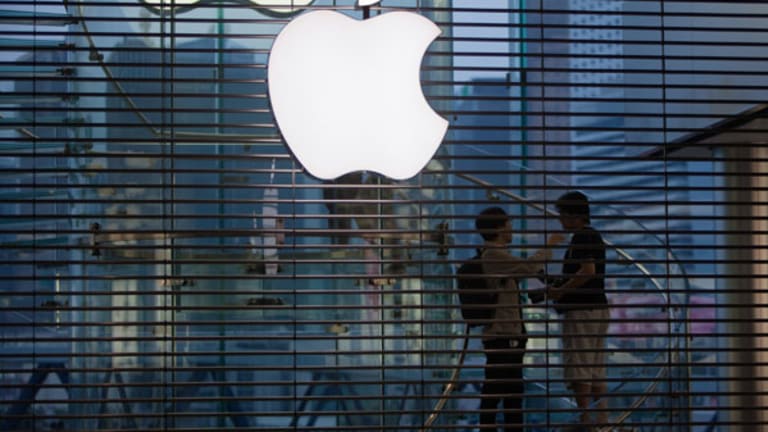 The Absolute Worst Advice on AAPL Right Now
Life in an alternate reality can make you emotional, but don't dig your heels in on AAPL.
NEW YORK (TheStreet) -- First, I'm told cost basis doesn't matter.
Next,
Netflix (NFLX) - Get Netflix, Inc. Report soars 40% on Reed Hastings' latest smoke and mirrors show
.
Then I watch
Apple
(AAPL) - Get Apple Inc. Report
crash 10% on
one of the best earnings reports in the history of the world
.
All of this, only to wake up to
the following Tweet
from the Bob Costas of our time, the great Carl Quintanilla of
CNBC
:
Am I living in one of the alternate realities I listen to Elliott Smith sing about or the ones I read about in a Haruki Murakami or William Gibson novel?
Before I continue, I must do something so many writers fail to do before they go on a rant. Two things actually: 1) I just warned you I'm going on a rant; and 2) I must provide context around those 140 characters.
David Rolfe, quoted by Carl in the Tweet, is the CIO at Wedgewood Partners. His firm is long AAPL. And, based on the interview he did with
CNBC's
Melissa Lee this morning, he's clearly still bullish.
Please
. I just want to make sure nobody perceives me as attacking Rolfe because I agree with and appreciate most of what he said to Melissa.
I appreciate that he made no bones about it -- he and his firm got AAPL wrong. I also agree with his general consensus that this whole episode is absurd. I especially enjoyed his snark about dimming the lights, pulling back the CapEx and returning all of the cash to shareholders because, based on sentiment, Apple is a dying company. I like the way he dressed. I love his hair. And I could sign my name to a majority of his act. No doubt.
That said, I disagree with two points he made. And I feel like I have to point them out because, while they might work for Wedgewood Partners, they absolutely
do not
work for long-term retail investors who are dog-housed if they lose money, let alone their life savings.
First, he took exception to a comment he heard Jim Cramer make that valuation doesn't matter. Rolfe said it will one day. I cannot speak for Cramer, however, speaking for myself, that's a dangerous way to proceed.
Second, the Tweet from Carl with the quote from Rolfe. Again, might work for Wedgewood and the presumably well-off Rolfe, but, man, that frame of mind absolutely does not work for the average investor.
Rolfe seems like the type of guy who would admit this -- he's emotional right now. On one hand, he admits he made a bad call. He concedes he has to look at his position in AAPL closely. All good.
However, he's playing with fire -- and sending the wrong message to investors watching him -- by going against what the market gives him.
Valuation may never mean a damn thing again. I've been making the comparison between AAPL and names such as
Amazon
(AMZN) - Get Amazon.com, Inc. Report
and
LinkedIn
(LNKD)
for a while. Now, we throw NFLX back into the mix.
I'm not a valuation guy. I'm not calling irrationality here on AAPL on the basis of valuation alone. I'm calling it because we spend far too much time gauging
Apple against its unwritten future
and too little time assessing it vis-a-vis
the reality of the current, subpar competitive landscape
.
But, for better or worse, it is what it is. To dig your heels in -- because selling now would compound our original mistake, as Rolfe said -- are famous last words for so many investors. While that type of "strategy" might not blow up Wedgewood's account, it sure would crush quite a few retail portfolios.
There's a good chance that if you "stand your ground" (always be careful when you speak about a stock using such emotional language), AAPL will turn around, you'll make money, recoup any losses, gain back profits and look like a genius. But you have to resist that urge. Because, like so many other things in life, what you think is going to be a one-off thing often becomes a habit. And reacting with an emotional stubbornness will hurt you more often than not.
--Written by Rocco Pendola in Santa Monica, Calif.
Rocco Pendola is
TheStreet's
Director of Social Media. Pendola's daily contributions to
TheStreet
frequently appear on
CNBC
and at various top online properties, such as
Forbes
.