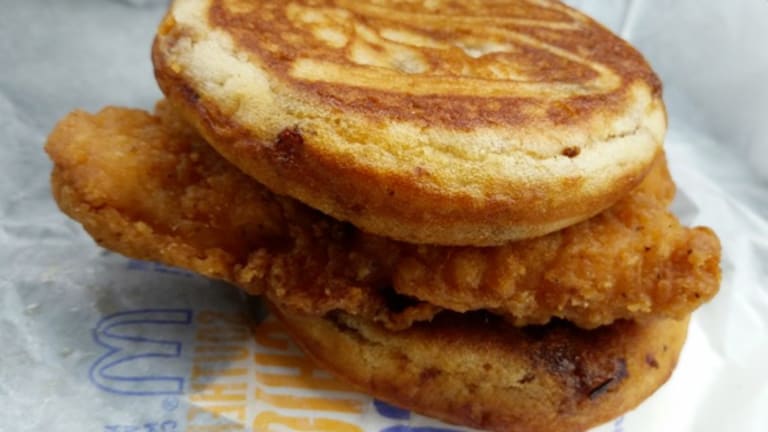 The 6 Most Interesting New Menu Items McDonald's Is Testing In 2016
From the Chicken McGriddle to chocolate-covered french fries, McDonald's isn't just relying on all-day breakfast to drive its turnaround.
McDonald's (MCD) - Get Report isn't just banking on its new all-day breakfast platform feeding its turnaround, it's also trying to drum up interest among consumers for other new menu items to fatten its profits.
Based on the early success of all-day breakfast, investors could be excused for forgetting that the Golden Arches actually needs other products to sell well, too. McDonald's reported that fourth-quarter same-store sales in the U.S. surged 5.7%, crushing Wall Street estimates for a 2.7% gain.
The results in the U.S. marked the second consecutive quarterly increase, and the best performance by McDonald's since it reported an 8.9% same-store sales gain in the U.S. in the first quarter of 2012. The McLovin' spread around the world, too -- global same-store sales increased 5.0%, compared to estimates for 3.2% growth.
McDonald's shares have gained about 18% in the past year, handily out-performing the 8% drop for the S&P 500.
TheStreet takes a brief look at several items McDonald's has started to test this year in a bid to maximize its sales potential. In part, the tests are in keeping with McDonald's CEO Steve Easterbrook's mission to make the burger giant more interesting to consumers inundated with fast food choices.
"We are running McDonald's differently, and building on our unique advantages as we strive to become a modern and progressive burger company," said Easterbrook on a Jan. 25 call with analysts.


No, this isn't Chipotle or some hipster New York City spot -- it's McDonald's.
1. Breakfast Bowls
Location: 800 restaurants in Southern California
Launch: February 25
A low-fat egg white at calorie king McDonald's? Go figure.
McDonald's has launched an egg white and turkey sausage breakfast bowl that comes packed with leafy kale, spinach, bruschetta and cheese. Another bowl is a touch heartier.  It comes with chicken chorizo, eggs, shredded cheddar-jack cheese and pico de gallo. For extra calories, McDonald's adds a fried hash brown to the bowl.


Popular Greek yogurt finally finds its way to McDonald's.
2. Greek Yogurt
Location: 800 restaurants in Southern California
Launch: February 25
Regular yogurt is so 1990; what's in now is Greek yogurt because of its high protein levels and low carbohydrate count. McDonald's has replaced the yogurt used in its parfaits and fruit smoothies with Greek yogurt made by Chobani.


It doesn't get much more fattening than theChicken McGriddle.
3. Chicken McGriddle
Location: 11 restaurants in Ohio
Launch: February 17
The McGriddle is such a logical menu item it's surprising it didn't happen sooner. It's made with two maple-flavored pancakes and a slab of fried chicken. 


Fried chicken bites on top of healthy kale...something is off here.
4. Kale Salad
Location: Restaurants in Canada
Launch: Early February
If any food chain could make kale unhealthy, it's McDonald's.
The kale salad has 520 calories, 31 grams of fat, and 1,140 milligrams of sodium. That's not including dressing, which could add as much as 210 calories, 22 grams of fat, and 260 milligrams of sodium. 

Why isn't this in the United States?
5. Chocolate-Covered French Fries
Location: Restaurants in Japan
Launch: January 19
Given the interest recently in mixing sweet and salty flavors, it's perhaps surprising that "McChoco Potatoes" haven't been tried earlier. The French fries are drizzled with two types of chocolate sauces -- chocolate with cacao flavor and white milk chocolate. 


Aren't these sliders kind of cute?
6. McTasters
Location: Restaurants in Canada
Launch: Mid-January
Sliders make sense for McDonald's -- they are group friendly and have nice profit margins.  
The Greek McTaster is a 100% Canadian beef patty topped with Mediterranean olive sauce, red onion, lettuce and a tomato slice on a herb-encrusted artisan bun. The Italian McTasters consists of a small chicken patty topped with parmesan cheese flakes, lettuce, a tomato slice, and creamy parmesan and Italian herb sauce also on a herb-encrusted artisan bun.