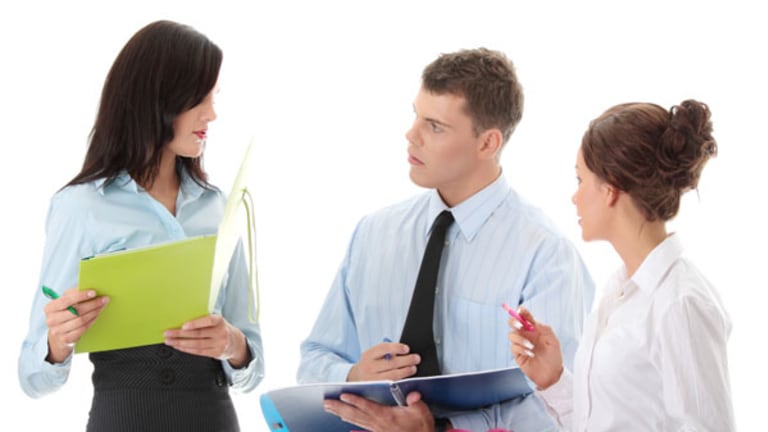 The 5 Dumbest Things on Wall Street This Week: Oct. 25
Martha Stewart, J.C. Penney, Radio Shack, an Icahn family affair and more.
5. Martha's Almost Apology
Thank goodness
Dumbest
fans. Our long national nightmare is finally over and we can all get back to work.
No, we're not talking about the government reopening for business. That's old news by now. We're talking about the end of Martha Stewart's feud with
Macy's
(M)
of course!
J.C. Penney
(JCP)
said it will no longer sell a slew of Stewart's home and bath products, yet will continue to sell a lesser amount of other Martha-brand items, including window treatments, rugs and party supplies. The struggling department store made the announcement in conjunction with Stewart Monday in order to avoid a potentially harsh ruling from a federal judge now deciding whether Stewart's agreement with former Penney's CEO Ron Johnson violated an exclusivity agreement she had with Macy's CEO Terry Lundgren. Penney said it will also return the 11 million shares of
Martha Stewart Omnimedia
(MSO)
it purchased as part of the 2011 licensing deal, in addition to relinquishing two seats on Martha Stewart's board.
Not that Martha's shares have been any boon to Penney's battered balance sheet since it inked the deal. After Penney's agreed to buy 11 million new shares at $3.50 each back on Dec. 7, 2011 -- yes, a date that will live in infamy for this and another less important reason -- Martha Stewart's stock leaped on the news, closing up 33% at $4.16. Since that day, however, shares of Martha's stock have fallen 44% to around $2.30.
Penney's stock, meanwhile, is down around 80% to less than $7 since it shook hands with the devil . . . sorry, excuse our Faustian slip . . . the diva.
"The Martha Stewart brand embodies quality, beauty, inspiration and possibility and we intend for Martha Stewart stores to be a key centerpiece of our new strategy to transform J.C. Penney into America's Favorite Store," gloated Ron Johnson at the time, believing full well he pulled a fast one over Lundgren.
It's Lundgren getting the last laugh, however, and not just because the exceedingly arrogant Johnson was jettisoned from the CEO spot last April for a string of similarly brash and boneheaded decisions.
Lundgren, who slammed the phone down when Martha informed him of her Penney's pact, can also smile at the sight of Martha owning up to her error.
"We cleared up the issue. I hope this helps in the resolution of the lawsuit," said Stewart.
OK. Stewart came close, but didn't exactly admit to messing up.
Let's be honest though. She went to jail for less.
Did you really think she would?
4. Penney's Panic
Remember when Carl Icahn's tweets sent shares of
Apple
(AAPL)
and
Talisman Energy
(TLM)
soaring? Was it not cute when he tweeted about Apple again this week?
Yep, seeing septuagenarians tinker with technology sure is adorable.
Watching 110-year old
J.C. Penney
(JCP)
get washed away by Twitter attack, well, not so much.
The struggling retailer's stock got slammed last week, tumbling 8.9% on Oct. 15 and 4.8% on Oct. 18, following a pair of anonymous Twitter posts saying it had hired a bankruptcy attorney and lost access to credit in Canada. J.C. Penney put out a statement Oct. 15 dismissing the bankruptcy rumors and three days later attempted to fight fire with fire by posting on Twitter a rejection of the Canadian credit report story.
"It's certainly gotten to the point where the market manipulation has become so prevalent that we felt it was appropriate to speak out on Friday," Kristin Hays, a J.C. Penney spokeswoman, told
Bloomberg
. "We took to social media to fight back in their space."
Darned right you did, Kristin. Too bad your Twitter counterattack proved anything but productive. Shares of Penney remained below $7 despite the company's denials, a level not seen since 1980.
Look. Our friends at Penney's didn't really need the assistance of some nameless, faceless bears to drive their stock down. They've been destroying their own market value quite well on their own, from Ron Johnson's disastrous reign as CEO to Mike Ullman's unconscionable decision to sell $785 million in stock a mere month after he said he didn't need to raise additional money.
Still, if we are forced to see the once-iconic Penney's in pain, we would rather it be as a result of tangible self-inflicted wounds than Twitter subterfuge. As much as we love spotting dumb things, we frankly find all this Twitter fraud off-putting.
Unfortunately, its reached a level where it's hard to regulate and even harder for real investors to ignore.
Imperial Capital
analyst Mary Ross-Gilbert, for example, cut the retailer's price target to $1 from $5 on Monday, saying that while she believes the slew of negative reports "may be inaccurate or potentially misleading," they seem to be "wearing down vendors and management."
We honestly don't understand how analysts can calculate "Phony Tweet Exposure" in their equity pricing models, but apparently it may soon become a necessary formula in their Excel spreadsheets.
And it's certainly something to think about if and when JC Penney becomes a penny stock.
3. RadioShack Nailed
Take a look at the one week chart for
RadioShack
(RSH)
if you don't mind. Check out the stock's sudden thrust higher after the close on Monday. Pretty sharp spike huh?
As they say in Japan,
The nail that sticks up gets hammered down.
And boy did the Shack -- and overeager traders -- get nailed on Tuesday!
Shares of the consumer electronics chain surged by 7% to $3.52 in extended hours trading Monday after unnamed sources told the
WSJ
that RadioShack secured a fresh round of financing from
GE Capital
. According to the deal, GE Capital will extend $835 million in new financing secured by inventory and other assets to RadioShack, $585 million in the form of a credit facility and $250 million in a second-lien term loan.
Boo-yah! What's better than a boatload of fresh money for a foundering franchise? Jumping into the Shack on a report like that is a no-brainer. Right?
Literally speaking, yes, it is true. You really did have to be brainless to chase that stock in the highly illiquid, shark-filled arena of extended hours trading. That's because the refinancing was only half the news.
The rest of the story (thank you, Paul Harvey) emerged on Tuesday morning when RadioShack revealed it racked up a loss of $112 million on $805 million in revenue for the third quarter, compared to $47 million on $898 million in sales last year. The greater-than-expected loss was due to a write-off of inventory, with the company's margin taking a hit. Tuesday's announcement shellacked RadioShack's stock, which fell 18% Tuesday to close at $2.89.
As for RadioShack's future, CEO Joe Magnacca said he is pushing as hard and fast as he can to turn around the company by renovating stores, obtaining improved store locations and securing exclusive products.
And as for all those overzealous after-market investors that got flattened this week, maybe they'll be smarter next time and slow down.
2. Icahn's Emmy
Icahn Family Feud
?
Brett's Father Knows Best
?
$800 Million Is Enough for Carl
?
Honestly, we're not sure what to call it, but we certainly enjoyed the show Icahn & Son put on
Netflix
(NFLX)
this week.
A Tuesday
SEC
filing revealed that activist investor Carl Icahn unloaded more than half of his Netflix stake, or nearly 3 million shares, for a 457% profit. The billionaire and his son Brett purchased the shares for about $58 each, and sold them in several blocks this month for $304.23 and $341.44 apiece. Shares of the movie streaming service hit an all-time high on Tuesday of $389, but investors eventually followed Icahn's lead and took profits. Shares of Netflix finished Tuesday's wild ride down 9% at $322.52.
Take note. We are not calling the Icahn clan dumb for making what is clearly a phenomenal trade. Such a statement would put us securely atop our very own list.
That said, it's hard for us to not to chuckle at the sit-com like dynamics of the Icahn family as exposed by the press release that accompanied the filing.
"We believe the company remains significantly undervalued," wrote Brett Icahn. "As a subscription service priced at only $7.99 per month, we believe Netflix is one of the great consumer bargains of our time."
That's beyond bullish. So much so that one might wonder why Brett would part with a single share of Netflix, and even more so since he brought the idea to his pop in the first place!
Brett, if you were unaware, co-manages a fund called Sargon with an
Icahn Enterprises
(IEP)
portfolio manager named David Schechter. Sargon was seeded and is supervised by dad, Carl. (Brett could have had a really swell car but took $3 billion to play with instead.)
Despite the fact that Brett gave him a gift worth more than $800 million (Brett could easily have given his dad a tie or golf club), Papa Carl had other plans for the stock, which he spelled out in a separate note.
"While I basically agree with David and Brett's assessment above and have often held positions for many years, as a hardened veteran of seven bear markets I have learned that when you are lucky and/or smart enough to have made a total return of 457% in only 14 months it is time to take some of the chips off the table," wrote Carl in his dissenting opinion.
Yes, just like in the Cunningham or Huxtable households on TV, paternal wisdom always wins out in the end. We're not sure if Brett threw a temper tantrum at the dinner table following his dad's decision to sell, but we do know that he'll get his chance for a spin-off soon enough. Brett's investing tryout with Sargon ends when Carl Icahn turns 80 in 2016.
For the record, Carl did thank his son in his note for the goldmine of a stock tip. Hilariously, the billionaire also thanked Netflix CEO Reed Hastings for a "job well done", as well as Ted Sarandos, "the rest of the Netflix team", and "last but not least" actor Kevin Spacey, who stars in the company's
House of Cards
series.
What a great speech!
There you have it folks. This year's Emmy winner for best billionaire father in a comedy or business show: Carl Icahn.
1. Repros Rebuke
The brains behind
Repros Therapeutics
(RPRX)
are clearly not beyond reproach.
Shares of Repros tumbled nearly 30% to around $17 Wednesday after the company admitted that the
FDA
has raised concerns about the reliability of some of the clinical data collected during the phase III studies of its testosterone boosting drug Androxal. These are the Androxal studies, in case you may have forgotten, in which Repros admitted that one enrolling site fabricated clinical data, while another collected anomalous data due to Gay Cuban men having too much sex.
Yeah, we know. It's hard to forget our friends at good old Repros, but unlike CEO Joe Podolski, we like to cover all our bases.
And as
TheStreet
's biotech ax Adam Feuerstein alertly points out, it's also the same good old Repros which just last month assured investors that the FDA would find nothing wrong with the clinical data supporting Androxal. In the same release, Podolski added, "We are confident in the reliability of our results and the positive outcome of our two clinical trials."
Podolski's September promise about the high quality of the Androxal data helped Repros shares climb to four-year high. Repros, which by the way has no revenue, is now trading where it did in June, before the big biotech summer rally began.
Nevertheless, just because the stock gave up its gains doesn't mean it's cheerleaders on Wall Street are giving up the ghost.
Lazard analyst Josh Schimmer told clients in a note that "the slight delay to tighten Androxal filing is worthwhile." Meanwhile, Brean Capital analyst Jon Aschoff blew off the FDA's concerns and said the latest Androxal data twist "could be positive in the end."
Of course, they very well could be proven right in the long run.
Until Repros offers more proof to back up its claims, however, all we can offer back to Repros is a reproof.
-- Written by Gregg Greenberg in New York
Disclosure: TheStreet's editorial policy prohibits staff editors and reporters from holding positions in any individual stocks.