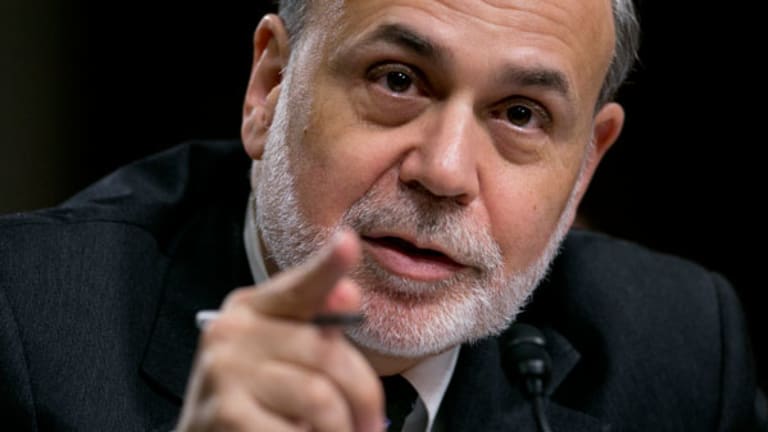 The 5 Dumbest Things on Wall Street This Week: May 24
In-flight needs of Abercrombie's CEO; Rupert Murdoch nurses a grudge; a Senate committee convenes to point out its own ignorance; and that's not all.
In-flight needs of Abercrombie's CEO; Rupert Murdoch nurses a grudge; a Senate committee convenes to point out its own ignorance; and that's not all.
5. Abercrombie's Airhead
Michael Jeffries may publicly state that his primary goal is selling the "cool kid" aspiration. Nevertheless, we here at the
Dumbest Lab
know what really drives the
Abercrombie & Fitch
(ANF) - Get Report
CEO, and it's more Tattoo from
Fantasy Island
than teen fantasy.
Yeah, you guessed it.
The plane! The plane!
According to an
SEC
filing late last Thursday, Jeffries total compensation sank over 80% last year to $8.2 million from over $48 million. His base salary did inch up 2% to $1.53 million, however, he was not granted any long-term incentives tied to the retailer's stock in 2012. Hey, that's only fair. A&F's stock fell 35 basis points last year and 14% in 2011 while the
SPDR S&P Retail ETF
(XRT) - Get Report
rose nearly 21% and 10% respectively, so he shouldn't pocket the same handsome sums as he did in years past.
Still, while his overall package took a jarring drop, Jeffries did receive a $200,000 bump related to his use of the company aircraft. That boost certainly must have helped ease the pain of his pay reduction, because anybody that's followed the jet-setting CEO knows he likes his jet to be set precisely to his own princely standards.
For those that may have forgotten, Jeffries was deposed three years ago as part of a discrimination lawsuit by a pilot who claimed he was canned illegally and replaced by a younger man. The since-settled suit revealed Jeffries's wacky specifications for the airplane's flight attendants, from the way they address him to the kind of cologne they spritz on.
Also see: Abercrombie Forced to Apologize >>
For example, Jeffries's detailed flight instructions command male staffers to wear Abercrombie polo shirts, flip-flops, a "spritz" of the firm's cologne, sunglasses and boxers. And when Jeffries makes a request, the reply must be "No problem" as opposed to "Just a minute" or "Sure."
He even has rules for displaying the toilet paper!
Talk about a load of crap. Who does this guy think he is? Mr. Rourke?
Anyway, outside of his upped airplane allowance, Jeffries also received an additional $107,227 last year for "personal security," according to the filing. And considering the increasing level of animosity he's been facing after the resurfacing of a controversial 2006
Salon
interview, that stipend could not have come at a better time for the high-flying CEO.
Jeffries snottily told the interviewer at the time, "Candidly, we go after the cool kids. We go after the attractive all-American kid with a great attitude and a lot of friends . . . A lot of people don't belong
in our clothes, and they can't belong."
Those haughty comments from seven years ago came back to haunt Jeffries this past week when protestors went viral in condemning A&F for not offering women's clothing in larger sizes. The press got so bad that Jeffries was forced to apologize this week to stem the backlash.
"I sincerely regret that my choice of words was interpreted in a manner that has caused offense," said Jeffries in a statement. "We are completely opposed to any discrimination, bullying, derogatory characterizations or other anti-social behavior based on race, gender, body type or other individual characteristics."
Of course, he's still opposed to offering women's XL and XXL sizes at his stores. That policy hasn't fallen with his paycheck. Nor has his obnoxious attitude toward less-than-beautiful shoppers.
Come on Jeffries. Stop acting like a jerk.
Don't think you are above everybody else just because you fly around in a private plane.
4. Rupert's Regrets
Hey Rupert, what's with the radio silence -- or should we say
Twitter
silence -- following
Yahoo!'s
(YHOO)
big deal? After your tweet about
Facebook
(FB) - Get Report
, we were near certain you would weigh in on Marissa Mayer's towering $1.1 billion purchase of
Tumblr
from CEO David Karp, but apparently we were wrong.
What's wrong old buddy? Cat got your thumbs?
The
News Corp.
(NWS) - Get Report
CEO used his Twitter account late last Thursday night to offer his two cents on research suggesting that Facebook's fanbase may be fading. The report by the Pew Research Center found that 28% of Facebook's users said the network was less important to them than it was a year earlier, while 34% of survey respondents said they spent less time on Facebook.
Also see: Tumblr Yahoos: Old Dog, New Blog >>
"Look out Facebook! Hours spent participating per member dropping seriously. First really bad sign as seen by crappy MySpace years ago," tweeted Murdoch on the one-year anniversary of the social network's IPO.
Wow! Way to let the
schadenfreude
shine through big guy. We know you're still smarting from paying $580 million in 2005 for MySpace and selling it for $35 million in 2011, but that's no reason to rain on Mark Zuckerberg's parade. It's not his fault that he can run a social network better than you, even if he can't orchestrate a decent IPO.
And by the way, the results of that poll were released back in February, so once again your timing was off. You were early with your MySpace purchase and failed to capitalize on it. Now you're months late with your digital curmudgeonry over Facebook's success.
Here's an idea Rupert. Maybe you should set your alarm right now for May 20, 2014.
We want you to be right on time if you plan to start carping about Karp's big deal.
3. Apple's Absurdity
So much for grilling Tim Cook.
A Senate panel led by Sen. Carl Levin (D, Mich.) questioned
Apple's
(AAPL) - Get Report
CEO Tuesday about how the tech giant shifts profits to foreign affiliates to avoid paying billions of dollars in U.S. taxes. Levin accused the company of using accounting "gimmicks" to keep from ponying up $3.5 billion in U.S. federal taxes in 2011 and $9 billion in 2012. Apple, on the other hand, said it employs tens of thousands of Americans and pays "an extraordinary amount" in U.S. taxes, citing the roughly $6 billion it paid in fiscal 2012.
"Apple is exploiting an absurdity," said Levin prior to the hearing.
Yes it is, Carl. But it's your absurdity! Congress created this whole stupid game whereby companies can park cash in corporate tax havens like Ireland, so how can you criticize Cook for playing by your rules?
In fact, judging from the tone of the questions on your panel, it is painfully clear that Apple knows the ins and out of the American tax system better than you and your esteemed colleagues do. Frankly, it was embarrassing to listen to the supposedly august Senate Permanent Subcommittee on Investigations attempt to trick Cook into revealing how and where he hides Apple's stash.
Also see: Tim Cook Should Tell Congress to Kiss His Ass >>
Of course he's not going to tell you! Why on earth would he? If you hid $102 billion in cash somewhere in the world, you wouldn't tell the tax man where it was either.
And as for Apple, boy, do they play the tax avoidance game with aplomb.
The tech giant has multiple Irish subsidiaries in order to slip any sleuths on their money trail, each with its own ridiculous acronym. For example, they have Apple Operations International ("AOI"), Apple Operations ("AO"), Apple Operations Europe ("AOE"), Apple Sales International ("ASI") and Apple Distribution International ("ADI"), just to name a few.
Oh, man. Not since
Enron
CFO Andy Fastow created Jedi, Chewco and all those other Star Wars themed Cayman Island-based entities have we seen such offshore trickery.
Not that Apple is doing anything illegal
a la
Enron mind you, or condones burying cash on Caribbean islands like some corporate Blackbeard. Apple specifically said in a statement that "it does not hold money on a Caribbean island; and it does not have a bank account in the Cayman Islands."
Why should it? It's getting too good a deal in Ireland. It paid just 1.9% in taxes on its $37 billion in overseas profits in 2012. By comparison, the average tax rate in the countries of the Organization for Economic Co-operation and Development (OECD) was 24% in 2012.
And it's not just Congress enabling Apple's tax avoidance. The
Fed
is also responsible for its money-moving machinations because of its financially repressive bond-buying program, at least according to Cook and his cohorts.
Apple pledged in April to return $100 billion to its shareholders in less than three years through a combination of share repurchases and dividends. If Apple had used its overseas cash to fund this return of capital, it would have been smacked with the corporate U.S. tax rate of 35%. Thanks to Fed Chief Ben Bernanke, however, it made more sense for the formerly debt-free company to sell $17 billion in bonds to meet this commitment.
"By contrast, given today's historically low interest rates, issuing debt at a cost of less than 2% is much more advantageous for the Company's shareholders. Because Apple was able to borrow at a cost lower than the cost of its equity, issuing debt lowered Apple's overall cost of capital," said the company in its statement.
All in all, the proceedings were a waste of Tim's time, not to mention the very same taxpayer dollars Levin is trying to drum up by beating down on Apple's CEO.
Put simply, Carl thought he could make Cook cry uncle. Yet all he really did was make us cringe at Uncle Sam.
2. Dimon Defeats Dumbest
It wasn't a shocker like "Dewey Defeats Truman," but Jamie Dimon's blowout victory Tuesday sure was surprising considering all the ink spilt over the election.
To be honest, it kind of makes us feel dumb for thinking it was going to be an issue.
Jamie Dimon will get to keep his chairman and CEO titles at
JPMorgan Chase
(JPM) - Get Report
, ending weeks of uncertainty over his future at the country's largest bank. The tally from the bank's annual meeting showed 32.2% of the shareholders voted in favor of a proposal to split the chairman and CEO roles. That is down -- yes, down! -- from 40% the proposal received last year, definitively proving Dimon's threat to walk if he lost the vote was a game-changer. Shares of JPMorgan jumped 1.4% Tuesday to finish at $53.
Shareholders also voted to reelect all the board members including the three members of the risk committee --
Honeywell
CEO David Cote, James Crown, president of private investment company
Henry Crown and Company
and Ellen Futter, president of the
American Museum of National History
.
What can we say? Color us wrong. All the dangers highlighted in the endless columns -- including yours dumbly -- about the best possible corporate governance at a bank which holds over $2.3 trillion in assets proved pointless.
Also see: Ben vs. Bernie on Too Big to Fail >>
London Whale, London Schmale. Too Big to Fail, Too Big to Schmail. The shareholders wanted, and got, their man.
But what about us non-shareholders who didn't get a chance to vote? What do we get from Jamie consolidating his power at an organization large enough to bring down the American economy? We already have the unelected
Fed
Chief Ben Bernanke on the buy side, what's our upside for having an equally omnipotent Jamie Dimon on the sell side?
Well, we get succession risk for one. While everybody is having a conniption about who will take over
Berkshire Hathaway
( BRK-B) when Warren Buffett steps down, that's not our concern at all. He runs an insurance company and owns a lot of stock. Big deal.
Jamie, on the other hand, effectively runs a quasi-branch of the U.S. government. If he should fail at both roles -- and we are not saying he will -- then taxpayers will be on the hook for his mistakes, no matter what anybody says about living wills and resolution authorities. That much we learned from Lehman CEO and Chairman Dick Fuld (not to equate the two) during the 2008 bank crisis. And that's why the JPMorgan shareholder vote held larger consequences than hurting Dimon's feelings.
"We intend to have a competent and capable successor to Jamie. But we hope that time is much in the future . . . I have no illusions that we would be able to clone Jamie," said lead director Lee Raymond.
There you have it fellow Americans. If, heaven forbid, Jamie Dimon gets hit by a bus or eats a bad shrimp, the former CEO of
ExxonMobil
will be right there to dig into the banks derivative positions until a lesser man than Jamie's clone can assume the position.
Sleep tight, folks. And don't forget to say a prayer for Jamie Dimon before bedtime.
The future of your retirement is in his hands and that's the only say non-shareholders get.
1. Bernanke Bonanza
Forget fundamentals. Stocks now run on "Ben"-damentals. Or "Fed"-damentals.
Or whatever stupid name you want to call the wackiness that consumed traders on Wednesday.
Traders started Wednesday in a sublime mood, bidding up equities on the heels of
Federal Reserve
Chairman Ben Bernanke's prepared statements ahead of his appearance before Congress. In the text of his testimony, which built on similar comments made by St. Louis Federal Bank President James Bullard the previous day, Bernanke said he remains supportive of current monetary policy, arguing that pulling-back on the bank's stimulus measures wouldn't be prudent.
"A premature tightening of monetary policy could lead interest rates to rise temporarily but would also carry a substantial risk of slowing or ending the economic recovery and causing inflation to fall further," read Bernanke.
Translation: Party on dudes! Tap another keg David Tepper, because you're old buddy Ben ain't done easing just yet.
Well, at least that was the market's read until around 10:30 a.m., when the
S&P 500
abruptly fell from its record high of 1687.
Why did traders turn tail and start selling at that particular time? What changed? Was it an earnings report from a
Dow
component? An exogenous Middle East event perhaps?
Nah. It was just Bernanke getting peppered by lawmakers about the pace of his $85 billion a month bond buying binge. And when Ben said he could conceivably curb QE within the next few meetings if the job market shows "real and sustainable progress," the unabashed buyers turned into slam-the-bid sellers.
Yes, all it took was a few hypothetical words from gentle Ben in Washington to scare the stuffing out of all those big, bad bulls on Wall Street.
But that wasn't all. Bernanke may have spooked the cattle, but his friends at the Fed really started the stampede. Once the Federal Reserve's minutes from its latest policy-making meeting were released at 2:00 p.m. on Wednesday, the selloff gained momentum on word that that a few Fed members were willing to scale back on monetary stimulus as soon as June. The S&P, which was up around 1% before Ben's 10:30am jolt, finished down 1% on the day.
Also see: Oklahoma Relief Efforts Feature Small Businesses and Local Heroes >>
"A number of participants expressed willingness to adjust the flow of purchases downward as early as the June meeting if the economic information received by that time showed evidence of sufficiently strong and sustained growth; however, views differed about what evidence would be necessary and the likelihood of that outcome," the minutes said.
Translation: Crap! Ditch the beer guys. My parents just called. I'm not exactly sure when, but they are coming home much sooner than I thought. Worst of all, they are bringing along Nouriel Roubini and there's nothing we can do about it.
Well, at least not until Ben Bernanke opens his mouth at his next public appearance on June 19th. Then we'll all have a clue what to do next.
-- Written by Gregg Greenberg in New York.
Disclosure: TheStreet's editorial policy prohibits staff editors and reporters from holding positions in any individual stocks.