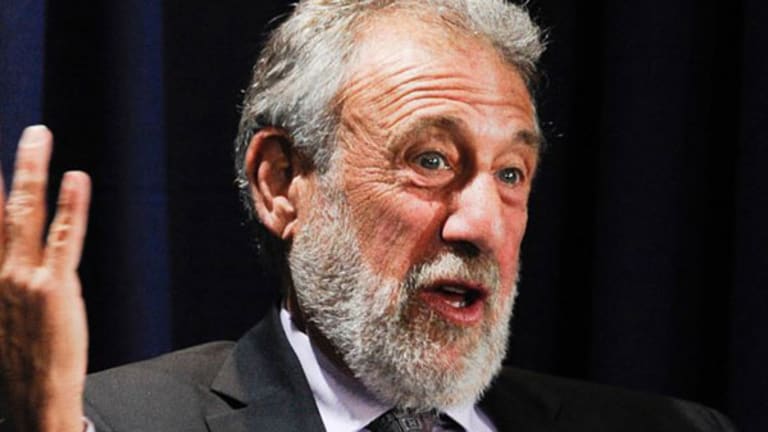 The 5 Dumbest Things on Wall Street This Week: June 21
Men's Wearhouse can't like the way they look; Elan runs a circuitous path of Irish deal making; bombast crashes the Paris Air Show and more.
5. Elan Insanity
Enough with the fun and games
Elan
(ELN)
! Now that you've summarily dismissed
Royalty Pharma
as a mate, it's time to stop acting like a royal pain in the ass and select your own suitor.
U.S.-based Royalty Pharma withdrew its appeal against a ruling by Ireland's regulator on takeovers Tuesday, which means its $8 billion hostile offer for Elan automatically lapses. As a result, Elan, which put itself up for sale last week, is free to shop itself after fending off Royalty's overtures for the past four months.
According to
Irish Takeover Panel
rules, Royalty is not allowed to pursue another hostile bid for Elan for 12 months now that its previous offer has elapsed. For its part, Elan has publicly stated that Royalty can take part in the sale process, although Royalty has not announced plans to do so yet.
Let's just stop here for a quick second. Is it just us, or are the guidelines for simply buying a company in Ireland absolutely bewildering?
Seriously, even James Joyce's
Ulysses
is less confusing than all the rules and regulations at play here. And at least for that Irish classic you could refer to the
Cliffs Notes
when Leopold Bloom left you lost on the streets of Dublin.
Unfortunately, there is no such guidebook when it comes to the Irish Takeover Panel. For simplicity's sake, we won't even get into all the rejected resolutions and shareholder votes which got us to this point.
We will, however, continue to wonder what Elan CEO Kelly Martin has in mind for the company now that he has spurned Royalty's third and latest bid of $13 in cash, plus a "contingent value right" that could add another $2.50 per share if its multiple sclerosis drug Tysabri hits certain sales milestones. Elan reportedly has other interested parties and rumors abound about a
Forest Labs
(FRX)
bid, yet we've only been seeing Royalty bid against itself up to this juncture.
If Martin has a so-called "White Knight" lined up, we'd love to finally see who it is. For that matter, we're sure all the institutional shareholders that were satisfied with Royalty's last bid would also like some clarity now that it's off the table.
Think about it. If we're going crazy, then Martin's lack of guidance must be driving them straight to the
Guinness
!
4. Walter's Wild Ride
WTF
Walter
(WLT)
? If you are going to dig a hole for yourself, at least pull some coal out of it.
Shares of Walter Energy sank over 17% last Friday after the Birmingham, Ala.-based coal producer abruptly abandoned a planned $1.55 billion credit refinancing. The company's stock started tumbling after a
Forbes
report released slightly after 12:30 pm said the deal was yanked because of "market conditions." The stock was halted a little more than an hour later pending news from the company, and in limbo it remained until a few minutes prior to Friday's close when the company finally came out with a statement.
Why it took Walter so long to comment when the market was freaking out, frankly, we have no idea. And when Walter eventually did come out of its hole, all it said was that it had "no material debt principal payments due until 2015, and it requires no incremental funding at this time."
Yep, that was the extent of it. No comment on the supposedly rocky conditions and no excuse whatsoever for not getting the deal done.
To which we say: Come on guys! The least you can do is lie to us. Or perhaps blame your investment bank for bungling the job. After all,
Morgan Stanley
(MS) - Get Report
did lead the offering and we all remember what a swell job they did last year with
Facebook's
(FB) - Get Report
IPO. (Maybe Morgan felt a little guilty about Walter's wacking. On Tuesday it reiterated its $47 price target for Walter, sending the stock up 16.5% to $13.63.)
By now these folks should know that the market abhors an information vacuum, even while the market's gossips love it. As soon as Walter waltzed away from the deal, all those yentas started yapping about Walter's cash situation and its ability to remain a going concern.
And let's be serious, it's not like the company is going out of business, no matter what the bears (and with over a quarter of the shares sold short, there are a lot of them out there) were slinging last Friday. Walter has plenty of cash for the time being, $235 million at last check, and once again, this deal was about refinancing, not raising money. Wall Street analysts expect the company to earn 51 cents next year, even if they are forecasting a loss of $1.82 in 2013.
Look. It's quite clear that the Obama administration hates the coal industry and would rather sacrifice those jobs for the sake of the ozone layer and the green lobby. It's also apparent that the downturn in metallurgical coal prices is not helping them during these dark days when coal stocks are getting clobbered.
Both good reasons for Walter not to help the shortsellers' cause by raking itself over its very own coals.
3. Oy Vey Orchard
Note to all those investors who scooped up
Orchard Supply Hardware Stores
(OSH)
stock based solely on Monday's headlines that
Lowe's
(LOW) - Get Report
was purchasing the bankrupt retailer: Next time take Paul Harvey's advice and stick around for
the rest of the story!
Shares of Orchard popped 30% Monday, rising close to $2.50 per share, after a number of financial Web sites -- including
TheStreet's
-- blasted headlines saying that Lowe's was buying California-based hardware seller. The
WSJ
, for example, topped its story with "Lowe's Agrees to Buy West Coast Hardware Chain," while the
Motley Fool
ran with "Lowe's Seeks to Acquire Orchard Supply Hardware for $205 Million." As for the newswires,
AP
went with "Lowe's offers to buy Orchard Supply for $205M" and
Reuters
trumpeted "Orchard Supply files for bankruptcy, Lowe's steps in".
As for
TheStreet's
headlines, we had a few including "Lowe's Looks to Improve, Picks Orchard" and from our partners at
The Deal
, "Orchard Supply Tumbles on Bankruptcy Sale to Lowe's".
Based on these headlines, it's not hard to understand why long-suffering Orchard investors would believe they finally got a break. Had they bothered to read a little deeper into any those columns, however, they would have realized that Orchard was filing for Chapter 11 bankruptcy protection and Lowe's is serving as a "stalking horse bidder" to buy its assets at an auction to be held on June 27. (Actually, Lowe's could actually lose Orchard to another bidder at that auction, but we highly doubt it.)
In other words, the stock is going to become totally worthless, despite Monday's headline hullabaloo.
Nada
. Zippo. Zilch.
Bupkus
.
That reality clearly started to sink in on Tuesday when the shares slipped below $2. Nevertheless, the company still felt the need to clarify things on Wednesday, so it put out a press release telling overexcited investors to steer clear of its shares.
"Stockholders of a company in Chapter 11 generally receive value only if all claims of the company's secured and unsecured creditors are fully satisfied. In this case, Orchard's management strongly believes that it is highly unlikely all such claims will be fully satisfied. Accordingly, it is expected that the Company's equity holders will experience a complete loss of their investment as a result of Orchard's Chapter 11 bankruptcy proceedings," stated Orchard.
Orchard's statement sent the stock down 60% Wednesday to 70 cents.
There you have it
Dumbest
fans, the rest of the story.
2. Pratt's Spat
Maybe they should rename it the Paris "Hot" Air Show considering all the trash talk going on at this year's gathering.
We won't say he went ballistic, but Bob Saia,
Pratt & Whitney's
head of commercial engine development, certainly unloaded on rival jet-engine maker
CFM
this weekend when he called the fuel-saving claims made by the
GE
(GE) - Get Report
-
Safran SA
joint venture "garbage," according to
Bloomberg
. CFM Executive Vice President Chaker Chahrour boasted to reporters ahead of the Paris show that his company's engines are less expensive to maintain on
Airbus
SAS's A320neo airliner than the offering from
United Technologies'
Pratt & Whitney unit.
"We've never been more bullish," crowed Chahrour. "This is going to be the most robust and reliable engine on a narrow-body plane and the market reaction really supports that." Chahrour also jacked his savings estimate over the life of each jet to $4 million from $3.5 million last year.
Says you buddy! Or at least that's what Pratt President Dave Hess is saying.
"You'd have to violate the laws of physics and economics for what they're saying to be true," hissed Hess.
Hey, you can't blame Hess for getting hot-headed when you consider the economics at stake. Some reports put the narrow-body plane market at 70% of an estimated $4.8 trillion in new aircraft sales over the next 20 years.
You also can't blame us for getting excited by this escalating war of words.
What can we say? This type of ridiculousness really revs our engines.
1. Goodbye to George
Have we seen our last glimmer of George "You're going to like the way you look, I guarantee it" Zimmer?
Say it ain't so
Men's Wearhouse
(MW)
! Or at least say something, because right now the whole thing looks very bad indeed.
Barely a week after announcing a 23% jump in first-quarter profits, Men's Wearhouse unceremoniously dumped its founder, executive chairman and spokesman Zimmer on Wednesday. The company alerted investors with a tersely worded statement that sent the stock down about 1%.
"The Board of Directors of Men's Wearhouse today announced that it has terminated George Zimmer from his position as Executive Chairman. The Board expects to discuss with Mr. Zimmer the extent, if any, and terms of his ongoing relationship with the Company," said the company, adding that it was also postponing its annual shareholders meeting, scheduled for the following day.
Oh man, that is one absolutely chilling sendoff! They don't even thank the guy that grew Men's Wearhouse from one tiny Texas store into one of the country's largest specialty men's retailers with 1,143 locations and $2.48 billion in sales last year.
It's just Zim Zam, thank you ma'am!
As for Zimmer's response, well, he doesn't offer much more information about what really caused the split. Still, as compared to the board's frigid letter, he was nice enough to at least get heated up about it.
"Over the past several months I have expressed my concerns to the Board about the direction the company is currently heading. Instead of fostering the kind of dialogue in the Boardroom that has in part contributed to our success, the Board has inappropriately chosen to silence my concerns through termination as an executive officer," replied Zimmer.
Eventually Zimmer and his former board buddies will have to come together and chat about his future with the men's clothing seller. Zimmer owns 1.8 million shares of Men's Wearhouse, or 3.5% of the company at last check in May, so he's going to have a voice at the company even if he will no longer serve as its face.
Perhaps we'll know by then why exactly the board sent Zimmer packing, just when the company was on a roll. Heck, maybe it was all Zimmer's fault and he deserved to be thrown overboard.
Right now, however, investors don't like the way the board looks and class-action lawyers are busy shopping for their own suits against the company. And boy do those vultures love a nice-looking suit.
We can guarantee that.
-- Written by Gregg Greenberg in New York
Disclosure: TheStreet's editorial policy prohibits staff editors and reporters from holding positions in any individual stocks.