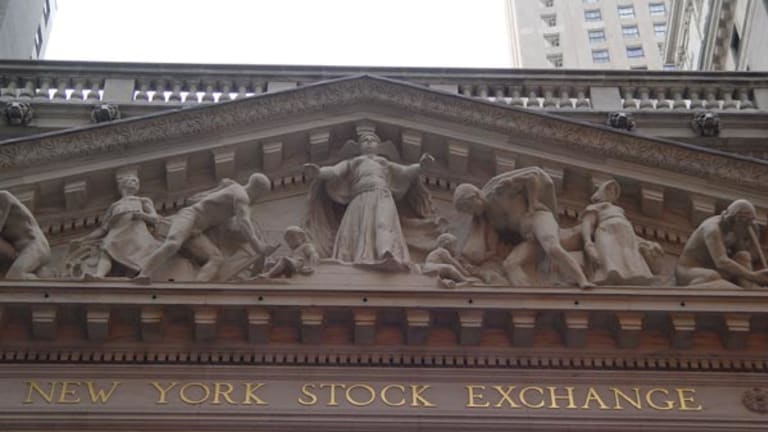 The 5 Dumbest Things on Wall Street This Week: Feb. 3
David Bests Bruce; Bianco's Bunk; RadioShack's Reflections; STOCK Act Silliness; Cali's Latest Crisis.
5. David Bests Bruce
Now that we have reached the denouement of the very dumb battle between Wall Street bigwigs David Einhorn and Bruce Berkowitz, it's time for us to declare a victor. So raise your glasses everybody, and together let's toast Greenlight Capital's Einhorn and his supremely prescient call regarding the real value of
St. Joe's
(JOE) - Get St. Joe Company Report
property.
(Um, you know what? On second thought, maybe we ought to hold off on the celebratory drink and send Einhorn a congratulatory card instead. The hedge fund manager may be swearing off alcohol for a while after getting tagged last week with an $11.2 million fine by the U.K.'s financial regulator for trading on inside information in British pub-owner
Punch Taverns
.)
Anyhow, while everybody else sat intoxicated by Bruce Berkowitz's grand designs -- and valuations -- for his less-than-grand Florida holdings, Einhorn soberly saw through his silliness and now it's really paying off. Last Friday, St. Joe announced it was writing down $375 million in assets as a result of its new cost-cutting real estate strategy.
Over the past year, St. Joe's stock has sunk 40% in value, while Berkowitz's once renowned
Fairholme Fund
(FAIRX) - Get The Fairholme Fund Report
, which holds more than a quarter of Joe's outstanding shares, has dropped 25%, bleeding billions in assets along the way.
Just to quickly recap, Einhorn skewered the company in an October 2010 presentation reminiscent of his Lehman called-shot. Nevertheless, instead of reassessing his position in the wake of Einhorn's highly detailed bearish argument, Berkowitz not only called Einhorn's bet, but raised the stakes by gobbling up more and more shares of the Florida landbank.
That's right. Berkowitz, who was once hailed as Morningstar's mutual fund manager of the decade, tried to go over the top against Einhorn, who, as luck would have it, just happens to be a world class poker player.
Had Berkowitz possessed even a slightly strong hand in St. Joe, then perhaps he may have prevailed. Alas, Berkowitz was holding
bupkus
and, as last week's news makes even clearer, the fund manager was obviously too proud to lay down his hand after Einhorn called his bluff.
"Today's news confirms our view that St. Joe's land is worth less than they thought and that it can't be developed profitably," said Einhorn in an emailed statement to the
WSJ
.
So once again, cheers to you Einhorn. But don't become too drunk with your own success, otherwise you may end up in a truly regrettable pissing match.
Just like Bruce Berkowitz.
4. Bianco's Bunk
Cell Therapeutics
(CTIC) - Get CTI BioPharma Corp. Report
CEO Jim Bianco has done very well for himself by opening his big mouth. But his shareholders? Well ... not so much.
The biotech company surprised investors this Monday when it withdrew its U.S. approval application for the experimental lymphoma pixantrone because of unresolved and undisclosed "communications" with the
Food and Drug Administration
.
Shares of Cell Therapeutics fell 17% to $1.09 per share on the news that the FDA will now be unable to make a decision on the approvability of pixantrone on April 24. Cell Therapeutics says it plans to resubmit the drug application to the FDA later this year after it has time to prepare new information.
Of course, the news was less shocking to those that have long followed the company and its overly chatty CEO. For them it was business -- and dumbness -- as usual.
Back in March 2010, an FDA advisory panel voted 12-0 to recommend pixantrone's rejection, which the FDA later did. Cell Therapeutics appealed that rejection and resubmitted the drug last year, setting up what was supposed to be a second shot at approval this spring.
Meanwhile, Bianco spent the interim reassuring Wall Street analysts that the vote from the pixantrone advisory committee meeting scheduled for Feb. 9 would be in his favor.
Why was Bianco so confident that the FDA would greenlight pixantrone after failing it the first time?
Well, Bianco
claimed that the FDA's cancer-drug review chief Dr. Richard Pazdur was dressed down by his agency superiors for an unfairly negative review of pixantrone
which led to the drug's rejection in 2010.
And if Pazdur was muzzled -- as Bianco boasted he would be -- then the FDA's second clinical review of pixantrone could be more lenient and the panel of outside experts more likely to recommend the drug's approval.
Now it may be us talking out of turn this time, but the hasty pixantrone withdrawal clearly doesn't sound like FDA's top cancer drug reviewer was backing down anytime soon from his previous criticisms of the drug.
In fact, it just sounds like more of the same from Bianco, who acquired pixantrone eight years ago and has not stopped promising a speedy approval since.
Not that all his hot air has stopped him from cashing in of course. Since late November, Bianco has been awarded nearly $800,000 in cash bonuses by Cell Therapeutics' board, including a $150,000 bonus for 20 years of service to the company.
Then again, maybe Bianco deserves the extra pay.
If there is one thing Wall Street hates, it is uncertainty. And if there is one thing we can count on, it's Jim Bianco overpromising and under-delivering.
3. RadioShack's Reflections
Somebody better put a mirror in front of the folks at
RadioShack
(RSH)
. Not to check whether the company is still breathing (okay, well that too), but to show the executive team exactly who is responsible for the electronics retailer's problems.
Shares of RadioShack got smacked Tuesday sinking 30% after the gadget seller gave a below-consensus profit outlook for its fiscal fourth quarter because of margin weakness stemming from its
Sprint
(S) - Get SENTINELONE, INC. Report
business.
Fort Worth, Texas-based RadioShack now sees earnings of 11 to 13 cents a share for the December-ended period on sales of $1.39 billion, well below the current average estimate of analysts for a profit of 37 cents a share on sales of $1.35 billion. It plans to report full-year results Feb. 21.
RadioShack CEO Jim Gooch attributed its sub-par performance to "underperformance of the Sprint postpaid wireless business" and said the results "reflect further unanticipated changes in Sprint's customer and credit models."
Oh come on Jim. That's just wrong. Sprint has enough problems of its own right now without you throwing it under the bus ... and then backing up over it for good measure. The company is in a losing battle with
Verizon
(VZ) - Get Verizon Communications Inc. Report
and
AT&T
and is bleeding money, so you might as well leave it alone to hemorrhage in peace.
Hey, isn't that the kind of respect you would want if -- or perhaps when -- RadioShack goes the way of Circuit City, The Wiz, and Crazy Eddie's?
Ouch! Okay that was harsh. But still, Gooch should remember that it was his decision, not Sprint's, to buy back shares and maintain a lofty dividend in the fourth quarter, instead of using that cash to spruce up stores or switch strategies. Moreover, RadioShack's lackluster product mix and heavy holiday discounting were of its own choosing.
Put it all together and you can see that investors are sprinting away from his choices, not Sprint's. Maybe Gooch should reflect on that next time he looks in the mirror.
2. STOCK Act Silliness
We here at the
Five Dumbest Lab
may be critical of corporate America time-to-time -- okay, all the time -- but leave no doubt that we love our country and its representative democracy. Despite our snarky and occasionally belligerent attitude, above all we hold firm the belief that every vote does indeed count.
And it's for that patriotic reason why we needed to find out what Senators Tom Coburn (R, Okla.) and Richard Burr (R, N.C.) were thinking when they voted against the Stop Trading on Congressional Knowledge (STOCK) Act on Monday.
Seriously! The vote was 93-to-2 in favor of legislation that would require members of Congress to disclosure new stock transactions on the Internet within 30 days. Furthermore, it explicitly prohibits members of Congress from initiating trades based on non-public information they acquired in their official capacity. The legislation was passed by the Senate late Thursday.
Please tell us guys, why you would choose to stand virtually alone and vote against something as sensible as the STOCK Act, especially after
60 Minutes
utterly demolished Congress on the issue in November?
"We're playing a game with the American people," said Coburn. "This isn't going to change anything, except for requiring a bunch of paperwork to entrap people."
Entrap people? Give us a break Tom. We're not talking about Abscam here. We're talking about Speaker John Boehner (R, Ohio) and former Speaker Nancy Pelosi (D, Calif.) cashing in when ordinary people can't, and then denying any wrongdoing to Steve Kroft on national TV. Let's be serious Senator. This is pure, unadulterated bipartisan banditry.
"Sen. Burr voted against cloture on the bill because there are already laws in place to address this critical issue," said a spokesman for Senator Burr.
Yes there are, Mr. Senator. But when Spencer Bachus (R, Ala.), the ranking member of the House Financial Services Committee, is profitably day trading
General Electric
(GE) - Get General Electric Company (GE) Report
options in the middle of the 2008 financial crisis after getting briefed by top officials at the
Treasury Department
and
Federal Reserve
, then don't you think it's time they got tightened up a bit?
No? Well, we do. And it's clear we aren't in the minority on this one.
1. Cali's Latest Crisis
Move over Greece. California's back and broker than ever!
While austerity-ridden Greece continues its indefinite domination of global headlines, the Golden State and its money troubles popped up again this Wednesday, surprising Californians who thought their state was solvent ... or at least solvent till June.
According to the
Sacramento Bee
, California will run out of cash by early March if the state does not borrow more money and delay some payments. Crunching the numbers, the state's Controller John Chiang said state leaders must locate $3.3 billion to ensure California has sufficient cash to pay for priority programs between Feb. 29 and April 13.
Fine. We'll say it. Chiang needs some
ka-ching
and he needs it now. At last check in 2010, California was the ninth largest economy in the world with a $1.9 trillion GDP. Greece came in 32nd with a GDP of $302 billion.
"I believe the upcoming shortfall can be effectively managed without resorting to IOUs, tax refund delays and other drastic measures with (legislation) and other steps we must take - quickly and collaboratively - in the coming days," Chiang wrote Tuesday to the Legislature's budget committee chairmen.
The big problem, says the Bee, is that state has received $2.6 billion less than what Gov. Jerry Brown and Democratic lawmakers assumed in their highly optimistic budget last year. Meanwhile, according to Chiang's calculations, the state is spending $2.6 billion more than state leaders planned.
Ouch! That's quite a hole. Governor Moonbeam could probably tax all those new
Facebook
millionaires all the way to Mars, let alone Nevada, and that still won't fill it.
The buzz from the Bee is that California's leaders plan to raise the necessary billions by borrowing from some of the state's transportation funds, delaying Medi-Cal payments and hitting up Wall Street for a big fat short-term loan. And because the state's credit is deteriorating, Chiang & Co. would also ask the highly rated
University of California
to borrow $200 million on its behalf.
You see California school kids! You don't have to study Greece to learn to act like a deadbeat. You can see all the same slippery maneuvers right from your classroom windows.
--
Written by Gregg Greenberg in New York
.
Disclosure: TheStreet's editorial policy prohibits staff editors and reporters from holding positions in any individual stocks.