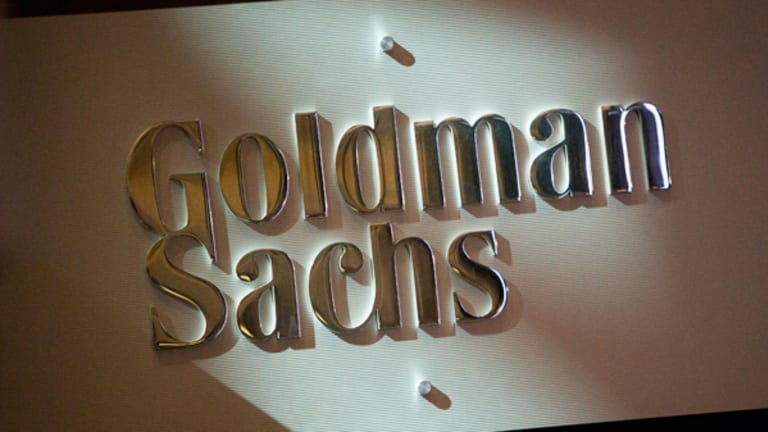 The 5 Dumbest Things on Wall Street This Week: Aug. 23
Shining a light on the anti-JPM conspiracy; GTx and FBN prove to be what we always knew they were; something wacky must be going on at Goldman; and more.
5. Bove's Beef
Back off Bove! We here at the
Dumbest Lab
totally agree with you that the
SEC's
reported inquiry into
JPMorgan Chase's
(JPM) - Get JP Morgan Chase & Co. Report
Chinese hiring practices is inane and pointless. We're down with you on that, Dick.
Still, your conspiracy theory that "the government, along with its press free-riders" are methodically plotting to deconstruct the nation's biggest bank, well, sorry to say, that makes you sound insane and paranoid.
Bove, who joined
Rafferty Capital Markets
as an equity research VP after his previous company Rochdale Securities imploded last fall as a result of an unauthorized trade, accused the United States government of making it "a priority" to break up JPMorgan Chase Monday in response to the
The New York Times
article that the bank had illegally hired the children of Chinese officials to help it gain business in China. Shares of the bank fell nearly 3% Monday to $51.83.
JPMorgan is said to have hired the son of a former Chinese banking regulator who is the chairman of the China Everbright Group, a state-controlled financial conglomerate, according to the Times. After the son's hiring, the bank won assignments from the Chinese conglomerate. In another case, the Times said JPMorgan's office in Hong Kong hired the daughter of a Chinese railway official just as a state-controlled construction company that builds railways for the Chinese government was selecting the New York-based bank to advise it on going public.
"This would be a first since it is not illegal for a company to hire a child of a prominent official. Moreover, it is interesting since this is a normal practice in China and I believe, for that matter, the United States," said Bove.
No argument there, Dick. We can't remember the last time we've heard regulators go off on a goose chase so shockingly stupid. Next thing you know the SEC will tell us that there is gambling going on at Rick's Café!
Not that we're crazy about the practice of JP Morgan CEO Jamie Dimon hiring well-connected kids to win him favors mind you. We do believe in merit.
However, we also do live. And we do breathe. And we do know that this is the cost of doing business and not a terribly onerous one compared to some of the other nasty things going on out there.
(Oh, and if you are reading this Laura Dimon, then definitely give us a call. We loved your poop piece in
The Daily Beast
and we would love to interview your dad ... sorry, excuse us ... we would love to talk to you about doing some work for us.)
All that said, the rest of Bove's assertion that Uncle Sam is hell bent on breaking up JPMorgan is positively cockeyed. If the government wanted to bust up the bank, it could have and it would have. But it hasn't and it won't and we've seen the campaign contributions and lobbying cash to prove it.
Let's be serious. All Uncle Sam is trying to do is put a leash on the monster it helped create. The bank has done nothing but grow in the past five years with the blessing -- and outright boosting -- of its benefactors in Washington, DC. The stock is up 36% since August 2008 and now sports a $194 billion market cap. The
Fed
essentially fed
Bear Stearns
and
Wamu
to Jamie Dimon during the depths of the financial crisis, vowing to absorb any losses and wave anti-trust actions, so Bove should cut the hysterics. Jamie and the government are doing just fine by each other.
Even sillier is his claim that the press has served as the Obama Administration's lap dog to accomplish its goal of cracking up the company.
"One wonders when the press will decide to provide a balanced look at the actions of the government against this company. It clearly misled investors when the "London whale" story broke causing investors to lose of millions of dollars under the theory that this company is mismanaged and that its earnings were likely to fall. Both arguments, of course, have been proven to be untrue," railed Bove.
Um, excuse us Dick. But we members of the press didn't lose $6.2 billion dollars in what is now being characterized as a rogue trade. JPMorgan's unsupervised, free-trading gang in London created that "tempest in a teapot" themselves and the bank's CEO back in New York didn't have a clue as to what they were up to. Dimon seemed to think there was risk management going on across the pond, just like the folks at
AIG
(AIG) - Get American International Group Inc. Report
probably thought there was somebody over there keeping tabs on Joe Cassano's disastrous derivative trades.
Moreover, simply because JPMorgan Chase is big enough to easily absorb a hit that big doesn't mean the general public is better off because of it. In fact, it means the exact opposite.
One would think that Dick would be less dismissive of the London Whale trading scandal considering his former firm was smashed to bits last year over a rogue
Apple
(AAPL) - Get Apple Inc. Report
trade gone awry. That's apparently a lesson he has chosen not to learn.
On that same note, one would think the bank analyst named Bove who called
Lehman Brothers
"one of the best companies on Wall Street" and reiterated his "buy" rating on the stock in September 2008 when it was $7.25 a share and sinking would be a bit more concerned with the consequences of another
Too Big To Fail
bank. Both on the global economy, as well as his reputation.
4. GTX Junk
Forget "Baby." Nobody puts Feuerstein in a corner.
Shares of
GTx
(GTXI)
got smacked Monday, losing nearly two thirds of their value, after the biotech player said its enobosarm treatment for muscle wasting in lung cancer patients failed in late-stage clinical testing. GTx said in January that the
FDA
would review enobosarm under its fast-track program, which is designed to accelerate the approval of drugs that treat life-threatening diseases. GTXi stock sank to $1.49 Monday, the company hit a 52-week high of $7.24 in June.
GTx CEO Dr. Mitchell Steiner said he planned to talk to both the FDA and European regulators about next steps for the drug, which the company claimed to have a consistent effect on lean body mass when compared with a placebo.
Before we talk future steps for GTx and enobosarm, however, let's take a quick step back to settle an old score.
Back in mid-July,
TheStreet's
biotech reporter Adam Feuerstein published a story correctly foretelling enobosarm's failure titled "The GTx Cancer Muscle-Wasting Drug Studies Will Fail. Here's Why." In the article, Feuerstein makes his prediction based on information from "one of my favorite fund manager sources" who happened to be short GTx and expects the enobosarm studies to fail.
Said Feuerstein at the time: "This is the same fund manager who was most recently short
Ziopharm
,
Celsion
in anticipation of negative clinical trial data. He was correct both times. Past performance doesn't always predict future results, but his track record is pretty damn good."
Hey, Adam's a journalist and he has sources. That's the way this business works. And in this case, his source convinced him that enobosarm wouldn't beat the placebo. Adam then spelled out in painstaking detail why he was siding with his source in the article, which knocked down GTx shares 25% when it hit our site on July 10.
Not too long after, a
Wedbush Securities
stock analyst named David Nierengarten who was bullish on the company, blasted Adam's piece as being "factually incorrect." Nierengarten also attacked Adam ethics and professionalism saying that he has "a problem with people using journalists to manipulate a stock."
First of all, while Adam's article may not have had the panache of a
Dumbest
piece, it was thorough and sourced fine. But don't believe us.
.
Next, it's perfectly legitimate for a journalist to cite a short-selling fund manager as a source. The reason research analysts got into trouble during the tech bubble and were eventually forced to settle for more than a billion dollars was because they were overly biased to the long side. They're bullishness cost investors billions of dollars, so the idea that journalists can't quote bears is ludicrous.
Have we forgotten the
Enron
story already? Give us a call Jim Chanos, we'll still quote you anytime.
Nevertheless, using Adam as his foil, Nierengarten reiterated his $9 price target and "Outperform" rating on the stock and stuck with it all summer.
Well, fast forward to this past Monday when GTx went down for the count and Adam's facts were revealed to be correct indeed. Nierengarten said
no mas
, throwing in the towel on the stock with a downgrade to neutral and a $2 price target.
Look. We don't want new cancer drugs to fail. Nobody does. But it unfortunately does happen and it's Adam's job to report on it. Sometimes he's right, sometimes he's wrong. But he does it better than anybody. Certainly in this case, he did it better than an accusatory analyst who should have shut his damn mouth.
Now that we've said our piece, let's get back to the future of GTx. What does Adam say about the company following its disappointing results?
"Don't for a second believe GTx CEO Mitch Steiner's B.S. spin about a potential survival benefit emerging from the failed phase III studies of enobosarm," wrote Feuerstein Monday. "Steiner is simply desperate to keep his company's stock price trading above cash where it belongs."
What say you now Nierengarten?
3. LightInTheBox Bungle
LightInTheBox
(LITB) - Get LightInTheBox Holding Co. Ltd. American Depositary Shares each representing 2 Report
management must be out of their minds! Everybody on Wall Street knows that your first post-IPO earnings report should not be light on the bottom line.
It should be in the bag.
Shares of the Chinese online retailer plummeted 40% to $11.58 Tuesday, after it forecast current-quarter revenue below analysts' estimates as a result of tepid wedding and prom dresses sales. The company projected third-quarter revenue of $68 to $70 million, below the average analyst estimate of $75.8 million.
Outside its underwhelming Q3 guidance, LightInTheBox also failed right out of the box in its Q2 results. Excluding items, the company earned 5 cents per share on sales of $72.2 million. The Street's pencil-pushers were expecting 6 cents on revenue of $75.8 million.
LightInTheBox, in case you forgot, was the first Chinese company to go public in the U.S. this year and only the second since
Vipshop
(VIPS) - Get Vipshop Holdings Limited American Depositary Shares each representing two 唯品会 Report
took the plunge 15 months ago. LightInTheBox ADRs priced at $9.50 each back on June 6th and finished at $11.61 on their opening day. The shares climbed as high as $23 before crashing this week.
"We concluded that we placed too much emphasis on higher-end (apparel) and not enough focus on lower-end products that traditionally sell very well," Chief Executive Quji Guo told analysts on Tuesday. "We expect to correct our issues in time for the next wedding and prom season in the first and second quarters of 2014."
Guo tell it to somebody who cares.
American investors were already petrified of Chinese IPOs after a rash of them turned to mud a few years ago thanks to the research reports of Muddy Waters, aka Carson Block. The accounting on some of those new issues was near criminal and a number of those companies eventually folded, delisted or simply melted away.
LightInTheBox's problems were cost related, not accounting shenanigans (as far as we know). Still, this particular IPO was supposed to change that risky perception and offer proof to skeptical investors that Chinese securities could in fact be trusted.
In that way, LightInTheBox really should have lit the way for a new round of safer, more evolved Chinese companies to list on U.S. exchanges.
Unfortunately, this LightInTheBox earnings blow-up may put those offerings back on the shelf.
2. Scozzafava's Swan Song
What can we say? Ralph Scozzafava did it his way.
Our friends at the
Wall Street Journal
alerted the markets late Monday that the end is indeed here for
Furniture Brands International
(FBN)
. Shares of the furniture maker sank to a 52-week low of 54 cents on Tuesday after the
WSJ
cited sources that the company's CEO Ralph Scozzafava is tapping bankruptcy advisers to deal with its debt load. The company's stock bounced back above 70 cents late Tuesday most likely due to shortsellers covering their positions.
FBN cumulatively lost more than $91 million in its last two fiscal years, and the market is expecting another loss in 2013. The company hasn't posted a profit since 2006.
Wow. We've been saying for months that Scozzafava was driving this company into the ground, yet it's still shocking to see it face the final curtain. In April we chastised the company for signing Ralph to yet another fat contract to keep him in charge through the spring of 2016 even though the company was in a tailspin.
Sorry Ralph, but we don't think you are going to make it that far.
Wait a second! Forget months, come to think of it, we've been watching Ralph rip this company apart for years!
Back in March 2009, for example, we wrote about Ralph's grandiose $3.8 million pay package, which included a 7% salary bump, despite FBN posting a double digit sales decline and a net loss of $415.8 million the previous year. At the time FBN blamed its compensation consultant for Ralph's lavish pay in the face of disastrous results.
Of course, the consultants were hired by the company's board of directors of which Ralph was, of course, the chairman. So even then we could clearly see how it all comes back to Ralph's pocketbook in the end.
And now, like we and Frank Sinatra -- the real chairman of the board -- said, the end is here.
The company, which has $118 million in long term debt and $9 million in rapidly dwindling cash at last check, has retained the law firm of
Paul, Hastings, Janofsky and Walker LLP
, investment bank
Miller Buckfire & Co.
and restructuring expert
Alvarez & Marsal
to prepare it for the seemingly inevitable march to Chapter 11. In its second-quarter earnings report earlier this month the company said it was "exploring options with our lenders to modify our credit facilities to improve our liquidity."
As for those lenders, the
WSJ
reports that some of the creditors are being counseled by
FTI Consulting
and the law firm of
Kirkland & Ellis
. (Kirkland, if you remember, is where Robert Khuzami landed a $5 million per year gig after leaving the
SEC
. Now he can really put his feet up in style. On a Thomasville, Lane or Broyhill chair perhaps.)
The company also said in its earnings report it is following a number of cost-cutting strategies, including "facility consolidation, reductions in force and reductions in controllable costs."
We know a facile force they can cut and it would go a long way to helping them control costs. His name is Ralph Scozzafava. And as the record shows he took the dough and did it his way.
1. Goldman's Glitch
Was it a technical glitch? Was it a fat finger? Somebody please tell us exactly why
Goldman Sachs
(GS) - Get Goldman Sachs Group Inc. (The) Report
sent waves of erroneous option orders into the market Tuesday morning?
Dumbest
minds want to know!
Lord knows we expect this type of thing to happen at the
Nasdaq
undefined
like we saw on Thursday when trading was shut down for more than three hours. But we're talking about almighty, glorious Goldman here, not some silly little exchange that couldn't even handle
Facebook's
(FB) - Get Meta Platforms Inc. Report
IPO.
In what seemed like a reprise of the so-called "flash crash" of 2010, Goldman placed a slew of unauthorized option orders on stocks and ETFs with ticker symbols beginning with the letters I through K, driving some prices off a cliff as a result. U.S. options exchanges told traders on Tuesday that the trades would be reviewed and could be cancelled in some cases.
"The exchanges are working to resolve the issue," said a Goldman spokesman in a statement. "Neither the risk nor the potential loss is material to the financial condition of the firm."
Chill out, dude. We know you think the financial world revolves around Goldman Sachs, but nobody's worried about your firm getting washed away by a "technology breakdown" like
Knight Capital
did last summer. We're worried about the system. We all know Goldman Sachs traders and cockroaches will be the last ones standing when Armageddon hits. And we also know that when those busted trades go to arbitration Goldman will miraculously come out on top. As we said previously, we both live and breathe.
Knight's glitch, for those that may not remember, sent the firm to a $440 million loss and into the arms of
Getco
. Goldman could handle a loss like that without missing a beat and if it needed any more cash then it could always count on Uncle Sam or Uncle Warren to bail it out.
Heck, Goldman settled with the
SEC
for $550 million three years ago and barely blinked. For that matter, it barely admitted wrongdoing, but that's a different point entirely.
All that said, we still want to know what happened, because if machines are running amok at Goldman then it's a problem for every other trader out there. We need to make sure this doesn't happen again at Goldman or one of the other "Too Big to Fail" banks.
Even the highfalutin folks at Goldman would have to admit that much. Lord knows they don't have the "Fabulous" Fab Tourre to take the fall for them anymore.
-- Written by Gregg Greenberg in New York
Disclosure: TheStreet's editorial policy prohibits staff editors and reporters from holding positions in any individual stocks.