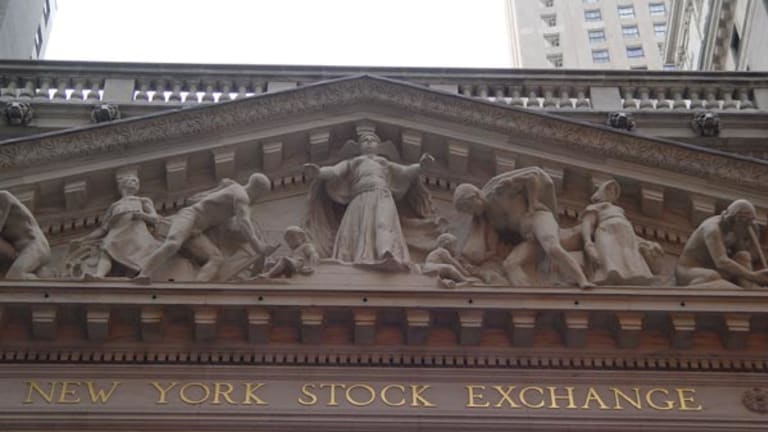 The 5 Dumbest Things on Wall Street: Sept. 30
Oswald's Comedy Act; Lucky Leo Cashes Out; Kodak Season; Tuning Out Groupon; and Carl's Clorox Campaign make up this week's list.
5. Oswald's Comedy Act
Who said Germans don't have a sense of humor? We've been listening to ex-
UBS
(UBS) - Get UBS Group AG Registered Report
CEO Oswald Gruebel for the past week and we think he is simply hilarious!
Shares of beleaguered Swiss bank UBS spiked 8% on Monday as the company named Sergio Ermotti as interim CEO after a $2.3 billion rogue trading loss forced the resignation of Oswald Gruebel over the weekend. Gruebel was so confident that he would stay on as the bank's leader that he chuckled last Wednesday when a
Reuters
reporter asked if he still had the board's support, replying, "Yes. Always."
Always
? Oh boy, that's hysterical Oswald! You didn't even make it through the weekend! We should call you "Ossie the Owl" from now on because you sure are a hoot.
And that was not even the funniest thing he said prior to his sacking. Barely a week ago, Gruebel told Swiss weekly
Der Sonntag
about the scandal, "I'm responsible for everything that happens at the bank, but if you ask me whether I feel guilty, then I would say no."
Not
guilty
huh? Well, maybe good old Ossie was just pulling their proverbial leg back then, because he certainly sang a different tune in his final memo to his staff this weekend.
"As CEO, I bear full responsibility for what occurs at UBS. From my first day on the job I placed the reputation of the bank above all else. That is why I want to and must act according to my convictions."
Looking back, perhaps Gruebel's most side splitting remark came this past June when he said "we have no undue risk in our positions... I'm pretty convinced that we have one of the best risk managements in the industry."
Man, what a laugher. Just too comical. But what really cracks us up about that particular statement is not that he announced a $2.3 billion rogue trading loss barely two months later.
It's that he said it with a perfectly straight face.
4. Lucky Leo Cashes Out
Honestly, we can't think of a better job in the world than getting fired as CEO of
Hewlett-Packard
. Can you?
Check this out: HP stock was trading at $42 a share on Sept. 30, 2010 when Leo Apotheker replaced the scandal-tarred Mark Hurd as CEO. Fast forward to Sept. 22, 2011 and the shares were barely above $22 when the company formally announced Meg Whitman would be replacing Apotheker in the company's top job.
Yep, the once-iconic technology company lost nearly half its market value in barely a year under Leo's astute stewardship. So how much is he likely to walk away with for all his success? The package is worth at least $13.2 million, according to a regulatory filing late Thursday, plus relocation assistance, reimbursement of certain legal expenses, and other benefits.
Lucky Leo is in line to pocket all that dough for wrecking a company and getting ousted. Damn, that sure is good work if you can get it.
And because HP is so screwed up, Leo is not even the first guy -- or gal -- to snag a serious payday from HP's board before being sent packing. In fact, that pretty much is the protocol at the printer maker. (Wait! Do they still make printers anymore? Or did they drop that business with the tablets? Oh, who knows anymore? Who even cares?)
Mark Hurd, who left in a cloud of sex and shame, received a cash severance payment of $12.2 million before jumping to an executive job at
Oracle
(ORCL) - Get Oracle Corporation Report
. HP CFO Cathie Lesjak filled in as CEO after Hurd took off, bridging the gap between Hurd and Apotheker. She was granted a $1 million cash bonus and $2.6 million in stock grants for her three months of "exceptional service." And Carly Fiorina, who left as CEO in 2005, was given a $21.4 million cash severance in addition to another $21.1 million in stock grants.
All-in HP has spent more than $70 million, conservatively speaking, on exit packages for its past four CEOs, including Lesjack's brief stint. Meanwhile, shareholders have watched the value of their holdings decimated.
To which we say, congratulations Meg. Good luck with your new gig. Here's hoping you get canned as soon as possible.
3. Kodak Season
Forget duck or rabbit season. It's
Kodak
(EK)
season folks!
No we are not kidding. And no we are not talking about the grizzly bears. Those are Kodiaks, with an "i", not the former photography giant.
Shares of Kodak lost over 26% Monday as short-sellers -- and whatever brave long-term holders are still out there -- opened fire on the stock, sending it well below $2 a share. Kodak, which is trying to make a comeback with new digital offerings, was caught in traders' crosshairs after it drew down $160 million from its revolving credit line causing some on Wall Street to wonder if the company was running out of cash.
Not so, protested Kodak, which said in a statement that it had plenty of cash, but just not handy.
"Our cash flow is highly seasonal," said the former
Dow
component. "This is a tool to help manage that seasonality."
Sadly, the company's "seasonality" excuse was not enough to keep traders from pulling the trigger and target practice continued throughout the day.
To be fair, Kodak had $957 million in cash at the end of June and it certainly could not have burned through all of that green tinkering with its inkjet printer offerings since then. And it also reportedly has a whole lot of money stashed abroad which it is loath to bring back lest it get walloped with a big tax bill. And finally it has a rich portfolio of digital-imaging patents which it plans to sell eventually, and, as
Google
(GOOG) - Get Alphabet Inc. Report
revealed in its recent
Motorola Mobility
purchase this summer, patents are all the rage nowadays for tech geeks.
All that said, it's clear that Kodak will continue to see such selloffs until the company starts generating cash, instead of burning it. And they should know by now that Wall Street's sharpshooters tend to shoot first and ask questions later -- no matter the season.
2. Tuning Out Groupon
Groupon. Group
off
. Groupon. Group
off
.
Yes, it's true. The daily deal company has officially become
The Karate Kid
of IPOs, and if we hear any more about it we may be forced to sweep CEO Andrew Mason's leg ourselves.
The Wall Street Journal
reported on Sunday that Groupon will eventually launch an initial public offering, although the exact timing remains up in the air. The reasons for the delay are many, according to the
WSJ
, ranging from aggressive regulators combing the company's books to the current volatility in the stock market to the exit of COO Margo Georgiadis back to
Google
after just five months with the company.
You gotta admit, for a company so arrogant and assured it will dropkick the competition on its way to IPO glory, Groupon has been spending a lot of time flat on its back lately.
Groupon, which filed to go public in June with an ambitious $20 billion valuation, amended its offering documents last Friday, cutting its reported revenue for 2010 to $312.9 million from $713.4 million. For the first half of fiscal 2011, the switch sinks its revenue to $688 million from the previously reported $1.5 billion. The revenue reversal was because Groupon finally accepted the fact that it needs to omit payments it makes to merchants when accounting for the revenue it collects from its "groupon" deals.
To be fair, Groupon came clean and admitted that its loss widened to $253.9 million for the quarter as a result of the change, up from $205.4 million. But the fact that a company that has yet to list its shares -- let alone turn a profit -- thinks it can create its own accounting rules is a bit bigheaded in our view. Sorry dudes, the "G" in GAAP stands for "Generally," not "Groupon."
And speaking of bigheaded, we certainly think the IPO process would be much smoother were it not for Mason's continued missteps, most of which are a result of his big mouth.
Mason's latest blunder was a memo he sent in August telling employees "we must patiently and silently endure a bit more public criticism as we prepare to birth this IPO baby -- a breed for which there are no epidurals." He then added that Groupon's businesses were slaying competitors and seeing "unprecedented growth."
While some may admire Mason's bravado, it came back to bite him in the rear when the missive was leaked to the press and eventually found its way to the
Securities and Exchange Commission
. And if there is one thing the SEC doesn't like, it's too much chatter about a company during its pre-IPO quiet period. Not helping, of course, was the June 3rd comment by Groupon Chairman Eric Lefkofsky's that the company would be "wildly profitable."
Look. If and when Groupon finally does go public then we have no problem waxing poetic about the company's business. In fact, we'll wax on and on. But until they do something other than cut numbers and boast about their inevitable success, well, then we won't wax at all.
1. Carl's Clorox Campaign
We won't try to whitewash it. Carl Icahn's
Clorox
(CLX) - Get Clorox Company (The) Report
campaign was a loser.
Shares of the bleach maker fell over 4% amid heavy trading Monday after billionaire investor Carl Icahn yanked his bid to take control of Clorox's board. Icahn bowed out, saying there would not be enough shareholder support for the nomination of himself, his son and nine others for election to Clorox's board at its next annual shareholder meeting, according to a regulatory filing. Clorox confirmed Icahn's withdrawal of board nominations, saying it was "confident" in its strategy to benefit shareholders by focusing on consumer trends.
Sorry Carl. We know you had high hopes to buy the company. Or sell the company to
P&G
(PG) - Get Procter & Gamble Company (The) Report
or
Colgate-Palmolive
(CL) - Get Colgate-Palmolive Company Report
. Or buy and then sell the company. Or do something or other with it that would make you a lot of money without doing a lot of work actually improving the company's operations.
If you remember, Icahn stepped up his proxy fight for Clorox in late August, saying he would backstop an auction for the company, hoping to obtain $78 per share, if the board members he had nominated were elected. If the auction failed to bring in an offer at that price he promised to buy the company himself at that rate, valuing Clorox at $10.26 billion. Prior to that power play, Icahn had already been rejected twice by Clorox. In mid-July, he offered $76.50 per share, and then raised his offer to $80 per share.
Tired of Icahn's aggressive actions, Clorox played some hardball of its own, adopting a "poison pill" strategy that protects against hostile buyers through share dilution. And Clorox even went so far as to question Carl's manhood -- and by that we mean his bank account -- during his most recent takeover attempt. The company publicly doubted his ability to fund the acquisition despite Icahn maintaining he had sufficient cash plus a "highly confident" financing letter from Jefferies Group.
In the end, it was all just one ridiculous game. Icahn wanted to put Clorox in play. And when push came to shove, Clorox proved that a cleaning supplies maker could play dirty too. And now thankfully we can all just wash our hands of the whole darn thing.
--
Written by Gregg Greenberg in New York
.
Disclosure: TheStreet's editorial policy prohibits staff editors and reporters from holding positions in any individual stocks.