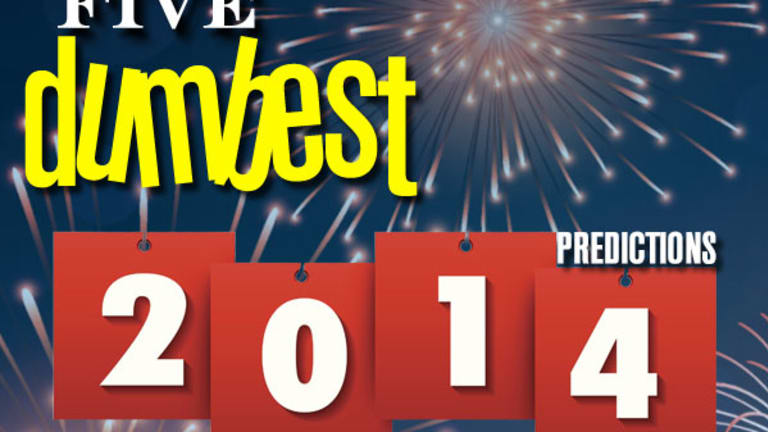 [video] The 5 Dumbest Things on Wall Street: Predictions 2014
The coming year holds much promise for new discoveries from the Dumbest Lab. Here are our top five predictions.

The bull run in 2013 was not simply for stocks, but for dumb things as well. We had so much great material last year that we simply cannot wait for 2014 to start. Thats why were already looking ahead to next year even before we flip the final page in our desk calendar.
That's right folks, its time for our Five Dumbest Predictions list. We know you can't wait either, especially after our prophecies from last year were so spot-on.
OK. We were zero for five last year, but we came close in a few spots which is more than you can say for Blackstone guru Byron Wien who really struck out on his annual list.
For example, embattled SAC Capital chief Steve Cohen did not break his longstanding silence by pouring his heart out to Barbara Walters on The View like we predicted. That said, we were treated to a bootleg legal deposition from Stevie in November that seemed fairly heartfelt. Thats gotta count for something!
And fine, Apple (AAPL) didnt buy The Gap (GPS) and launch a line of stores mixing technology and fashion. We were wrong on that score, we grant you that.
Still, Apple CEO Tim Cook saw his companys stock in the dumps for nearly the entire year while shares of The Gap soared. That means merger arbitrageurs would have made out like bandits had they heeded our words and bought Gap stock and shorted Apples.
You see? Horseshoes, hand grenades and Dumbest predictions. Close is more than good enough.
So, without further ado, please find this year's list. And for the record, dont think weve entirely given up on last years predictions. Dick Grasso still might turn the New York Stock Exchange into Grassos Italian Restaurant and Day Trade. And if he does, you heard it here first!
5. Maria's Next Move
It was some indefinable quality which led her to become the first reporter to broadcast live from the NYSE. Certainly the accomplishment resulted from more than her comeliness; otherwise any mic-wielding beauty could have made the breakthrough. Likewise, there was something intangible, dare we say magical, about her singular ability to anchor both CNBCsThe Closing Bell as well as On the Money, while still saving time to commentate on the Columbus Day parade.
Yep, Maria Bartiromo always had that je ne sais quoi that has enabled her to break gender, business, and journalistic barriers. Like Columbus himself, she has that indescribable ability to not only see new worlds, but breach them.
And now that she's moving from CNBC to a new home at Fox in 2014, she'll be able to use the X-factor that has served her career so well as the newest judge on, what else, The X Factor.
That's right. Shove over Demi Lovato, Kelly Rowland, Paulina Rubio or whichever vapid young vixen may currently be situated next to producer Simon Cowell in the judges pew. That seat will soon belong to the Money Honey.
Seriously, we know why she left CNBC to join Roger Ailes squad and it wasn't a mad dash for more money. Nor was it a desire to piss off Liz Clayman. She could easily achieve both those objectives without abandoning her dressing room in Englewood Cliffs, N.J.
We know first, or maybe second-hand (perhaps third), Maria is making the move because the brass at NBC passed her over for one of the female judging spots next to Howard Stern and Howie Mandel on America's Got Talent. Nothing more, nothing less.
Our source has it on (somewhat) decent authority that Marias initial demand during her contract negotiation was to play the character of Maria in the networks recent live broadcast of The Sound of Music. Unfortunately, the powers-that-be at the Peacock network decided that having the same name as the lead character was not reason enough to give its star financial reporter the role made famous by Julie Andrews. A stellar singing voice, in fact, was required.
NBC brass opted instead to give the part to former American Idol (a Fox ratings staple) champion Carrie Underwood, a decision that thoroughly peeved Bartiromo, who was seeking to showcase her talents on a show sans scrolling stock tickers. (In retrospect, letting the former Brooklynite Bartiromo loose in the Austrian Alps might have been the better idea considering the shows awfulness. But thats pure hindsight. Were looking forward here.)
Think were kidding? Take a look at Bartiromos interview with the Wall Street Journal from this summer.
"I do watch the movie on my mini-iPad whenever I fly, which is often. I love all the songs in the movie, but the opener makes me feel safe. Hearing Andrews sing it makes me feel I can keep moving forward no matter what, and it encourages me to keep pushing and trying. It's a personal thing," said Bartiromo, who clearly didn't push hard enough in this case.
And after the network to which Maria had called home for 20 years chose Heidi Klum and former Spice Girl Mel B to shine in its top-rated variety show, Maria B knew she had to move on. If she wanted to showcase the impalpable ability that makes her so inexpressibly amazing, she had to change the channel. Cue Ailes, who was right there to satisfy his former proteges desires with a plum spot on Cowells song and dance show in addition to her on-air duties at Fox Business.
Trust us. If you want to know where Maria is going in 2014, we guarantee you that X marks the spot.
4. Volcker's New View
Paul Volcker will be joining JPMorgan Chase (JPM) in the next 12 months.
That's right. You heard it here first, so back the bleep off Andrew Ross Sorkin.
In the coming year, JPMorgan CEO Jamie Dimon will hold a press conference announcing the addition of the former Fed-chairman to his executive team. Volcker will be in attendance, of course, beaming behind Jamie at the podium before taking the microphone himself to explain his new role at the Too Big to Fail bank.
And what will that role be?
To enforce the Volcker rule of course!
Now, before you start guffawing at the idea of the big guy -- 6'7" in height, although much taller in stature -- jumping into Dimon's den, think about how much sense the move really makes. You'll quickly see why it's a win-win-win scenario.
First off, Volcker gets a nice payday, probably in the $1 billion per year range. Give us a break. Did you really believe he would follow former Treasury Secretary Tim Geithner to pissant Warburg Pincus for bupkus?
Next up, government regulators will love having the former Fed chief inside JPMorgan because he will be able to keep tabs on the bank for them. The SEC already learned the hard way that catching an entity like the London Whale requires an Ahab like Volcker and not a bunch of British beancounters. The cigar-chomping Volcker be like their man in Havana, if only Havana was a $212 billion bank currently run from the to-do list in Dimons breast pocket.
As for Jamie's rationale for money-whipping Volcker onto his team, well, thats pure Wall Street logic: If you can't beat'em, hire'em.
Nobody can understand the nearly thousand-page rule except Volcker himself. Therefore, Dimons decision to pay Volcker a cool billion for his services will not only save him hundreds of millions in legal fees, but potentially tens of billions in government penalties.
Put it all together and it's a no-brainer that Volcker will be joining JP Morgan in 2014.
3. Amazon's Air Force
Jeff Bezos wants a fleet of drones to deliver Amazon's (AMZN) goodies. Well, in 2014 he's going to get it.
And not those Prime Air toy helicopters he showed off on 60 Minutes either. We're talking about the real thing.
Grab a pen and jot this down folks: Amazon is buying Textron (TXT) next year.
Keep those pens down while we run through some numbers.
Textron, which sports a market cap of $9 billion, sold $12 billion worth of Bell helicopters and Cessna aircraft in the past 12 months. Shares of the company are up 29% this year and it trades at a fairly inexpensive 14 times 2014 earnings estimates.
That's an easy pill to swallow for the $177 billion behemoth Amazon, which trades at 144 times next years profits and sold $70 billion worth of stuff last year. Not that Bezos cares too much about earnings considering the company posted a $41 million loss in the third quarter.
And as for why Bezos would opt for Textron and its Bells as opposed to scooping up United Technologies (UTX) for its Sikorskys?
Let's be honest. Even the perennially optimistic Amazon founder realizes that a UTX purchase would be biting off more than he could chew. UTX boasts a market-cap of $101 billion and Bezos knows he does not need the missile guidance systems in Black Hawk choppers to deliver the Sunday edition of the Washington Post.
Speaking of which, he bought that paper for $250 million on a lark. That's not the case here. When it comes to air supremacy, Bezos is dead serious.
Bezos sees the competition coming from Walmart.com. He knows selling books and DVDs just wont cut it anymore in this crowded online marketplace. Thats why he needs a powerful air fleet to deliver lawnmowers and washing machines directly to peoples doors.
We know from his Blue Origin spacecraft startup that Bezos speaks solemnly when it comes to the atmosphere. And were equally as earnest in our assessment that his next move skyward is purchasing Textron. And when pulls the trigger on that deal in 2014, remember that you read it here first.
2. Brett Breaks Out
Carl Icahn cemented his iconic status in 2013 by breaking Bill Ackman and dominating Michael Dell as he tried to buy back his namesake computer company. Next year, however, Carls kid Brett will be Wall Streets breakout star.
And what will Brett's first order of business be in 2014?
Bouncing his father out of the boardroom of course!
We briefly saw the schism between father and son in October when Icahn Enterprises (IEP) unloaded a chunk of its Netflix (NFLX) stake from its $31 billion hedge fund for an $800 million profit. The original idea to purchase the stock came from Brett, 34, who started managing money for his dad in August 2012 when Carl handed him $3 billion to invest in small and mid-cap companies (Brett could have gotten a really cool bicycle from his pop, but smartly chose the cash instead). Brett's portfolio, Sargon, is co-managed with Icahn Enterprises portfolio manager David Schechter and supervised by Carl himself.
As for Netflix, Brett called the video on-demand company at the time one of the great consumer bargains of our time," and was clearly against selling the shares.
His 77-year old activist investor dad, nevertheless, overruled his upstart son out of hand. Said Carl in an SEC filing: "When you are lucky and/or smart enough to have made a total return of 457% in only 14 months it is time to take some of the chips off the table."
Think about it. If your Dad -- billionaire or not -- upstaged you like that for the entire financial world to see, how would you feel? Pretty crummy huh?
We surmise that the Netflix rift probably wasnt the first between the pair, and, knowing the elder Icahns cantankerous nature, probably wont be the last. Thats why we believe Brett will try to emancipate himself from his fathers yoke via a boardroom coup sooner rather than later.
Brett's investing tryout with Sargon ends when Carl Icahn turns 80 in 2016. Frankly, we dont think hell stick around that long, especially if Carl continues with his Father Knows Best braggadocio. Expect Bretts uprising by next summer.
1. Loeb Goes Hollywood
Activist investor Dan Loeb played the role of the evil Wall Street billionaire in 2013. His campaign to cut costs at Sonyundefined caused the studio to hire consultant Bain this past fall with the goal of shedding $100 million in overhead. Until those layoffs are completed, Loeb will literally and figuratively remain a four-letter word on the Sony lot.
Once the last fired worker is shown the door, however, that animus will burn off, readying the red carpet for Dans triumphant return. And boy is he coming back in a big way.
In 2014, you see, Loeb will head back to tinseltown to star in a $100 million action movie alongside George Clooney. Thats right, the same poison-penned activist investor who ousted Scott Thompson from Yahoo (YHOO) and squeezed Bill Ackmans Herbalife short position to the rafters, is going to share the silver screen with the Oscar winner.
The movie has yet to be named. The script has yet to be written. The director has yet to be selected (although Variety has reported rumors it will be a Spielberg production).
None of that matters though, because its a done deal. We have solid evidence from not one, but two waiters at The Ivy, as well as a busboy at Nate 'n Als that George and Dan will be teaming up for a blockbuster.
Now you might be thinking that a project of this magnitude would be impossible, especially considering Clooneys attack on Loebs character last summer. Clooney said at the time that Loeb's plan to cut back on Sonys slate of movies based on two bombs was misguided.
"If guys like this are given any weight because they've bought stock and suddenly feel they can tell us how to do our business -- one he knows nothing about -- this does great damage...," said Clooney, adding that Loeb was a carpetbagger.
That whole episode is history now. Like all Hollywood frenemies, theyve air-kissed and made up.
Said Loeb last month, "I get where George is coming from. We probably agree more than we disagree."
That's right, Dan. Forget Ackman.
Think Batman.
-- Written by Gregg Greenberg in New York
Disclosure: TheStreet's editorial policy prohibits staff editors and reporters from holding positions in any individual stocks.