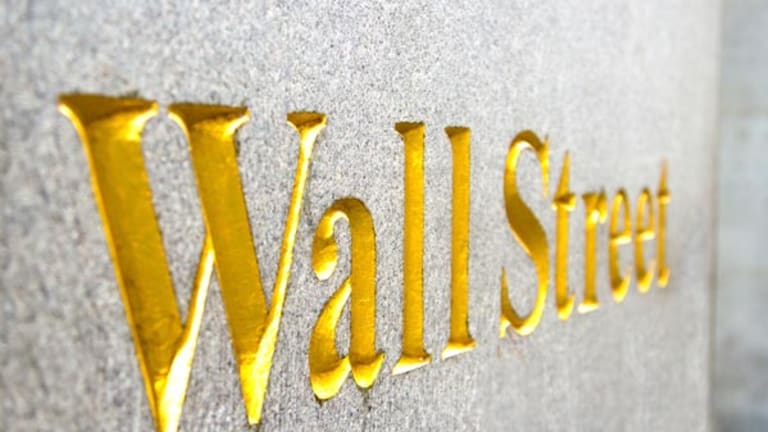 The 5 Dumbest Things on Wall Street: Nov. 26
Here is this week's roundup of the dumbest actions on Wall Street.

5. Fliers to TSA Boycott: Yeah ... Not So Much
The hullabaloo surrounding the Transportation Security Administration's use of full-body scanners reached a fever pitch this week, thanks to National Opt-Out Day. And the logic was, naturally, flawless: Flyers, outraged over their privacy being invaded in the name of safety, would fight the good fight by just saying no to scanning on one of the busiest flying days of the year. They would opt for the pat down, and slow an already maddeningly slow process down even more -- and all for the sake of your civil liberties.

Travelers and airlines have, of course, paid an extra $5.9 million a year each year since the Sept. 11 terrorist attacks for the privilege of being poked, prodded -- and now placed in electronic peep-show booths. And seemingly each time the country thwarts a terrorist attack, passengers are pressed to give up just a bit more: their shoes, in 2001, after Richard Reid tried to blow up American Airlines Flight 63; their bottles of
Pepsi
(PEP)
and Aveeno products, in 2006, after a transatlantic aircraft plot; and their thin veil of privacy this year when full-body scanners followed the attempted bombing of Northwest Airlines Flight 253 last Christmas.
Then US Airways (LCC) and American Airlines (AMR) pilots balked at being forced through the scanners and exposed to their radiation
. The stories of three-year-olds howling through searches and beleaguered fathers removing their kid's shirts in order to speed up the ridiculous process only added fuel to Opt-Out Day's fires.
Thus, the Internet decided to take a stand -- and the media decided to run with it. After all, the Internet -- and the hysterical media -- always reflect the larger outrage of the broader public, no? And given the build up to Opt-Out day, the examples of civil disobedience should have brought air travel to its knees by noon.
Did this all happen? Not exactly.
It turns out that sometimes the Internet just reflects the voice of the vocal, not necessarily the majority -- and the media covers what makes for sensational jibber-jabber, not necessarily the news. And so we were all shocked --
shocked, we say!
-- to discover that travelers were more concerned, on the day before Thanksgiving, with getting to where they were going. By noon on Wednesday, media outlets -- their collective voices oozing disappointment -- were reporting business-as-usual conditions at most major airports:
BREAKING NEWS: This non-story that we have manufactured and hyped has turned out to be baseless!
TheStreet Says:Let's see: Punish the TSA by punishing your fellow travelers.... Yeah, it's real hard to see how that idea fell flat.
4. Drink Up Kiddies, It's Extra-Leaded!
The
McDonald's
(MCD)
recall of 10 million Shrek drinking glasses in June
should have been a warning to those who like to include the sale of useless trinkets to boost their business. A savvy executive might have seen that McDonald's recall and thought to themselves, "Hey, we've got shelves full of glasses adorned with cartoon characters in our store, perhaps we should double-check those for hyper-toxic levels of lead."
Unfortunately for
Time Warner's
(TWX)
Warner Brothers and
Coca-Cola
(KO)
, that savvy executive wasn't on the payroll.
A report conducted by the
Associated Press
found that
drinking glasses that were marketed to kids contained lead levels in excess of federal limits
. And not by just a little. Lab testing commissioned by the
AP
found that some of the most popular comic book or movie-themed glasses contained up to
1,000 times
the amount of lead permitted by Federal limits for children's products.
The tests, conducted by ToyTestingLab in Rhode Island, were conducted on superhero and
Wizard of Oz
glasses bought from the Warner Brothers Studios store in Burbank. They found that decorations on the glasses were 16% to 30.2% lead, far exceeding the federal limit of 0.03% for children's products.
The "Oz" Tin Man design was reported to contain the most alarming levels of lead: 1,006 times the federal limit for children's products.
The Wizard of Oz
Lion and Dorothy decorations exceeded the limit by 827 times and 770 times, respectively. Wonder Woman exceeded the limit by 533 times, Superman by 617 times, Batman by 750 ... and so on, and so on.
Approximately 160,000 glasses have been recalled. Coke said it is recalling more than 88,000 glasses.
Granted, with McDonald's the problem wasn't lead levels; it was the presence of cadmium. But would it surprise you to hear what else was found on the most recent batch of recalled glasses? Traces of cadmium. Who could possibly have seen that coming ... especially with glasses made in China?
TheStreet Says: If you're in the business of selling things to children, best not to poison them. Parents get all bent out of shape about that sort of thing.
3. U.S. Corporations, Flush With Profit, Could Not Possibly Hire More Workers
Residents of Main Street may have more trouble digesting Wall Street's corporate prosperity than their gargantuan Thanksgiving meals: According to a Commerce Department report this week, American businesses earned profits at an annual rate of $1.659 trillion in the third quarter, the highest figure recorded since the government began keeping track more than 60 years ago.
On one hand, this is great -- and somewhat surprising, given how often we've heard from political partisans that President Barack Obama is "the most anti-business president in history." On the other hand, the Federal Reserve released new projections this week indicating that unemployment will be rearing its ugly head for a long time to come. The Fed is now estimating that more than 10 million Americans will remain jobless through the 2012 elections. The current 9.6% national unemployment rate will only fall to 9% by the end of 2011, and 8% by the time the next presidential election is taking place.
Regardless, U.S. companies have many things to be thankful for this holiday weekend: Thanks to the tireless efforts of the increasingly strained U.S. worker, companies are seeing record productivity gains. The record corporate profits have also led to the biggest year in stock-repurchase activity by U.S. corporations since the financial meltdown, buoying share prices.
>>Top 10 S&P 500 Buybacks of 2010
Even with the big rebound in corporate profits -- 28% in the third quarter -- Commerce reported that spending by corporate America on compensation for employees in the past year has only risen by 7.6%. Meanwhile, corporate insiders have been cashing out of their stocks this month through insider sales, too, at higher rate than at any other time in the previous few years.
>>Top S&P 500 Insider Sales of 2010
Still, one has to suspect something is rotten in the state of record corporate profits when the unemployed have even corporate America's best pal and former Fed Chairman Alan Greenspan tsk-tsking U.S. corporations for their squeezing more drops from the increasingly bone-dry American worker. Greenspan said in an interview with
Bloomberg
this week, "When markets shut down, and capacity expansion comes to a halt, companies direct all of their capabilities toward harvesting untapped cost-saving innovations accumulated during the previous boom. We have been experiencing this harvesting for a year or so. You have to ask the question: Are we running out of backlog?"
TheStreet Says: We thought "socialists" hated profits. Guess Obama must be a lousy socialist.
2. The Great Cocoa Panic!!!!
Start rationing your Hershey's and Take 5 bars now, because chocolate candy as we know it may disappear in the near future.
That, at least, is what the Cocoa Research Association declared last month, when it announced that global consumption of chocolate is increasing well beyond the rate of cocoa production, a situation it deemed unsustainable, according to the
.
Despite most of the action on the cocoa front heating up over the summer, the media latched on to the story this week, just in time for engorged Americans to panic over the perceived threat to their corpulent way of life. "In 20 years chocolate will be like caviar," John Mason, executive director of the Nature Conservation Research Council, told the Independent. "It will become so rare and so expensive that the average Joe just won't be able to afford it."
But fact-check time: While it's true the cocoa prices are soaring, and consumption is on the rise, the same could be said for almost any commodity. It's a simple formula really: take the world's projected population growth and put it next to production of cotton or oil and presto, shortage.
Indeed, chocolate prices have recently climbed, but that's more tied to speculation in the commodity, since this summer the Armajaro hedge fund's Anthony Ward spent $1 billion to corner the market, buying 240,100 tons of cocoa beans and hiking prices to levels not seen since the late 1970s.
Besides, as
notes, major chocolate manufacturers such as
Hershey's
(HSY)
and Mars are working to genetically engineer cocoa trees to boost chocolate production. Mass-market chocolate, especially in the U.S., doesn't use a lot of real cocoa anyway, suggesting Americans might accept substitutes in their Hershey's or
Tootsie Roll Industries
(TR)
products. The Cadbury's stuff made by
Kraft
( KFT) for the Brits might pass muster with a little more chemicals, too.
TheStreet Says: Commodity shortages come and go. A simple Internet search reveals that the same headlines announcing the death of chocolate surfaced three years ago as well.
1. Christmas Wins the War Against Christmas
For almost ten years now, the American Family Association has bravely waged a war on retailers who express "holiday" spirit rather than "Christmas" spirit in their marketing. They've been so successful in their war, in fact, that the war may be over.
According to a report by
AdAge
, since the AFA began its campaign, the percentage of retailers who have responded to the AFA's not-so-subtle bullying by embracing Christmas-specific advertising has risen from 20% to 80%. They were even having trouble finding their target for this year, and their list of Companies Against Christmas looks a little thin these days.
Fortunately,
Dick's Sporting Goods
(DKS)
was foolhardy enough to host an online "Holiday Shop," and hadn't singled out Christmas in its advertising. Thus, last Friday, the AFA put its 2.3 million supporters on notice that Dick's should be boycotted until Dec. 25 for its consideration of others.
"In our research of the Top 100 retailers in America, Dick's advertising is likely the most 'anti-Christmas' of all," the AFA told its troops. "Sure, Dick's wants you to buy their products, but no retailer in the nation has appeared to go out of its way to snub 'Christmas' more than Dick's."
By Monday, Dick's was falling all over itself to assure the AFA that it
really liked Christmas -- no, seriously -- like a whole lot more than those other heathen "holidays."
The company's vice chairman then got on the horn with the AFA and did the requisite groveling, assuring them that its online holiday shop would be quickly renamed the Christmas Shop, and that its advertising would change to specify Christmas. Hannukah be damned. And Kwanza, too. And Las Posadas. And Bodhi Day....
TheStreet Says: Let's get real here: Does anyone, anywhere, truly think that any retailers, anywhere in the country, are somehow opposed to Christmas?
In light of all this dumbness, we now ask you: Which is this week's dumbest of the dumb stories? Take the poll below to see what
TheStreet
has to say.
Readers Also Like:
>>6 Black Friday Retail Stock Buys
This article was written by a staff member of TheStreet.