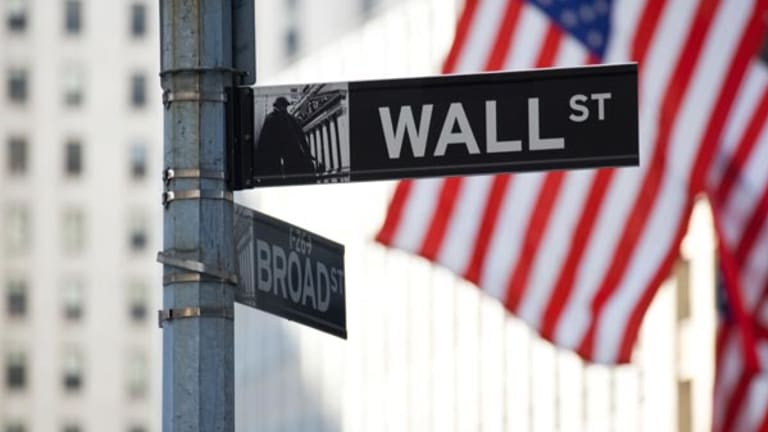 The 5 Dumbest Things on Wall Street: Nov. 12
Here is this week's roundup of the dumbest actions on Wall Street.
(5 Dumbest article updated with more findings of questionable content for sales on Amazon.com.)
5. Amazon.com Slips on Smut
Amazon.com (AMZN) seeks to justify its selling of a how-to guide to pedophilia by standing on principle -- for a few hours at least.

On Wednesday,
Techcrunch.com
noted that The Pedophile's Guide to Love and Pleasure held a ranking in the online retailer's lineup of available titles for the Kindle e-reader.
And thus, while the outrage was still at a simmer, Amazon decided to head the issue off at the pass. After all, Amazon has been in the book-selling business since 1995 and sells morally questionable material every day. They're a largely digital business, so they must understand how these things can grow and gather momentum. They're ready for this, right?
"Amazon believes it is censorship not to sell certain books simply because we or others believe their message is objectionable," the company said. "Amazon does not support or promote hatred or criminal acts, however, we do support the right of every individual to make their own purchasing decisions."
Whew! Pretty cut and dry. All you gotta do is stick to it.
Or not. In less than a day, the outrage regarding Amazon's decision had boiled over to the point that even Dr. Phil was chiming in, which is about the time Amazon appears to have remembered that it is, in fact, neither the Library of Congress nor the National Archives. Buh-bye lofty idealism...
Hello, capitalist survivalism!
By late Wednesday, the book was gone from the site and Amazon had ceased all communication about the issue.
Smart move pulling it from the site, not so smart putting it there in the first place. Equally dumb, Amazon has now opened the door for the sale of any of its more delicate offerings to be called into question, affording media outlets the opportunity to find those offerings and portray the company as an avid smut peddler.
By Thursday,
MSNBC
dug up books and videos for sale in the U.S. and Japan that featured "pre-pubescent Eastern European and Asian girls, some of whom are nude."
The avalance of material that is likely to be thrown Amazon's way makes its initial response to the pedophile book all the more hollow.
And the police department in the author's hometown of Pueblo, Colo. certainly won't be thanking Amazon for putting the book in the spotlight. According to a report from the
AP
early Friday, the police are now in the unenviable position of having to both investigate Phillip Ray Greaves and protect him from the threats he has received.
TheStreet Says: Seriously, Amazon? You hadn't worked this one out by now? Here, we've got a policy for you: Burning your company's political capital on behalf of pedophiles? Not such a great idea.
>> 4. Freddie Mac Sues the Hand That Feeds It
>> 3. Gold Jumps the Shark
>> 2. Failing Students + Mountains of Debt = Rich CEOs
>> 1. Tony Hayward, Please Go Away
>> Take Our Poll: Which is this week's dumbest of the dumb Wall Street stories?
4. Freddie Mac Sues the Hand That Feeds It
Crippled mortgage behemoth
Freddie Mac
undefined
has seen its share of problems lately.
Like many taxpayers, Freddie recently went through the delightful process of an Internal Revenue Service audit, and came out the other end with a $3 billion tax bill, according to its recent
quarterly earnings report.
To be fair, that also includes penalties.
During the audit, the IRS found that for nearly a decade, from 1998 to 2007, Freddie wasn't accounting for its financial "hedging strategies" the correct way. According to a footnote in the quarterly report, Freddie says it wants to settle with the IRS and that Freddie's board and management "believe adequate reserves have been provided for settlement on reasonable terms."
(A brief aside: this is not the first time Freddie has stumbled on hedge accounting. You may remember that back in 2003, Freddie Mac was embroiled in an accounting scandal that caused it to restate some $4.5 billion in derivatives positions. The restatement rocked the financial world and eventually brought down Freddie's chairman.)
And here's where the story goes from dumb to dumberer: Freddie -- which of course has received billions in bailout funds from the U.S. Treasury --
is now suing another branch of the Treasury to skip on the bill.
As Jonathan Weil says in a
recent column in
Bloomberg:
"Talk about biting the hand that feeds you."
Or biting the hand that bailed you out.
Or biting the hand of your only friend in the entire world.
TheStreet Says: If Freddie wins ... we lose. If Freddie loses ... we lose. Hold on. Wait a minute....
>> 3. Gold Jumps the Shark
>> 2. Failing Students + Mountains of Debt = Rich CEOs
>> 1. Tony Hayward, Please Go Away
>> Take Our Poll: Which is this week's dumbest of the dumb Wall Street stories?
3. Gold Jumps the Shark
OK, so now the gold thing has officially gotten out of hand.
This week, London-based Intercontinental Exchange (ICE) announced that it would begin accepting gold bullion as collateral for energy and credit trades. Take a step back and think about that for a minute: traders will use a highly volatile commodity to back trades -- or increase margin -- on other highly volatile commodities and derivatives.
No cash or U.S. Treasury bonds -- for decades the backbone of liquid and stable collateral -- but, instead, gold.
If you are a powerhouse hedge fund and want to double-down on a credit default swap or the oil futures market, feel free to pull a few bricks from the pile and up your leverage.
Of course, the concept of gold being used as a proxy currency on exchanges is not new; last year the Chicago Mercantile Exchange announced that it would accept gold as margin for any type of trade. Still, at its core, the purpose of collateral is to make sure that if one side is shorting the exchange, the lender is covered if the trade goes bad. That makes sense if that collateral price is stable and highly liquid. But gold, for those who hadn't noticed, is a "precious metal" subject to major price swings.
What if you are on the wrong end of an oil trade at the same time gold tanks in price? Can you say "super duper short squeeze?"
If you ask the exchanges, they are simply following customer demand as QE2 creates questions regarding the stability of U.S. Treasuries and the U.S. Dollar. "By working closely with members, we are continually searching for ways to lead in enhancing risk management practices," said Paul Swann, President of ICE Clear Europe. "Particularly in times of economic change or uncertainty, the addition of gold and Euroclear Bank's triparty collateral management services bring additional flexibility and security to the markets we serve globally."
Really? Risk management?
There are also signs that even the gold bulls are pausing to take a breath. The physically backed gold exchange-traded fund,
SPDR Gold Shares
(GLD)
, has shed 2.43 tons since Monday. Investors don't seem to be committing new money to the ETF but aren't selling their long positions either.
TheStreet Says: Now, if only there were some way we could use those gold fillings in our molars to leverage our credit-default swaps....
>> 4. Freddie Mac Sues the Hand That Feeds It
>> 2. Failing Students + Mountains of Debt = Rich CEOs
>> 1. Tony Hayward, Please Go Away
>> Take Our Poll: Which is this week's dumbest of the dumb Wall Street stories?
2. Failing Students + Mountains of Debt = Rich CEOs
The wallets of executives at for-profit colleges and universities have been getting fat -- very fat -- obesity epidemic fat -- off the backs of students and the federal government.
According to
Bloomberg
,
execs at 15 for-profit colleges, including Apollo Group (APOL) and Education Managementundefined, garnered $2 billion over the last seven years by selling company stock.
Strayer Education
(STRA)
CEO Robert Silberman earned $41.9 million last year, or according to Bloomberg, "26 times the compensation of the highest-paid president of a traditional university."
Much, if not all, of the success of the for-profit model has come at the expense of the student and federal aid programs. Across the nation, there are about 2,000 for-profit colleges eligible to get federal student aid, and their enrollments have grown far faster than traditional higher-education institutions. The aggregate market capitalization of 14 publicly traded corporations in the for-profit school space was $26 billion as of July 14, according to the U.S. Government Accountability Office.
Their students got more than $4 billion in Pell Grants and more than $20 billion in federal loans last year from the Department of Education. In summary, a $26 billion-plus industry benefits from $24 billion of government largesse and loans each year.
However, repayment rates at for-profit schools were just 36% in fiscal 2009, according to research from the Institute for College Access and Success, a student-advocacy group. At private nonprofit schools the repayment rate was 56%, and at state colleges and universities the rate was 54%.
Thus, while students have been left with sub-par educations, no jobs and a mountain of debt to contend with, executives have made their fortunes. And now that the federal government, finally, seems determined to shut down this gravy train by introducing new student aid rules, the for-profit sector has taken a beating as a result.
"These new rules will help ensure that students are getting from schools what they pay for: solid preparation for a good job," Secretary of Education Arne Duncan said.
TheStreet Says: Well, that would be nice, for starters.
>> 4. Freddie Mac Sues the Hand That Feeds It
>> 3. Gold Jumps the Shark
>> 1. Tony Hayward, Please Go Away
>> Take Our Poll: Which is this week's dumbest of the dumb Wall Street stories?
1. Tony Hayward, Please Go Away
Former
BP
(BP)
CEO Tony Hayward, his yacht, and his oil spill deck of quote cards were back in the news on Tuesday.
Like George Bush coming out of the woodwork for an interview the day after Republicans handed President Obama a Texas-sized drubbing in the mid-term elections, Hayward decided to strike while the iron was hot. On Monday, the U.S. government announced that it did not think BP cut corners and prioritized cost over safety in its BP well operations. Hayward beelined it to the
BBC
the next day and kicked off the most warped and delusional vindication tour imaginable.
>>Time for BP, Tony Hayward to Move On
Hayward made sure to rehash his greatest hits, opining on the media "feeding frenzy" surrounding the spill and his infamous decision to dash off for a yachting excursion in the midst of the catastrophe. "I have to confess, at the time I was pretty angry actually," said Hayward on the coverage of his sail. "I hadn't seen my son for three months. I was on the boat for six hours.... I'm not certain I'd do anything different."
Well Tony, the families of the 11 workers killed on your oil rig certainly can relate to missing loved ones, and they'll be sure to give you a ring and apologize for your inconvenience. And how could anyone look askance at the elitist endeavor of yachting in the waters of the Isle of Wight while millions of barrels of your crude sullied the Gulf waters and wiped out the livelihoods of an entire geographic region? Preposterous! Center Court at Wimbledon was, after all, completely booked that day and how else were you to spend time with your son? Go-carts? Mini golf?
As far as the timing of Hayward's comments, if BP thinks that Monday's comments from the government mean it's an oil spill cakewalk from here on out, BP had better think again. On Tuesday, White House oil spill commission co-chair Bill Reilly said that all the companies involved in the oil spill -- BP,
Transocean
(RIG)
and
Halliburton
(HAL)
-- lacked a culture of safety when it came to operations on the Deepwater Horizon rig. Reilly called for wholesale reform at the oil spill companies.
Hayward's comments indicate that BP's PR strategy, shockingly, remains to come out swinging while painting itself the victim. The question is why hasn't anyone within the company grasped that with each swing, executives current and past feed the media frenzy they love to criticize? The right thing to do might be to say, "We're no longer talking about the past, but moving on and getting back to business."
TheStreet Says: Have you gone away yet, Tony Hayward? How about now? OK, we'll close eyes and count to five, and when we open them, you'd really, really better be gone....
>> 4. Freddie Mac Sues the Hand That Feeds It
>> 3. Gold Jumps the Shark
>> 2. Failing Students + Mountains of Debt = Rich CEOs
>> Take Our Poll: Which is this week's dumbest of the dumb Wall Street stories?
In light of all this dumbness, we now ask you: Which is this week's dumbest of the dumb stories? Take the poll below to see what
TheStreet
has to say.
>> 4. Freddie's Pesky $3 Billion Tax Bill
>> 3. Gold Jumps the Shark
>> 2. Failing Students Fill Education Execs' Wallets
>> 1. BP and The Hayward Delusion
>> Take Our Poll: Which is this week's dumbest of the dumb Wall Street stories?
This article was written by a staff member of TheStreet.