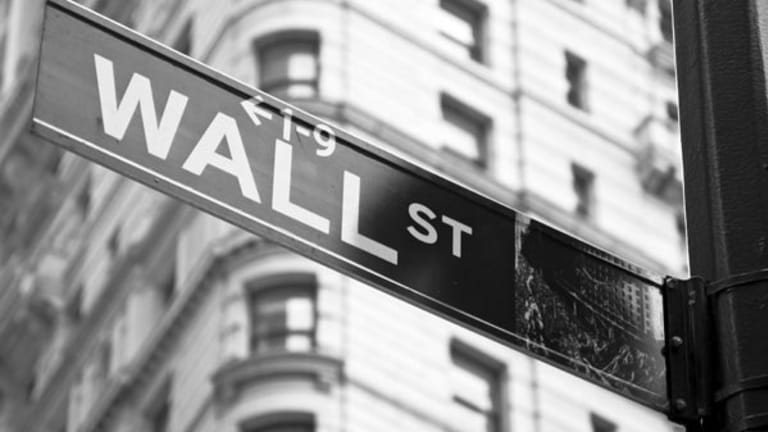 The 5 Dumbest Things on Wall Street: May 6
Here is this week's roundup of the dumbest actions on Wall Street.
5. Sony Makes World Safe for Hackers
For the hackers who haven't figured it out yet, Sony's (SNE) - Get Sony Corp. Report online security code is up, up, down, down, left, right, left, right, triangle, X, start.
We're joking, of course. (Or maybe we're not...?) Regardless, Sony's sure making it look like it's as easy to get a PlayStation 3 user's credit card number and other personal information as it was to get extra lives in
Contra
about 25 years ago. This week, it was revealed that Sony's Swiss-cheese system allowed hackers access to yet another 24.6 million accounts, at least 12,700 non-U.S. credit or debit card numbers and expiration dates (although not the 3-digit security code on the back of credit cards), and about 10,700 direct debit records of certain customers in Austria, Germany, Netherlands and Spain.
The latest reported breach took place in the Sony Online Entertainment division -- which makes multiplayer online games including
Free Realms
and
DC Universe Online
-- and was directly tied to the infiltration of Sony's online PlayStation Network that the company copped to just a week ago and put roughly 77 million users' account information in jeopardy.
Sony's going to be begging for some extra lives after this one, especially after taking great pains to tell customers that Sony Online Entertainment and the PlayStation Network
aren't part of the same network
and that information stored in one wouldn't necessarily be vulnerable if the other was hacked. Oops.
The biggest blow to Sony's health meter, however, came when security expert Dr. Gene Spafford of Purdue University testified against Sony during a meeting of the House Subcommittee on Commerce, Manufacturing and Trade on Wednesday. Spafford told the committee that not only was Sony using outdated versions of Apache Web server software that were "unpatched and had no firewall installed," but that the problem was "reported in an open forum monitored by Sony employees" two to three months before the security breaches. Oops fatality.
This is nowhere close to the same scale as the hacker attack on Alliance Data Systems marketing firm Epsilon in April that exposed the e-mail addresses collected by 2,500 corporate partners including
Chase
(CCF) - Get Chase Corporation Report
,
Best Buy
(BBY) - Get Best Buy Co., Inc. Report
and
TiVo
(TIVO) - Get TiVo Corp. Report
. The credit card information exposed by Sony's hack also falls well short of 46 million credit card numbers lifted when T.J. Maxx and Marshall's parent company
TJX
(TJX) - Get TJX Companies Inc Report
decided the best way to secure customers' information was with a smile and a polite handshake. It's far more annoying, however, as Sony's continued revelations of breaches and other assorted bungling -- which doesn't include hackers' development of a "jailbreak" device last summer that allowed them free access to online games usually reserved for developers -- haven't abated and haven't given PlayStation 3 users much confidence in the company's ability to keep information safe anytime soon.
Sony claims the breach and the service outages that followed have cost the company upwards of $20 million. Gamers who've spent the last week calling credit agencies, cutting up credit cards and changing passwords won't be weeping, especially in light of Sony's lax security.
TheStreet Says: Battling hackers with the technological equivalent of toothpicks bound by bubblegum and prayer is about as smart as trying to beat Killzone 3 with a character armed only with spitballs and harsh language.
4. CNBC, Chanos Slog First Solar
Doesn't the solar sector have enough trouble without
CNBC
making trouble for it?
But there on CNBC, as solar sector bellwether
First Solar
(FSLR) - Get First Solar, Inc. Report
was set to report its earnings after the market close Tuesday, who of all people was seated next to Maria Bartiromo on the
CNBC
set? Why it was noted First Solar shorter and hedge fund superstar Jim Chanos.
Bartiromo is famous for her closing bell catchphrase, "It's four p.m. on Wall Street. Do you know where your money is?" On Tuesday, Bartiromo seemed set to offer a special edition of the catchphrase: "It's four p.m. on Wall Street. Do you know where your First Solar shorter is? Why he's sitting right next to me, ready to slam the company, again. Is it reporting today? Huh, what a coincidence!"
Chanos was on
CNBC
less than a month ago to beat up on First Solar, notably also during
for First Solar, when a key executive Bruce Sohn announced his departure.
Of course, Chanos was ostensibly on
CNBC
on Tuesday to discuss China -- as if the world doesn't know how he feels about China by this point -- and even though the world also knows how Chanos feels about First Solar,
CNBC
seemed to go out of its way on Tuesday to provide a platform for Chanos' First Solar case for the second time this month, and didn't even have its facts straight.
Bartiromo introduced Chanos by referring to the famed shorter being "long known for his accurate predictions including the collapse of Enron" and said she was anxious to hear Chanos' "viewpoint and investment savvy." Then as First Solar reported earnings, Bartiromo referenced Chanos' short position in First Solar. Throwing Chanos a meatball pitch right after the First Solar earnings, Bartiromo said of the First Solar results, "they were weaker than expected."
This was a curious thing to say, as the First Solar printed numbers in the first quarter
the average analyst expectation on the top and bottom line.
Still, Chanos, knowing a softball when he sees it, jumped in, restating the case that he made on
CNBC
on April 14, saying that First Solar insiders are selling, executives are leaving, and added a vague comment about "accounting issues" he had with First Solar. Why not add the vague "accounting" comment? After all, accusing a company of financial fraud without a shred of specificity is like the stock shorter's icing on the cake -- and it may help Chanos with his call that First Solar shares are headed to mid-double digit territory.
On cue, First Solar stock went down right after the earnings call, right as Bartiromo and Chanos were speaking.
A few solar investors weighed in on the issue to
TheStreet
in written comments: "Bartiromo and Chanos did a real hatchet job on FSLR, and misstated the facts," said one reader. Another wrote, "CNBC should be held accountable for their blatant lies.... To have a guy come on and comment on FSLR who they know is short and then FLAT out LIE about them missing when they beat is disgusting to say the least."
That might not be "saying the least," and to be fair, the case can be made that allowing a shorter to appear during one of his biggest shorts earnings is no different than allowing a Wall Street analyst who has a buy rating on a stock to come on and discuss a company that he rates a buy when it reports. Yet there is at least one important distinction: an analyst isn't allowed to own shares in the stock he is covering, while Chanos is specifically going to profit from his First Solar trade only if and when the stock goes down.
TheStreet Says: Let's be clear: there were plenty of reasons for the First Solar slide, which continued on Wednesday morning. That said, it seemed like at 4 p.m., CNBC and Bartiromo only knew where Chanos' money was.
3. Cisco Streamlines ... Yet Again
Cisco
(CSCO) - Get Cisco Systems, Inc. Report
, wrestling with execution problems and slumping shares, announced another round of restructuring Thursday.
Anyone want to lay odds on whether or not this will solve all of Cisco's problems?
Following several quarters of weak sales and guidance, the networking giant is
attempting to get its business back on track
and satisfy investors. "Cisco has driven transformational change before, and we are again transitioning to the next stage of the company's evolution," said Cisco CEO John Chambers, in the statement. "It's time to simplify the way we execute our strategy, and today's announcement is a key step forward."
Thus, as part of this newest streamlining -- the new
new
streamlining -- Cisco will:
Organize its worldwide field operations into three geographic regions; Americas, EMEA and Asia Pacific/Japan/Greater China. This, said Cisco, will drive faster decision making and better align its businesses.
Re-organize its services business around key customer segments, and become more closely aligned with its field operations segment.
Reshuffle its engineering division, creating a dedicated emerging business group, led by senior vice president Marthin De Beer. This group will focus on "select early-phase businesses" and will integrate Cisco's Medianet video technology across the company.
And, in a clear nod to critics who have slammed Cisco's agility, reduce the number of internal decision-making "councils" from nine to three, with specific focus on enterprise, service providers and emerging countries.
Last month, Chambers admitted that the networking behemoth had
, and vowed to turn the company around.
Two consecutive quarters of
had raised big questions about
Cisco's long-term strategy
, and the company's stock is down almost 34% over the last 12 months.
Since then, Chambers promised to
throw resources at the company's video efforts
and has started to remold the firm's problematic consumer business.
TheStreet Says: As we all know, streamlining and reorganization always fixes everything. Why, just look at that guy who saved the Titanic by rearranging all of its deck chairs.
2. Appeals Court to Whistleblowers: You're Fired
What good is blowing a whistle if no one can hear it?
Back in 2008, two
Boeing
(BAF) - Get BlackRock Municipal Income Investment Quality Trust Report
employees, Matthew Neumann and Nicholas Tides, were fired after leaking concerns about a software security flaw to the Seattle Post-Intelligencer.
On Tuesday, a San Francisco based federal appeals court ruled that Boeing was within its rights to kick them to the curb after they blabbed, concluding that they were not protected under the Sarbanes-Oxley Act.
We'll reluctantly concede to the judge's point that Sarbanes-Oxley, as written, only offers protections for those who sound their concerns internally or to "authorities," such as elected officials or government regulators. The "media" is not explicitly included.
The ruling fails miserably, however, by brushing aside another significant statute, the Whistleblower Protection Act, and ignoring a catch-all allowance that allows un-fettered snitching in matters of gross malfeasance, fraud or threats to public safety.
According to the tipsters a security hole in Boeing's accounting infrastructure put the company in consistent violation of legal requirements since 2004. Defending itself, Boeing has not disputed that the problem exists -- just that the two employees didn't squeal to the right folks. They were shocked and appalled the duo needed to resort to tipping off the media after years of inaction despite their perpetual regular protests.
Boeing stresses that the security hole was related only to its accounting infrastructure. So, no need to worry that some al Qaeda hacker working exploding toilets or scimitar stashing secret panels into the schematics.
Well, any security hole can be exploited for broader hazard. Hackers and corporate spies rarely wage an assault in the most complex aspect of a system; they find the weakest link and branch out from there. Any unlocked door will do just fine, thank you.
But let's set that aside and assume that only accounting records were vulnerable. We offer a one-word argument as to why the judge was still wrong with this ruling:
Enron
.
Were it not for the brave folks who spilled the beans on its epic fraud to the media, many more people would have lost even more money. The Fourth Estate saved the day, empowered in its mission by whistleblowers.
TheStreet Says: When government officials have shown a reluctance to put their favorite defense contractors under a microscope -- choosing to instead focus on such crucial matters as the best way for the NCAA to divvy up bowl games -- we need to do more to protect the sources reporters rely on.
1. Citigroup Takes Debt Collection Too Far
Citigroup's
(C) - Get Citigroup Inc. Report
big marketing pitch to investors these days is its emerging markets growth potential. Citicorp, the part of the bank that excludes the "non-core" Citi Holdings operations being sold or wound down, got 72% of its earnings abroad in the first quarter. That's a great story for all those worrywarts who say the U.S. is doomed because we don't make anything anymore, we import all our PhD candidates in math and science from overseas, and we are sinking underneath a massive debt burden.
Concerned about all that stuff? Not sure? Buy Citigroup, the bulls say. That way you get U.S. exposure, as well as exposure to countries that are really going places, like, say, Indonesia, the world's fifth most populous country. Oops, bad example.
Why, you ask, is Indonesia a bad example? Well, Citigroup has had a few problems there lately. Citi was temporarily banned, in fact, from helping rich people manage their money in that country, since one of the bank's employees was arrested under suspicion of managing a few million dollars' worth of client money right into her own hands.
Then there is the case of Irzen Octa, who died shortly after visiting a Citigroup branch, according to several news reports. The police are investigating, though Budi Irawan, a local police official told the
Jakarta Post
Octa had been attacked by debt collectors after he protested a credit card bill from Citi that was far higher than he had been expecting
. Indonesia's central bank told Citigroup to stop recruiting new credit card customers while the police investigate, according to a report in
The Wall Street Journal
.
Meanwhile, Citigroup has hired more than 1,400 people and will be now be doing its own debt collecting in Indonesia,
The Journal
reported, though it appears this was done to comply with regulatory guidelines rather than out of any internal sense that rent-a-thugs might not be the way to go.
Citigroup has had trouble with outside debt collectors before according to
The Journal
, which cites a Citigroup customer in Mumbai in 1999 who said outsourced debt collectors held a knife to his throat and threatened to kill him. A spokeswoman for the bank told the newspaper the bank has "appropriate controls in place," even though, according to the report, she "couldn't say how many outside agents it previously used or whether its use of outsourced collectors is common practice in other countries."
TheStreet Says: Just to be on the safe side, you may want to find out if your Citigroup credit card includes life insurance coverage.
In light of all this dumbness, we now ask you: Which is this week's dumbest of the dumb stories? Take the poll below to see what
TheStreet
has to say.
This article was written by a staff member of TheStreet.