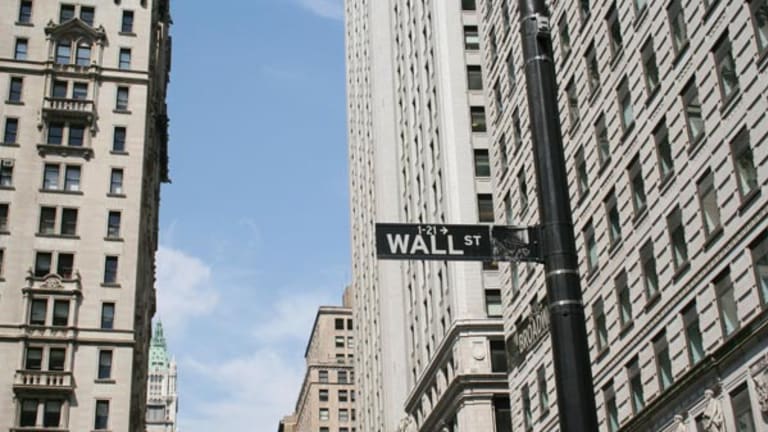 The 5 Dumbest Things on Wall Street: May 27
Here is this week's roundup of the dumbest actions on Wall Street.
5. AIG: The Anti-LinkedIn IPO
Apparently, the words AIG and IPO don't get the investors beating down the doors to get a piece. Gee whiz, I wonder why?
This week's secondary offering of
American International Group
(AIG) - Get Free Report
shares
was anything but a success for the U.S. Treasury and those unfortunate enough to have bought in.
"The share sale was an utter debacle. This was tremendously, poorly done, badly placed and poorly priced," said Scott Sweet of IPO Boutique. "The pricing of the secondary at $29 really had to work for future investors in order to take stock in future tranches. I have never heard clients so mad. They are furious at the underwriters, AIG and the government."
Treasury unloaded 300 million shares and sold 200 million at $29 each. Investors watched the stock drop to $28.75. It's now assumed that the Treasury Department will likely have a hard time selling the its remaining 77 percent stake in AIG in order to recoup its $180 billion bailout. That's reassuring.
"If they want to recoup the bailout money, then the Treasury and the company are going to have to wait to report a few more quarters to encourage investors," said
KBW
analyst Cliff Gallant. "If they make their 2015 goals, then they can probably win back investor confidence."
Sweet said that his clients had heard rumors that AIG was oversubscribed and overbooked, which were, "clearly false." He added most investors got in hoping to see a slight bump in the stock, but were deeply disappointed when it opened the following day at $28.27 and dwindled the rest of the session.
"The next share sale will do the same and they are going to have a tough time convincing investors," said Sweet. Sweet said that he had heard AIG was looking to sell its second traunch in four to six months. "I am hearing from investors that they won't touch it."
4. Sony Sets Buffet for Global Hackers
Go ahead and brave the untamed wilds of
Sony's
undefined
online offerings, gamers. It's not as if Sony's basically paying hackers to take your information while you're playing
L.A. Noire
or anything.
After letting hackers help themselves to the personal and financial information of
77 million PlayStation Online users
last month and later admitting that the online assets of another 25 million gamers was compromised when the same hackers targeted Sony's PlayStation Online Entertainment division, Sony was just bringing everything back up to speed when suddenly more holes appeared in their parchment-and-kerosene firewalls this week.
First Lebanese hackers got into Sony Ericsson's Canadian eShop and made off with
thousands of e-mail addresses, passwords and user names
. Then breaches at a Greek music division, in Thailand and in Indonesia
turned 8,500 user accounts into one big hacker peepshow
. Finally, because Sony apparently doesn't get it until someone hits them where they live, hackers hit Sony Music's Japanese site and
posted Sony's database information to a Twitter account
.
Sadly, the only way Sony knows how to defend itself is with its "throw money around and hope it sticks" finishing move. Sony tried to "Welcome Back" locked out PlayStation Network users by offering a free weekend of movie rentals, 30- and 60-day free subscription periods and a choice of two old games -
Dead Nation
(2010),
Infamous
(2009),
LittleBigPlanet
(2008),
Super Stardust HD
(2007) and
Wipeout HD + Fury
(2008) for the PlayStation 3 and
LittleBigPlanet
,
Mod Nation Racers
(2010),
Pursuit Force
(2006) and
Killzone Liberation
for anyone still using the PlayStation Portable. This concession and security updates are expected to cost the company more than $172 million.
The only opponent that big-money move hurts is Sony itself, as evidenced by the
$3.2 billion loss Sony just posted for last year
that only compounded the effects of Japan's earthquake and ensuing tsunami back in March. That setback makes it HD-clear what Sony has to offer as it heads into the Electronic Entertainment Expo in Los Angeles in less than two weeks: Three straight years of losses, a PlayStation Move motion controller being outsold by
Microsoft's
(MSFT) - Get Free Report
Xbox Kinect and a leaky online gaming and media service that's still not working in Japan.
Sony's expected to pitch a new portable gaming device at E3 and has a slew of other products its should be excited about, but there's one word Sony reps and
might want to avoid in Las Vegas: Cloud. That's a shame, since Microsoft keeps bulking up its Xbox Live offerings, Nintendo's expected to debut a new console with expanded online options and content competitors including
Apple
(AAPL) - Get Free Report
and
Amazon
(AMZN) - Get Free Report
are already powering up their own cloud-based services.
As users have learned all too well within the last month, Sony's cloud is just a dark, porous mass with a habit of unleashing a downpour of user information just when hackers are standing beneath it holding kiddie pools.
3. Disney Drops Dopey Trademark Bid
Apparently, when Osama Bin Laden was finally dispatched by American forces, there was no one happier than someone who is truly American - Mickey Mouse.
Only two days after the event, some mouse-ear wearing legal genius at
Disney
(DIS) - Get Free Report
rushed out to get the trademark for Seal Team 6, the name of the special forces team that carried out the raid on Bin Laden's compound. The trademark applications were discovered by FishbowlNY, and showed Disney was looking to slap the Seal Team 6 brand on "entertainment and educational services, toys, games and playthings; gymnastic and sporting articles; hand-held units for playing electronic games; Christmas stockings; Christmas tree ornaments and decorations; snow globes; clothing, footwear and headwear"
Naturally, the move seemed crass to say the least, as if the company that brought us Snow White and Pluto had turned into blood thirsty opportunists looking to get kids excited about death, justice and retribution. In short, it was the move of an anti-Disney.
Something tells us ol' Walt wouldn't have rushed out to try and trademark "Enola Gay" on August 8, 1945, two days after it dropped the first atomic bomb.
Thankfully, Disney seemed to realize the extent to which the backlash could damage their image and withdrew the application this week. Reports indicate that Disney was actually looking to develop a TV series around the name, it's very own JAG or NCIS. Fair enough.
Disney is in the business of creating fantasy, that Disney magic. But if this proves anything it's that there are things that should be left to live solely in reality, not imbued with light-hearted fancy to capture the imaginations of children. SEAL Team 6 is a cold hard fact for history books. There's no mythologizing needed to be done here.
If Disney wants in on the military genre, it has plenty of options out there to satisfy. Might we suggest G.I. Joe or Beetle Baily. Or better yet, just make one up.
2. Arianna on AOL: Buy, Buy, Buy!
Arianna Huffington did her darndest to be
AOL's
(AOL)
biggest cheerleader on Monday during an appearance at the TechCrunch Disrupt conference. Instead, with the help one of her own employees, she managed to show that she hasn't yet fully grasped what it means to be a part of a publicly traded company. As an added bonus, she argued - to a room full of tech savvy people attending a conference devoted to leading edge technology - that an AOL tech product that has long left consumers' mind space was the greatest thing since sliced bread.
Who can blame her, right? AOL just ponied up a cool $315 million to acquire Huffington Post, and 25% of what she received in the sale was converted into AOL shares. So when asked whether the acquisition by AOL would turn out to be a good move, there was only one thing to say.
"I think if you buy some AOL stock right now, you're going to make a lot of money."
TechCrunch founder, Michael Arrington, an AOL employee who reports to Huffington under the new company structure, was kind enough to point out that insiders touting their own stock could be considered a no-no by the SEC. Huffington quickly took that bit of rah-rah-ing back.
Enough to get her in any real trouble? We'll go out on a limb and say unlikely.
While she was at it, Huffington decided to undermine whatever tech-related bona fides she may have had by touting the superiority of that AOL gem MapQuest. According to
Fast Company
, Arrington again stepped in to say what everyone in the room was thinking.
"MapQuest is a huge piece of crap compared to Google Maps," said Arrington. "You've never used MapQuest. I don't want to call you a liar on stage, but I'll call you a liar if you say you use MapQuest."
It's amazing how much $315 million will strengthen your conviction though.
"MapQuest is infinitely better than Google Maps," she said. "On top of it, it has an infinitely cooler name, MapQuest is about the journey."
Wow, we're convinced.
1. Best Buy Price Matches Customers Out the Door
At least one
Best Buy
(BBY) - Get Free Report
store has had enough of silly customers assuming that Best Buy prices in stores should match the prices seen on BestBuy.com. I mean really, the gall of people looking to spend money at your establishment.
A reader of
The Consumerist decided it was worth taking a picture of the sign
on the front door of his local Best Buy explaining the company's pricing position.
"If prices are lower online, we will be happy to help you place your order with BestBuy.com," reads the sign. Translation: Even if we have the item you're looking for here at the store but it's cheaper on our online store, take a hike and go order it online.
It's brand building at its best. Engineer a system that results in a large portion of consumers having a negative experience with your brand. Make your customers feel silly for not recognizing the differences between online and real-world shopping even if doing so under the same moniker. Make your organizational and logistical problem their problem. Punish them for making the trip to your store and make them feel they've wasted time so you can make a bit of extra margin. This will keep them running back.
And the best fix for such a problem (again, their problem, not yours)? Why, a sign on the front door of course. That'll clear everything up.
In light of all this dumbness, we now ask you: Which is this week's dumbest of the dumb stories? Take the poll below to see what
TheStreet
has to say.
This article was written by a staff member of TheStreet.