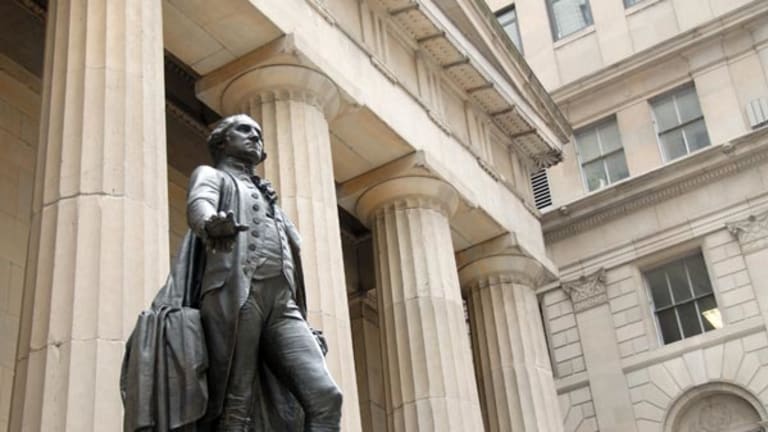 The 5 Dumbest Things on Wall Street: May 20
Here is this week's roundup of the dumbest actions on Wall Street.
5. Dominique Strauss-Kahn: A Story With No Winners
To say that the actions of Dominique Strauss-Kahn, the disgraced former managing director of the International Monetary Fund now sitting in a Rikers Island cell, are dumb is a massive insult to the word "dumb."
Could Strauss-Kahn possibly have thought, if the charges against him hold true, that sexually assaulting a woman in a $3,000 hotel room reserved and paid for in his name, leaving a DNA trail, then calling Sofitel because he might have left his phone in the room were the actions of a smart man? Or a sane one?
How could one of the most powerful men in the world, a potential president of France and a central figure in preventing another global financial crisis be such a fool -- if not a monster?
But let's apply the dumbness beyond the obvious, low-hanging fruit of a lecherous Frenchman. The media -- here and abroad -- inspires further head-shaking. Have Mr. & Mrs. America learned anything about how the IMF works or what it does? Do we better understand the importance of its efforts in Greece and Portugal or why they matter? Do we get a sense as to who will replace Pepé Le Predator and whether globally important policies will change?
To paraphrase Barbie: "Economics is hard." So, instead, we get Strauss-Kahn treated as though he is Charlie Sheen and Gary Busey rolled into one and the sordid details played out like an episode of
Law & Order: Special Victims Unit.
We've seen how interconnected the global marketplace is and how, as one country falters, Main Street's portfolios and retirement plans are impacted. But we're not hearing about that. We're hearing about whether or not there are pictures of a Strauss-Kahn orgy (probably more gruesome a sight than Osama's exploded eyeball could ever be). We're finding out that he and Elliot Spitzer both rented their hookers from the same place.
We've also got the
New York Post
claiming (though disputed) that the victim might suffer from AIDS -- an unnecessary and damaging revelation for the woman. To look across the pond, the French media, while whining about Strauss-Kahn's "perp walk," had no problem publishing her name, thereby exposing it to anyone who wants to seek it online.
TheStreet Says: The temptation when stories such as these break is to ask ourselves, "What have we learned?" The answer -- as is often the case these days -- is nothing that we wanted to learn, and nothing that we need to learn.
4. Research in Motion Recalls Tablet, Stumbles Toward Oblivion
When
Research In Motion's
(RIMM)
PlayBook recall was announced on Tuesday, it drew the very name of the company into doubt.
The Research? Maybe it could stand to be better. The Motion? Does backward count as motion? Or how about falling down? That's motion!
Indeed, for a company that has yet to find an answer to
Apple's
(AAPL)
iPad, having to recall about 1,000 of its new PlayBook tablets (less then two months after it launched) due to problems with the operating system startup probably wasn't the best marketing strategy. And while the recall doesn't cover all PlayBooks, it is a particularly bad start for RIM's new QNX software, the foundation of all new BlackBerry devices.
The news sent RIM shares down to an almost two-year low as investors started to lose hope in the BlackBerry maker's turnaround prospects.
The weakness comes at a time when Apple's iPad 2 is enjoying breakneck sales in the U.S. and scattered sellouts overseas. Apple has dominated the segment it largely created last year when it introduced the iPad. And with prices for the iPad ranging from $500 to $840, competitors have had a difficult time beating Apple on price and features.
Even worse for RIM, the competition heated up this week as
HTC
launched pre-sales of its seven-inch Flyer at
Best Buy
(BBY)
for $500 and as
LG
started taking pre-orders for its Optimus Tab, a 9-inch, 3D-ready tablet that sells for as much as $1,200 in the U.K.
And on the other end of the price spectrum,
Amazon
(AMZN)
is expected to introduce its own tablet (or tablets) in time for the holidays. "Stay tuned," Amazon chief Jeff Bezos said recently when asked about Amazon's tablet plans.
For RIM, a flub of its PlayBook effort could be damaging. The tech shop has had a critical lack of compelling new BlackBerries to attract smartphone buyers leaning toward Apple iPhones or
Google
(GOOG)
Android devices. The PlayBook, with its Android compatibility and the BlackBerry business-user pedigree, was considered one of the few viable rivals to Apple's iPad.
TheStreet Says: RIM has stumbled in tablets before. Last year it pulled the introduction of its hotly-anticipated BlackPad when it could not successfully debug the device, eventually switching to Texas Instruments (TXN) as a chip supplier. So at least we can give RIM points for consistency.
3. Hewlett Packard Memos Leaked; Honesty Not Intended
When three memos from
HP's
(HPQ)
CEO Leo Apotheker were leaked early this week, something shocking happened: the truth was inadvertently revealed.
In the memos, Apotheker warned his leadership that the company was facing "another tough quarter" in the three-month period ending in July, and demanded that top HP executives "watch every penny and minimize all hiring." Current HP employees will surely be thrilled to learn that, according to Apotheker, the company's current workforce plans were "unaffordable given the pressures on our business."
As a result of the leak, HP was forced to report its earnings a day early -- on Tuesday instead of Wednesday -- and slash its outlook.
Investors -- shockingly! -- were less than thrilled by the unintended truthiness. And with good reason. It's the difference between coming clean to your spouse about something bad, and having your spouse
discover
something bad while, say, going through your sock drawer.
Indeed, throughout the day Monday, the stock had been trading around the $40 mark. In after-hours trading Monday, HP shares plunged by 4.8%, or $1.91, to $37.89. By the end of trading Thursday, the stock had closed at $36.13.
"The consumer PC market continues to be challenged industry-wide," said HP CEO Leo Apotheker during a conference call, adding that the firm's consumer PC revenue was down more than 20% year-over-year. Apotheker said, however, that HP had a solid quarter overall, pointing to strength in servers, storage and networking -- and the firm's $4 billion of operating cash flow.
"We're confident that we will continue to see a good performance in our software business," Apotheker told
TheStreet
on the company's conference call with journalists Tuesday morning. "We're looking to expand our software portfolio -- we want to create a complete platform for software developers
and we're going to expand our footprint in analytics and big data."
TheStreet Says: "Big data" refers to large data volumes that require specialized software tools, a buzzword touted by the likes of IBM and EMC (EMC) . It presumably does not refer to the information contained in leaked memos.
2. Citigroup CEO Wants You to "Like" Him; Not Many Do
Citigroup's
(C)
CEO Vikram Pandit wants you to "Like" him ... on Facebook.
Armed with his own Facebook page -- and, woo-hoo, 1,493 fans! -- Pandit and Citigroup management are hoping to engage customers through the use of social media in effort to bolster the bank's image. "Not too many Fortune 100 leaders have a Facebook page," said Paul Butcher, Citigroup's director of digital communications and the engineer behind Citigroup's recent social media push.
Pandit, it's worth noting, does not post or update the page himself, so you won't see any personal status updates, friend requests or be able to poke him, Butcher explains. "He doesn't update the page personally, but he thinks social media is very important."
What Pandit's page
does
do is display recent events he has attended as well as Citi's latest initiatives and business strategy. Videos of events he has spoken at and shareholder conferences are on the site. "I think he thought it was a good idea for him to have it to communicate his actions and ideas to a large global audience," Butcher says.
Maybe yes... maybe no. As with all things social media, the benefits come with some downside.
For example, Pandit's page is full of wall posts, photos and comments from users such as one "fan" who wrote on May 13, 2011, "Vikram we C stock holders need your help!!! Stock dropped like crazy since the split!" Another commenter called Citigroup, "The worst company ever!" on April 1, 2011.
TheStreet Says: Pandit appears to be the only big four bank CEO to have an official Facebook page. Bank of America (BAC) CEO Brian Moynihan and JPMorgan Chase (JPM) CEO Jamie Dimon have pages, but they are not maintained by their companies. Both JPMorgan and Bank of America confirmed that their CEOs do not have official Facebook pages. Perhaps it's best if they keep it that way.
1. Why Did Kingtone Ring Nasdaq's Bell?
When Tao Li, the chairman and founder of tiny
Kingtone Wirelessinfo
undefined
, rang the opening bell for the
Nasdaq Stock Market
on Monday, it should have amounted to an awkward moment for the equities exchange.
That's because Li, who hails from the city of Xi'an in central China, is also the chairman and founder of
China Green Agriculture
(CGA)
, a controversial reverse-merger company, and one of the first to draw the suspicions -- more than a year ago -- of short sellers and private investigators, who say they've unearthed evidence that the company may have committed fraud.
China Green, whose stock is listed on the
New York Stock Exchange
, not Nasdaq, has disputed the allegations made against it. But the
Securities and Exchange Commission
has nevertheless seen fit to launch an inquiry into the company. Since September, the agency's regulators have been conducting an "informal inquiry" into China Green, which completed its reverse merger in 2007. (The exact nature of the inquiry hasn't been disclosed; the SEC has declined to comment and China Green has only said that it's cooperating with the agency.)
The China Green probe is, however, part of a much broader investigation by the SEC into the possibility of widespread accounting and stock fraud at a raft of small Chinese companies that have sold equity in the U.S. over the last five years or so, according to people with knowledge of the investigation.
The regulatory heat on reverse merger companies from China in particular has been so intense this year that Nasdaq has just recently moved to make it harder for reverse-merger stocks to gain listings on its exchange -- a development
first reported by TheStreet last month
.
And yet Nasdaq has chosen to invite Tao Li to its podium in Times Square. An exchange spokesman declined to comment on the matter, except to say, in a prepared statement, "Market open and close ceremonies are visibility opportunities for our listed companies and other organizations including non-profits as well as for individuals such as entertainers, athletes and politicians."
In other words ... blah, blah, blah....
Both Nasdaq and the NYSE Amex have come in for some sharp criticism for their dealings with Chinese small caps, especially those that have emerged onto U.S. markets through reverse mergers, sometimes called reverse takeovers, or RTOs. Critics say the exchanges have missed (or, worse, ignored) the dubious nature of many Chinese companies -- refraining from performing suitable due diligence -- just to expand their listings business and increase revenue.
True, Kingtone isn't a reverse merger. It arrived in the U.S. through an initial public offering in May 2010. (Li's bell-ringing on Monday is meant to celebrate the one-year anniversary of Kingtone's Nasdaq debut.)
But the links between China Green and Kingtone run deep. The two companies have shared the same office building in Xi'an for the last decade. A Kingtone subsidiary owns the property and serves as CGA's landlord. Kingtone's 36-year-old CFO, Ying Yang, served as China Green's CFO for 19 months starting in September 2008. (She made the switch right before the Kingtone IPO last year and will stand next to Li at the Nasdaq opening-bell ceremony.)
One of Kingtone's underwriters, the California investment bank
Roth Capital
, has served as a China Green underwriter.
TheStreet Says: As it turns out, it's been an inauspicious 12 months for Li's Kingtone Wireless. The stock priced at $4 in its May 2010 debut -- netting $16 million for the company -- but has deflated since spiking above $5 in December. It traded recently at $1.88. The stock never gained much traction with institutional investors. As of Dec. 31, a paltry 3.66% of the company's common stock was held by a total of six institutions, according to data compiled by Edgar Online
In light of all this dumbness, we now ask you: Which is this week's dumbest of the dumb stories? Take the poll below to see what
TheStreet
has to say.
This article was written by a staff member of TheStreet.