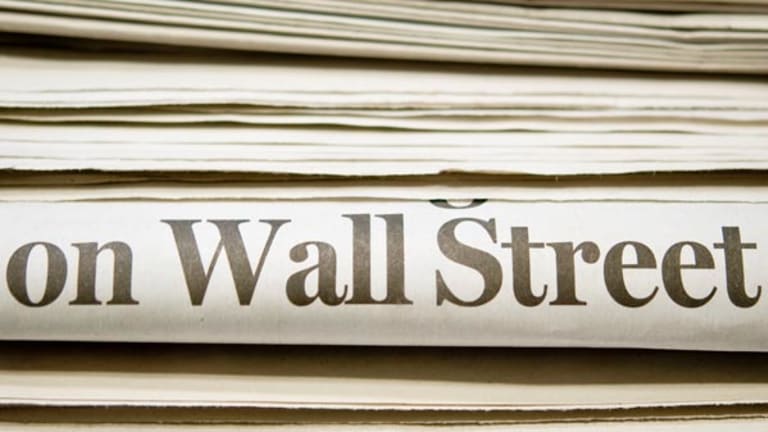 The 5 Dumbest Things on Wall Street: March 11
Here is this week's roundup of the dumbest actions on Wall Street.
Here is this week's roundup of the dumbest actions on Wall Street.
5. American Apparel's Chief Lawsuit Officer
"Sex slave" isn't a term commonly thrown around in C-suites, that is unless you work for American Apparel (APP) - Get Report.
The t-shirt retailers', uh, eccentric CEO Dov Charney is
once again in the hot seat -- this time with a former employee claiming he forced her to perform sexual acts while she was working at the company as a teenager.
Irene Morales of Brooklyn is seeking $250 million, claiming in April 2009 Charney invited her to his Manhattan apartment, opened the door wearing nothing but underpants and forced her to perform sexual acts for several hours, making her a "prisoner." Over the next eight months Morales, who at the time was 18, said she was forced to perform many more sex acts with Charney at the threat of losing her job.
American Apparel and its board also is being named in the suit, as Morales says they knew or should have known Charney, 42, was a "sexual predator."
Charney's lawyer issued a statement saying Morales "left the company without complaint and resigned with a letter of gratitude regarding her positive experience at the company." She also signed a severance agreement saying she had no pending claims against the company and would submit any future claims to "confidential binding arbitration." Boilerplate legal language is so reassuring to shareholders.
This isn't the first lawsuit filed against Charney, who has made a name for himself more for his very public alleged indiscretions, rather than his flailing t-shirt business. Maybe there's an argument that Charney's eclectic persona is partially to thank for lifting American Apparel up the retail ranks. But for a public company, Charney's reputation has become more of a liability then an asset and it begs the question, why is he still allowed to hold a position of power?
Regardless of whether he is actually guilty doesn't change the fact that American Apparel is in desperate need of a new leader, and one who doesn't insist on making himself a magnet for lawsuits. It's unlikely Charney, who owns about a 52% stake in the retailer, would be in the running for "CEO of the Year" anyway.
Over the past year, American Apparel's issues have ranged from a possible covenant breach to immigration probes and charges from its accountant claiming it withheld vital information. It is also facing a prolonged severe sales slump, and has repeatedly warned of the company's ability to continue as a "going concern."
Charney has made American Apparel synonymous with sleaze. But there's a fine line between racy and down-right pornographic, and it seems the company has finally straddled it.
4. The Phantom Oil Crisis
When it comes to the politics behind the price of gasoline, especially this week's talk of
tapping the Strategic Petroleum Reserve, it's easy to typecast U.S. politicians as the permissive parent playing opposite a spoiled teenager, otherwise known as the U.S. consumer.
One has the wallet to open and the other is a dependent. One is technically in charge but seems to live in fear and react to the other's, often childish, temper. Ultimately, both reduce energy consumption to a simple weekly household budget item, as opposed to engaging in a larger discussion of energy policy or dealing with the reality of the oil market.
Talk of the Strategic Petroleum Reserve being tapped due to the current political shock waves in North Africa and the Middle East is premature, to say the least. The simple reality here is, and read my lips -- there is no current shortage of oil. Actually, don't read my lips. Read the latest Department of Energy data, released on Wednesday, which showed an increase in the stockpiles of West Texas Intermediate crude in Cushing, Okla. In addition, there is no sign of demand destruction as a consequence of higher oil prices, either. The latest Energy Department data also showed a continued decline in gasoline and heating oil inventory even after the recent surge in oil prices.
If you don't read lips or trust the government data, ask the markets.
"Inventory levels are at multi-year highs and don't support the use of the Strategic Petroleum Reserve," noted Phil Weiss, energy analyst at Argus Research.
"This is lot of congressmen rallying to open the spigot on stockpiles and purely for constituents. It's about the price of gas at the pump, but we have the Strategic Petroleum Reserve for reasons other than this," said Oppenheimer & Co. equity trader Chris Marten.
If you don't trust the analysts, ask Big Oil.
Total
(TOT) - Get Report
CEO Christophe de Margerie was to the point on Tuesday, when he remarked that tapping the Strategic Petroleum Reserve "will send a message we are scared, and it could mean an increase in prices, not a decrease. ... It's to be left for a time when we are really confronted with a shortage of oil, which is not the case," he said, speaking at the IHS CERA oil industry conference.
We've got a simple answer. Let's just divvy up the Strategic Petroleum Reserve right now, divide whatever is in there by the number of cars on the roads in the U.S. and send out baggies of oil to individuals. It'll be even better than the recent recession-era consumer stimulus tax rebate checks.
In the end, one can only hope that the permissive parents know best, and act best, while the pleas from the spoiled teenager serve only as music for the ears of the most obsequious politicians -- or at least until these pleas better reflect reality.
3. Airline Fees: Media's Dead Horse
The
airline industry seems to have solidified its position as the media's ultimate soft target.
Since the days of the Wright Brothers, the U.S. airline industry has lost money. Now, the industry appears to have finally stumbled onto a way to make money -- charging passengers fees for the services they use, and more closely aligning capacity with demand.
With each charge for a service the industry dares to make, the media noise gets louder, to the point where it seems the suggestion is that airline service should be provided free of charge.
The latest example of snarky airline reporting was triggered by a new
Delta
(DAL) - Get Report
initiative that introduces a premium economy section on long-haul international flights. The new cabin section --- its name, Economy Comfort, is less than inspirational -- includes a fee for seats that have 50% more recline than standard international economy class seats. The fee ranges from $80 to $160, depending on the passenger's travel frequency pattern. The fee also covers extra leg room, early boarding and free booze.
The service was introduced Feb. 7. However, a March 7 story in
The Wall Street Journal
on airline fees mentioned it, prompting a second round of stories. Among the headlines visible that day on
Google
(GOOG) - Get Report
News were these: "Airlines to Charge for Reclining Seats?," "Airlines to Load on More Fees" and "Airlines are charging for creature comforts to garner more revenues."
US Airways
(LCC)
began charging for drinks in 2008, an effort that was abandoned after seven months due to hysterical reporting and lack of competitive response.
It remains a mystery why airlines, which pay a high cost for fuel enabling them to, among other things, carry cans of soda around at 30,000 feet, remain the only business expected to distribute drinks free.
Amtrak
charges for soda. Sports teams charge for soda. Hotels charge for soda. Hospitals charge for soda. Restaurants charge for soda. Movie theaters charge for soda.
The fees are likely to stay, which means the media is going to have to do a little more thinking and less dead horse beating.
2. Radient's Relationship Issues
Last week,
Radient Pharmaceuticals
( RPC) made our list after
TheStreet
discovered its
CEO had made claims about doing business with an Indian prime minister who happened to have been dead for years.
Turns out, Radient seems quite fond of making claims that aren't necessarily accurate.
This week, the
Mayo Clinic denied statements made by Radient about the prestigious research hospital's involvement in a clinical study of Radient's cancer-screening test Onko-Sure.
"Mayo is not engaged in clinical studies with Radient and does not have a partnership agreement with Radient," Mayo Clinic spokesperson Kathy Anderson said in a statement emailed to
TheStreet
on March 4.
In a press release issued Jan. 18, Radient said it was making "progress on its clinical study with Mayo Clinic for the validation of the company's US FDA-cleared Onko-Sure" test. The same Radient press release described the Onko-Sure clinical study as one in which "1,000 colorectal patient samples with various disease stages are being tested in parallel by RPC
Radient and Mayo..."
Turns out, Mayo's level of participation consisted of one of its subsidiaries merely supplying blood samples. As far as testing anything "in parallel" with Mayo, not so much.
Radient's stock was halted Monday just before 12 p.m. The company didn't make any official comments about the situation until early Tuesday, issuing a statement that assured investors that it would make another statement later in the day regarding
TheStreet's
"inaccurate" article. That second statement, which didn't come until after 3 p.m., merely stated that the Onko-Sure clinical trial was "on track." Shares eventually began trading again at 3:31 p.m.
Radient's interpretation of its relationship with Mayo prior to Monday was interesting, or shall we say, creative. We have similar relationships though. We work closely with Mr. Jack Daniels on an array of cocktail projects.
Exxon Mobil
(XOM) - Get Report
has been a long time collaborator in a fuel consumption test for our vehicle,
Home Depot
(HD) - Get Report
works with us on seasonal home improvement projects ...
1. Bank of America Rides the Peace Train
Bank of America
(BAC) - Get Report
investors have a lot to worry about: Ginormous writedowns , expensive lawsuits, government investigations and long-running questions over when the company will finally deliver some good news to shareholders.
At the banking giant's investor day this week, CEO Brian Moynihan offered a simple message -- Heyyy maannn, take a chill pill. Make love, not money.
In a presentation in New York on Tuesday,
Moynihan made several references to "organic growth," "sustainable" shareholder returns and a cryptic "peace dividend" Bank of America will receive in exchange for not buying any more crappy companies.
"I can't stress enough to you how much of a peace dividend we'll get without mergers," Moynihan said. "That peace dividend is effectively a permanent dividend."
Awesome, dude! Like, who needs
real dividends
when you have
peace dividends
?
While those of us listening to the presentation via Web cast were imagining Moynihan in a tie-dyed shirt, Birkenstocks and funky purple shades, BofA's stock shot up more than 5% at times. That's because Moynihan suggested it could soar six times higher. The company, he argues, will be earning oodles of money ... one day ... eventually ... in a hypothetical environment called "normalized" that investors have been waiting for since 2007.
As Moynihan polished off the special brownie he had at lunch, other executives took the stage and the mood turned somber. Tom Montag, the investment banker who earns millions running BofA's capital markets business, was heckled by a tax nut. Terry Laughlin, who runs a newly created "bad bank" subsidiary, said it might take three years to get rid of
Countrywide's
toxic mortgages once and for all.
Bummer. We were hoping he would unveil home loans made of hemp.
And while the audience contemplated ways to calculate dividend yields made of peace, Stifel, Nicolaus analyst Chris Mutascio told his clients not to expect any "material return of excess capital to shareholders" until 2013 or 2014. BofA's stock closed at $14.26 on Thursday, as investors started to come down from their trip.
In light of all this dumbness, we now ask you: Which is this week's dumbestof the dumb stories? Take the poll below to see what
TheStreet
has tosay.
This article was written by a staff member of TheStreet.