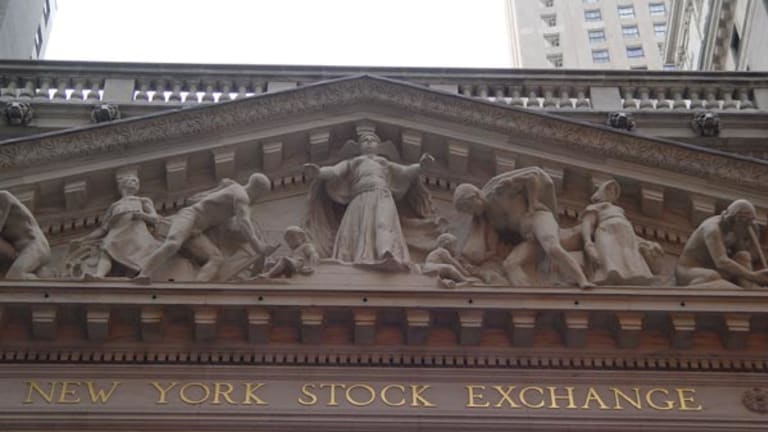 The 5 Dumbest Things on Wall Street: Jan 7
Here is this week's roundup of the dumbest actions on Wall Street.
5. Goldman "Pokes" Facebook Investors
What do you get when you combine a company your financial adviser wouldn't touch with a ten-foot pole, a Russian "oligarch," and mind-blowing fees? You have an investment opportunity!
That, at least, is what
Goldman Sachs
(GS) - Get Free Report
is telling well-heeled clients about plans to invest in social networking site Facebook.
This week it has been reported that Goldman and Russian firm
Digital Sky Technologies
will seed a $500 million fund that will take a stake in Facebook. The deal is structured so that Goldman can take in additional investments from wealthy clients while officially being classified as just one investor.
Wow, this is wrong on so many levels.
First are reports that Goldman passed on taking a direct stake in Facebook because its head of private equity thought the investment placed too high a value on the company. That's a smart move, given that this particular company has a revenue stream based on farming imaginary corn and is run by a CEO who was portrayed in a recent movie as a devious, disloyal social misfit.
Undaunted, Goldman has moved ahead and decided to set up an investment vehicle with the help of Russian Internet conglomerate Digital Sky, which is owned by Alisher Usmanov. Don't know Alisher? Well, he is typically portrayed by Russian media as an "oligarch" whose Internet properties comingle mining and lumber. In fact, any investor thinking of joining hands with Usmanov should consider using Facebook competitor
Google
(GOOG) - Get Free Report
to get a bit of information.
Let's just say you are not likely to find some of that bio information in the prospectus.
After you get past the valuation and get comfortable with your fellow investors, well, get ready to pay. The
Wall Street Journal
reports that Goldman will collect an upfront fee of 4% in addition to a 5% share on any investment gains. That's on top of a possible "private-placement fee" between 2% and 4% for arranging the deal.
Given the reported size of the investment of $1.5 billion, a maximum fee of $195 million is not a bad payday for a running investment that didn't pass the smell test for your best private equity guy.
TheStreet Says: Looking for another bad sign? Goldman's private wealth executives may not even know what they're buying, consider they had to get a tutorial on how to use "the Facebook" from the company CFO.
4. Borders to Vendors: Uhhhhh... Look Over There!
It's been a bad week for Ann Arbor, Michigan. University of Michigan officials ended three years of misery by firing football coach Rich Rodriguez, whose offensive and defenseless style of coaching culminated in the worst Bowl game loss in the school's history a week before.
Meanwhile, Borders Group
( BGP),
the other hometown institution, was also admitting defeat.
Late last week, the beleaguered bookseller confirmed that it was attempting to hug it out with its vendors over its inability to pay the bills.
"As part of this potential refinancing, Borders has determined that it is necessary to restructure its vendor financing arrangements and is delaying payments to certain of its vendors," company spokesperson Mary Davis told
TheStreet
.
We're sure the vendors -- all those super-wealthy book publishing billionaires -- will be more than happy to accommodate Borders. After all, the company's net of cash stood at $331.1 million as of Sept. 30, and on Dec. 9 the company posted a loss from continuing operations of $74.7 million for its fiscal third quarter amid a sharp 17.6% year-over-year decline in sales to $470.9 million. At that time, it reported trade accounts payable of $444.9 million.
Thus, Borders shareholders are now left to make like Rich Rod and pray for that one Hail Mary pass to save the day. This, in the form of hedge fund manager
, whose Pershing Square Capital Management owns securities representing a 41.8% stake in Borders. In early December, Ackman offered to finance an acquisition of rival
Barnes & Noble
(BKS) - Get Free Report
in a cash-and-stock deal valuing Barnes & Noble common shares at $16 each.
All we have to say about that is the Hail Mary didn't often work for Rich Rod.
TheStreet Says:Borders management should have checked their own Self-Help section. There had to be a copy of Running Public Companies for Dummies in there somewhere right?
3. Apple: Building a (Not So) Better Alarm Clock
Apple
undefined
helped its loyal fans ring in the new year by making sure iPhones, uh, didn't ring.
After
thrilling customers with Antennagate earlier in the year
, Apple followed that up that disaster with a bug that prevented the iPhone's alarm clock from going off on January 1 or 2.
The impact was calamitous: three Los Angeles Lakers overslept and were late to the pregame shootaround, which was the only possible explanation for the team losing to the Memphis Grizzlies on New Year's day. We jest, but there were some more serious issues, like a couple who reported missing a fertility treatment as a result.
Regardless, there's enough dumbness to go around on this one, which is exactly the way we like it. First of all, shouldn't the tech wizards at Apple be able to design an alarm clock that works whenever a new year rolls around. Didn't we iron this sort of thing out in 1999? Was all of our "Y2K" hysteria in vain?
Still, aside from Apple's alarming failings, we also have this to say: Really, people, you're using your iPhone as your sole alarm clock? Must you use your iPhone for everything?!?
We know we might sound like some kind of nattering nanogenarian here ("Old Man Screams at Cloud Computing!"), but there's something better suited to the task. It's called an alarm clock. They've been around for a while, and they cost far less than an iPhone.
TheStreet Says:Coming soon to your iPhone, the Apple Sundial App.
2. Toyota's Legal Pileup
Emerging this week was yet another example of how only good things can happen when lawyers and insurance companies put their heads together, as
seven insurance companies decided to pile on to the lawsuit bonanza against
Toyota Motor Corp
(TM) - Get Free Report
. They must have figured everybody else was doing it, but boy did it take them a while to get around to it.
Seven identical lawsuits, each seeking a whopping $230,000 for accidents that were allegedly due to acceleration problems with Toyota vehicles, were filed by
American Hardware Mutual Insurance Co.
,
Fireman's Fund Insurance Co.
,
National Surety Corp.
,
American Automobile Insurance Co.
,
Ameriprise Insurance Co.
,
Motorists Mutual Insurance Co.
and
IDS Property Casualty Insurance Co.
These companies join
Allstate
(ALL) - Get Free Report
, which filed a similar lawsuit three months ago seeking $3 million.
First of all, it hardly seems like going up against Toyota in court to recover $230,000 is worth it. Even if the companies were awarded the full amount, those winnings would surely be reduced by legal fees, if not totally wiped out. And the odds don't exactly seem to be in the insurance companies' favor.
According to a report from the
Wall Street Journal
, the U.S. Department of Transportation has been testing Toyotas for more than six months. They've even brought in NASA to help run the tests. That's right, rocket scientists.
And you know what they've found? Nothing. In fact, it seems the accidents might have been caused by drivers stepping on the wrong pedals. It's what's known in the airline world as pilot error. And when the guys who send people to the moon can't find the problem, we think it's safe to assume that the odds of success in court are limited.
But, it's a lawsuit-happy society, so why should only the big insurance companies get to play, right?
TheStreet Says: Meanwhile, not that we're suggesting Toyota reach a quiet settlement just to make this story go away, but the car maker has been fighting for a year to get beyond this story. So a little mutual understanding between all parties might be better than reminding people that your cars might at times, you know, smash headlong into things.
1. Sign of the Apocalypse: Cheating of Charities Now Outsourced!
When a company sponsors a charity funding contest, it's presumably looking to reward good companies that are playing by the rules
and
to glean a little positive press. Pepsi somehow managed to do neither.
In this case,
Pepsi's
(PEP) - Get Free Report
charity funding contest, Pepsi Refresh, has apparently been exploited by a shrewd animal rescuer and a shadowy figure from India known only as "Mr. Magic."
Couldn't make this up if we tried.
Indeed, according to an article from the
New York Times
, the Pepsi Refresh contest, which grants up to $250,000 to charitable organizations, has fallen victim to voter fraud. The Times' account says that a woman who runs an exotic animal sanctuary in Hawaii discovered that a fellow animal lover, this one of cats, beat her out in the contest by employing the services of one "Mr. Magic." Based in India, this "Mr. Magic" (we like the name so much, we're just going to keep typing it over and over) apparently helped stuff the ballot boxes from overseas in violation of the contest rules. In return, "Mr. Magic" received a cut of the winnings.
Basically, the company outsourced the cheating of a charity contest to a firm in India. We have a hard time keeping count, but that's morally wrong on at least three levels.
For its part, Pepsi has been fending off such claims since the program started, and is refusing to admit that it has been hoodwinked by a vote-bot. The company says it employs a third party company to audit the results and that everything is just A-OK.
Well, the Times got Mr. Magic's email address and dropped him a line. Mr. Magic, being a polite guy, was kind enough to respond: "We would not like to disclose our tube Web site because this would be negative PR as we are using it to win charity contests," he said in an e-mail to the Times.
TheStreet Says:Looks like Pepsi is going to need to audit the auditors.
In light of all this dumbness, we now ask you: Which is this week's dumbestof the dumb stories? Take the poll below to see what
TheStreet
has tosay.
This article was written by a staff member of TheStreet.