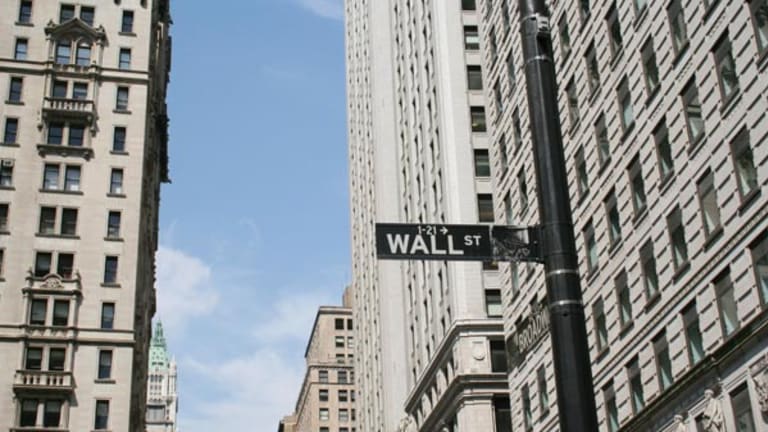 The 5 Dumbest Things on Wall Street: Aug. 8
Fighting mad; no patients, no patience; don't you dare, US Air; with a name like Freddie.
Fighting Mad
The good folks at
Circuit City
(CC) - Get Chemours Co. Report
have gone
Mad
.
Instead of focusing on a sinking stock, or a survival strategy to ward off nemesis
Best Buy
(BBY) - Get Best Buy Co., Inc. Report
, Circuit City's management is spending its time battling another enemy:
Mad
magazine.
As Alfred E. Neuman, the longtime face of the humor magazine, would say: Yes, Circuit City shareholders. You worry.
Circuit City Stores temporarily banished
Mad
from its store's shelves late last week for poking fun at the retailer in a four-page spoof entitled "Sucker City." The spoof features ads for HDTVs and video games, including the Nintendo Wii "Guaranteed In Stock ... if you're friends with an employee who hid it in the back for you. Otherwise, ooh, sorry, all sold out."
Mad
also asks readers to visit its new store "directly across the street from Best Buy" or "any of our other 600 stores directly across the street from 600 other Best Buys!"
Good old
Mad
. We at the Five Dumbest Lab couldn't have said it better ourselves.
But we could spot the hilarity, and the irony, in pointing out that the only way Circuit City can move product off the shelves is to have them removed. Certainly nobody is buying the company's shares, down 51% year to date. Even beleaguered movie seller Blockbuster decided it's best to stay away from Circuit City, dropping its $1 billion bid for the company last month.
Circuit City eventually got the joke and apologized for the "knee-jerk reaction" and put the magazines back on sale. Spokesman Jim Babb said in an email response, "The parody of our newspaper ad in the August
MAD
was very clever. Most of us at Circuit City share a rich sense of humor and irony ... but there are occasional temporary lapses."
Babb also jokingly offered the magazine's editor a $20 gift card "toward the purchase of a Nintendo Wii ... if he can find one!"
Mad
editor John Ficarra replied in a statement that he was shocked and confused by the entire incident -- mainly because he had no idea Circuit City sells magazines.
Ficarra missed the point: Circuit City only sells magazines it likes.
Dumb-o-meter score: 100. To be honest, we didn't even know they still published Mad. Let alone sell it at second-rate retailers.
-- Gregg Greenberg, TSC staff writer.
'IN' Out at Amex
American Express
(AXP) - Get American Express Company Report
tried to be hip. Tragically.
After spending three years stalking club-hoppers in New York, Chicago and Los Angeles, pathetically begging them to switch to their cool new "IN" cards, the lumbering financial services giant is throwing in the towel. Amex is literally "discarding" its heavily hyped line of plastic targeted to young, affluent city-slickers due to lack of demand.
Seems like kids today don't mind using their father's charge card. Especially when he's the one paying the bills.
Amex brass says they didn't lower their lending standards in their feeble attempt to get in with the in-crowd, but delinquencies and defaults have been mounting with the slowing economy. In July, the company said second-quarter earnings tumbled 38% as even affluent consumers slammed their wallets shut.
Amex had high hopes the new offering would break through the velvet rope and attract a client base outside its bread and butter: the buttoned-down, business traveler. They even went so far as to scrap the famed Centurion in the card's center in favor of a sleek racing stripe.
But it was not design, or lack thereof, that led to Generation Y's indifference. The risks of being labeled a social outcast for whipping out the old man's green card just did not merit the rewards; in fact, they received zilch.
Instead of participating in Amex's highly regarded Membership Rewards program, the IN cardholders could accrue points toward yoga classes and happy hour discounts.
Let's get this straight. Amex's plan was to curry favor with binge-drinking, social climbing, fiscally irresponsible twenty-somethings by rewarding them with free martinis, yoga and easy credit.
They should have just called them
American Excess
cards.
Dumb-o-meter Score: 95. When it comes to credit, it's hip to be square.
-- Gregg Greenberg, TSC staff writer.
Don't You Dare, US Air
US Airways
(LCC)
apparently wants to be the industry leader in annoying its customers.
How else can you explain the company's
to start charging coach passengers $2 for water and other nonalcoholic drinks? No other airline is doing this. Its own flight attendants are rightly worried about the backlash.
"This model resorts to a nickel-and-dime approach to the airline'd most valuable asset -- the passengers," says Mike Flores, president of the US Airways chapter of the Association of Flight Attendants, in a
news release
entitled "US Airways aircraft turn into flying vending machines."
"The usual customer reaction is basically a look of disgust," Flores says. "Then they roll their eyes and say, 'I'm not buying anything.' "
Good chance they won't be buying US Airways tickets the next time either.
Is this any way for a service company with declining passenger traffic to act? And how much can this new "revenue" possibly help a company where fuel costs increased $400 million in the second quarter?
In the spirit of honesty, we at Five Dumbest recommend the company remove the
on its Web site promising that "satisfaction of our customers is a top priority."
And while we're trashing airlines, what's up with
JetBlue
(JBLU) - Get JetBlue Airways Corporation Report
charging $7 for a pillow and blanket?
The company even had the gall to present the charge as a new benefit, saying in a
press release
that the airline will "offer the world's cleanest travel pillow and blanket.
Next they'll be charging extra for a clean seat.
Dumb-o-meter Score: 91. So much for the friendly skies.
-- Ted Reed, TSC staff writer.
No Patience or Patients
Health Management Associates
(HMA)
is licking one nasty, self-inflicted wound.
The rural hospital chain got too aggressive about chasing away uninsured patients to lower its bad-debt write-offs, and now even paying patients are seeking treatment elsewhere.
Sure, the strategy worked -- uninsured admissions dropped by 0.8% in the second quarter. But even more insured patients stayed away, with same-hospital admissions falling by nearly 4% in the second quarter while rivals
Community Health Systems
(CYH) - Get Community Health Systems, Inc. Report
,
Universal Health Services
(UHS) - Get Universal Health Services, Inc. Class B Report
and even long-suffering
Tenet
(THC) - Get Tenet Healthcare Corporation Report
all enjoyed a welcome bounce.
"It appears that we inadvertently chased away a portion of our paying patients," CEO Burke Whitman explained during the company's second-quarter conference call on Wednesday. "It was the unexpected secondary effect of an otherwise successful program."
That's like treating a hangnail by cutting off the hand.
Investors responded by amputating HMA's stock. The stock is down 15% since the announcement.
Of course, the overzealous insurance clampdown isn't all to blame. The company revealed that its past hospital scores also are scaring patients away.
Not to worry, HMA has a plan to one day lead the industry in quality and satisfaction -- a target it likes to call its "big, hairy, audacious goal" for the future.
Does this company have no one who understands public relations?
It could use a little help with investor relations as well, judging by the comments of HMA's operating chief, Kelly Curry. "If we had known how successful we were going to be, we would have said that our admissions were going to be down about a point on the year," Curry said this week.
Given current trends, including the "unambiguous progress" the company is making on its turnaround plan, HMA now believes that volumes could fall by as much as 3% instead.
At this rate, HMA may soon need life support for itself. But will investors turn it away for nonpayment?
Dumb-O-Meter Score: 88. Investors don't have much patience for a hospital with no patients.
-- Melissa Davis, TSC staff writer.
With a Name Like Freddie...
Here at the Five Dumbest Research Lab, we have not spent much time pondering baby names. But it seems fairly obvious to us than any parents who name their newborn son "Freddie" are just asking to raise one big loser.
Our case in point:
Freddie Mac
( FRE), the federal government's wayward son, who knows nothing but how to soil himself publicly.
And this Freddie has that habit down in spades.
The government-sponsored mortgage giant posted a worse-than-expected $821 million
second-quarter loss
this week. And investors have seen the value Freddie's shares plunge almost 90% over the past year.
Of course like any errant child, Freddie's behavior also reflects the influence of a bad guardian. Freddie's actions were supported and encouraged by CEO Dick Syron, who
The New York Times
reported ignored warnings since 2004 that the company was taking on too much risk.
Let's also acknowledge the supporting role of the parent -- in Freddie's case the federal government -- which not only allowed Syron to run Freddie into the ground while he collected $38 million in compensation but also prodded the company to take on additional risk.
As Syron prepares to walk off with tens of millions of dollars for his services, investors continue to suffer, with Freddie losing more than 20% of its market value following the release of its
and news that it would slash its dividend to "a nickel or less" from 25 cents.
As for the name "Freddie," parentsconnect.com says use of the name has been in steady decline since 1940.
No doubt this Freddie isn't helping bolster the name's popularity, especially among investors.
Dumb-o-meter score: 82. Here's an idea: Find a new job and a qualified replacement