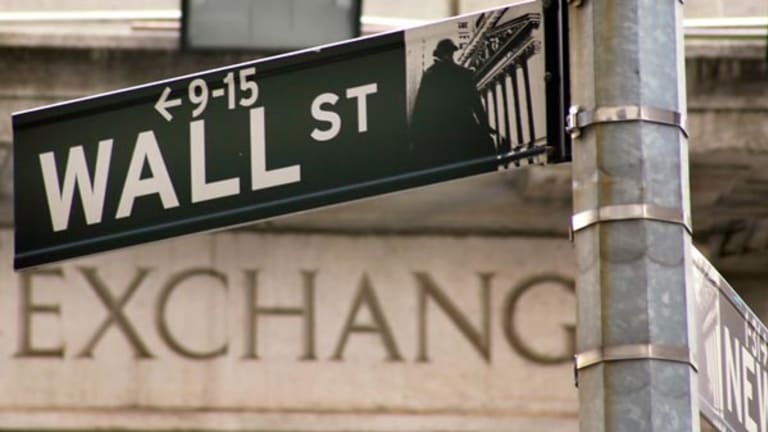 The 5 Dumbest Things on Wall Street: April 29
Here is this week's roundup of the dumbest actions on Wall Street.
5. Apple: There's No Problem, but We Fixed It
Apple (AAPL) - Get Apple Inc. (AAPL) Report is getting really good at fixing things it says aren't a problem.
This week, the company denied, confessed to and then said it will change its iPhone tracking practices
that have created an outcry about potential privacy invasion.
In classic Apple fashion, the company issued a press release Wednesday consisting of 10 questions the company asked itself. In addition to the 10 answers, the company said it is preparing a software update that changes the way it collects data about iPhone locations.
First came the denial. "Apple is not tracking the location of your iPhone. Apple has never done so and has no plans to ever do so," said the release.
Next came the explanation. The short version: Apparently Apple doesn't track iPhones -- it collects the data from WiFi and cell tower antennas that track iPhones. The long version: In order to find your location faster, Apple said it uses a database of antennas in a given area. This ready cache of antenna info can quickly pinpoint you on a map -- that's a lot faster than if you had to wait only for a GPS satellite report.
While Apple says this offers fast, accurate and secure location services, "users are confused" because the company has "not provided enough education about these issues to date." Ah, the classic "it's not you, it's me" defense. It's not your fault for being confused and angered about location-snooping. It's Apple's fault for not explaining how awesome the system is.
Apple also blamed bugs in the system. Apple didn't want to collect and store location data for as long as a year and said it will change that to one week. Apple also blamed a bug for allowing the collection of location data to continue even if the user shut off the location service.
The release ends with a vow to issue new software that cuts back on the location-tracking and also let users opt out of it.
To recap, there's no problem, but they're fixing it. Gee, this sounds awfully familiar. Almost like the same approach was used to fix the very not broken iPhone 4 antenna. After denying there was a flaw, the company gave away free bumpers and remained vague about an antenna fix. "We're still working on this -- we're happy with the design," Steve Jobs said at the time.
Well, if it ain't broke...
4. Capturing the Bernanke Magic
The buildup to
Fed
Chairman Ben Bernanke's first press conference on Wednesday had the financial media -- well mainly
CNBC
-- at full froth. And who could blame them. Bernanke is, after all, such a dynamic personality, a Merlin of the markets whose every word financial pundits spend inordinate amounts of time deciphering. Who could think of anything else? We got no sleep the night before ourselves.
CNBC
even tortured us with a countdown clock the day of the event.
When the moment finally arrived, Bernanke came out swinging.
"The committee continues to anticipate that economic conditions, including low rates of resource utilization, subdued inflation trends, and stable inflation expectations, are likely to warrant exceptionally low levels for the federal funds rate for an extended period."
Oh man,
From there Bernanke proceeded to dazzle 'em with more jaw-dropping comments about unemployment, inflation, commodities and economic growth rates. Most of these things were already known and have been widely discussed, but delivered in Bernanke's signature style, they took on new life.
"The committee sees the economic recovery as proceeding at a moderate pace," he said. The housing sector is depressed. The labor market is improving gradually. The FOMC is looking at many things both "very carefully" and "very closely."
It was all just too much. Steve Liesman,
CNBC's
senior economics reporter, seemed overcome by the moment by the time he got to ask Bernanke a question.
"Thanks for doing this, this is a tremendous development," said Liesman in his preamble to his question.
Yes, truly tremendous. That was the word everyone was reaching for.
3. Sony Gets Gamed
First they came for the
T.J. Maxx
(TJX) - Get TJX Companies Inc Report
shoppers. Then they came for
JPMorgan Chase
(JPM) - Get JPMorgan Chase & Co. (JPM) Report
bankers and
Walgreen
(WAG)
customers. Then, New York Yankees fans. Now,
it's the gamers' turn to cancel credit cards and request reports from Experian, Equifax and TransUnion.
Sony's
(SNE) - Get SONY GROUP CORPORATION SPONSORED ADR Report
PlayStation Network that enables online gaming and other features like Netflix and Hulu Plus viewing for the PlayStation 3 has been down for more than a week after an "external intrusion" (Sony's way of saying they got hacked). That was aggravating enough for the network's 75 million gamers whose guilds have gone a week without plundering some poor sap's Druid wedding or whose battalions haven't racked up any trophies for securing cities or blowing up a 12-year-old's combat-fatigued avatar in days, but Sony's admission that gamers' personal information and, in some cases, financial information put both gamers and privacy advocates in berzerker mode.
It's bad enough that gamers who just used the PlayStation Network for its free online access are probably going to lose all of their trophies they've amassed and are going to have to change their password on just about any online service they use. Geekish though they may seem, those trophies come in handy for expanding a gamer's online world and the effort that goes into obtaining them can turn a massive multiplayer online role playing game or first-person shooter into a full-time job.
This is more of a downer, however, when you've used a credit or debit card online to pay for downloadable games like Capcom's
Bionic Commando Rearmed 2
or the
Final Fight/Mighty Sword
game pack in the PlayStation Store, only to find out you not only have to cancel those cards but don't have access to the games because their anti-piracy digital rights management needs the PlayStation Network to operate. To argue that Sony didn't see this coming would be akin to debating about whether next installment of the
Grand Theft Auto
series will feature ethnic drug gangs and random acts of senseless violence.
Network users should have cast their first cold, disapproving stares at Sony when it was pantsed by gamers using a thumb-sized device called the PS3 Jailbreak to dump software onto the PS3's hard drive for free and play it from there. Considering that type of access is usually restricted to developers, it's a complete mystery why Sony didn't go all Apple "gated community" on it right away and lock that down -- especially considering that early estimates for this PlayStation Network outage put Sony's revenue hit at roughly $20 million.
But why should gamers feel that their online cache of grenade launchers and claymore mines makes them any safer than just about every other consumer out there? About 46 million bargain shoppers had their credit card information boosted five years ago when TJX -- the parent company of retailers T.J. Maxx and Marshall's -- basically held a personal info doorbuster sale for hackers. Just this month, Alliance Data Systems' marketing firm, Epsilon, let hackers have a field day with email addresses collected by 2,500 corporate partners including
Chase
(CCF) - Get Chase Corporation Report
,
Citigroup
(C) - Get Citigroup Inc. Report
,
Barclays
(BCS) - Get Barclays PLC Sponsored ADR Report
,
Best Buy
(BBY) - Get Best Buy Co., Inc. Report
,
Target
(TGT) - Get Target Corporation Report
and
TiVo
(TIVO) - Get TiVo Corp. Report
. Most recently, the New York Yankees absentmindedly sent a spreadsheet listing names, account numbers, mailing addresses, phone numbers, and email addresses of every current non-premium season ticketholder to 2,000 of an account executive's clients. Companies handle customers' personal identification the way a drunken undergrad handles a controller during a heated
Madden NFL '11
matchup with roommates: Cradling it delicately at first, but casting it aside in dramatic fashion once something goes slightly wrong.
Gamers should know better than anyone how little stands between them and a sticky-handed hacker. While most know that their habit can take a toll on their bank account, having their credit card info handed to hackers like an achievement bonus item should make them long for the days when video games could only steal your money a quarter at a time.
2. American Apparel Burns Bailout Buddy
American Apparel
(APP) - Get Applovin Corp. Report
honcho
Dov Charney rewarded the Canadian investors who bailed out his failing company last weekend
the only way he knows how -- by saddling the company with yet another lawsuit.
Canadian outfit
Great White North
, which also bailed out smoothie pusher
Jamba
(JMBA) - Get Jamba, Inc. Report
, agreed to inject about $40 million into the flailing t-shirt retailer,
Bloomberg
reported. As part of the deal, the investors reportedly gave American Apparel $15 million upfront, and during the next six months retains the right to buy nearly one-third of the company's shares at just 90 cents each.
A deal's a deal, but it's hard to imagine what Great White was thinking. Don't they have Google in Canada? Even a casual search would have made two things clear: American Apparel's business model of overcharging the super desirable niche market of heroin-chic urban hipsters for commodity clothing like T-shirts and leggings has been so successful that it lost $84 million in 2010. And second, Dov Charney is the world's most effective lawsuit chum.
On Tuesday, just days after Great White stunningly came to the rescue, Dov and his company got hit with a second lawsuit from a former employee. The first lawsuit accused Charney of using a former saleswoman as a teenage sex slave. For the follow-up lawsuit, the same saleswoman was joined by two more women to accuse Charney of setting up Web sites that contained nude photos of them, photos they were allegedly pressured to pose for during company photo sessions.
Regardless of the allegations, which is all they are at this point, betting on a turnaround at American Apparel must require a profound suspension of reason. The company has been grappling with severe operating issues and hired a new chief financial officer in February in the face of a prolonged sales decline. The company's problems have ranged from a possible covenant breach to immigration probes and charges from its accountant that it withheld vital information. We guess this is Great White's sweet spot?
And let's say that American Apparel's business does manage to turn itself around, that people really do want to pay more for T-shirts during the early stages of what's shaping up to be a prolonged economic recovery. Great. But something tells us Dov's problems aren't likely to disappear and aren't the kind of things that attract investors.
1. Buffett Bungles the Message
For a man who's a master of the media and rarely off-message,
Berkshire Hathaway
(BRK.B) - Get Berkshire Hathaway Inc. Class B (BARK.B) Report
CEO
issued the public relations version of a massive financial earnings restatement this week.
In throwing former top lieutenant
over allegations of insider trading and a breach of fiduciary duty to Berkshire Hathaway, Buffett reversed course from a cautious endorsement of Sokol he gave in a public press release just a month ago.
The audit committee of Berkshire Hathaway's board says it learned plenty more since March 30. Their report released this week states that trades Sokol made in shares of
Lubrizol
, which Berkshire would soon thereafter acquire, weren't just a violation of Berkshire Hathaway policy and fiduciary duty, but part of a nefarious plot to fool the most revered investor of all time and his famed investment company.
Buffett is sure to face a firestorm at this weekend's Berkshire Hathaway annual meeting, and it's no surprise he tried to pre-empt the furor as Sokol headlines just wouldn't go away. Buffett's media massaging has always been about never letting the public know when he's about to drop a bombshell. However, in this case, notwithstanding the allegations against Sokol, Buffett simply bombed.
Morningstar analyst Greggory Warren said of the original Sokol resignation release, "Buffett said he accepted Sokol's resignation and it was more like he was glad to see Sokol's back side, as opposed to chastising him. That was classic Warren Buffett stuff."
A month ago, Buffett also drew his "line in the sand," saying he would have nothing more to say on the Sokol matter in public and would simply refer all questions back to the original press release, a release which said Sokol did nothing unlawful and had served admirably in his role at Berkshire over the years before resigning. Now it's 30 days and 19 audit committee report pages later, and Buffett's terse dismissal of further comment has been replaced by Buffett saying he will open up questioning at the annual meeting to the Sokol situation and post all answers on the company's Web site, too.
One thing that neither Buffett not Berkshire Hathaway did this week was to offer any acknowledgment of their own mistakes, or a lack of internal controls that not only allowed the company's code of conduct to be breached, but led to Buffett completely reversing his position on the issue. Ever since the Sokol news first broke, analysts have expressed concern over Berkshire's internal controls and its oversight of managers, and the handling of the Sokol aftermath hasn't reassured anyone.
Buffett's flip-flop all by itself botched good corporate governance. Berkshire Hathaway could have said a month ago, before the audit committee review was complete, that the audit committee was reviewing the situation and the company would disclose the results of the review when it was finished. Many companies probably would have taken that approach.
Now in slamming Sokol, the Berkshire audit committee only allowed that it will, "work with company management and legal counsel to identify and implement lessons learned from these events, including possible enhancements to its procedures."
We'll be waiting for a public release of the findings from this review process, and we'll give the Berkshire board more than 30 days in the hope they get it right the first time, and we hope it includes this "lesson learned": Make sure you have all the facts before you go to print.
In light of all this dumbness, we now ask you: Which is this week's dumbest of the dumb stories? Take the poll below to see what
TheStreet
has to say.
This article was written by a staff member of TheStreet.