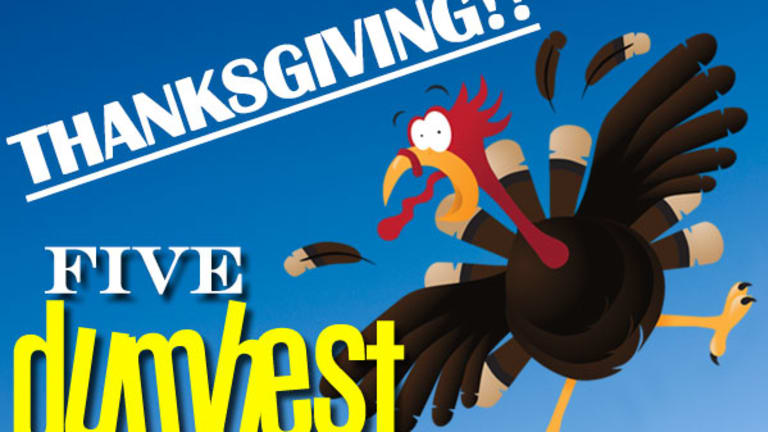 The '5 Dumbest Things' Holiday Quiz: Answers
One lucky reader won an autographed copy of Jim Cramer's book 'Get Rich Carefully' with the answers to last week's Holiday Quiz. Judge your own 'Dumbest' knowledge.
Congratulations to those who took our Thanksgiving quiz which recapped Wall Street's biggest flops during the fall. Hopefully, you had some fun.
Justin Schweitzer from Baltimore, Md. is our winner. He'll get an autographed copy of Jim Cramer's Get Rich Carefully. Thanks to all for playing.
Now, here are the answers.
1. AIG (AIG) CEO Bob Benmosche compared the public outrage over his firms giant bailout bonus checks to what during a September WSJ interview?
A. Brazilian soccer riots
B. Tea Party Rallies
C. Kid n Play House Parties
D. Lynchings in the Deep South
ANSWER: D. Bob later apologized for the asinine analogy.
2. Which companys stock did overeager Twitter investors mistakenly pile into a month before the social media company went public in November, sending its shares up 1,400%?
A. Towers Watson (TW)
B. Tweeter Home Entertainment Group (THEGQ)
C. Towerstream (TWER)
D. Time Warner (TWX)
ANSWER: B. Bankrupt Tweeter got an unlikely boost from a bunch of twits!
3. Shares of Coronado BioSciences (CNDO) tumbled 67% to $1.91 in mid-October after the company blamed a higher-than-expected placebo response for the failure of its experimental Crohns Disease treatment in a Phase II study. What was the active ingredient of Coronados drug?
A. Altered cells found in the livers of Chickens
B. Irradiated soybeans
C. Live eggs of a parasite found in pig excrement
D. Expired Parmalat milk
ANSWER: C. Definitely not kosher for shareholders.
4. Which ratings agency downgraded Americas local and foreign currency ratings to A- from A in October despite Congress last ditch deal to end the government shutdown?
A. Dagong
B. S&P
C. Moodys
D. Fitch
ANSWER: A. You dont need Chuck Barris for Dagong show. Just bad credit.
5. What did domestic diva Martha Stewart say in late October after her company Martha Stewart Living Omnimedia (MSO) reduced its J.C. Penney (JCP) offerings in order to settle its legal dispute with Macys?
A. We cleared up the issue. I hope this helps in the resolution of the lawsuit.
B. I refuse to answer that on the grounds that I don't want to.
C. It must have been some other body, uh uh, Sarge, it wasn't me.
D. I just did it and I want to do it again.
ANSWER: A. Not a good thing Martha! At least not a good apology.
6. A late October SEC filing revealed that activist investor Carl Icahn sold more than half of his Netflix (NFLX) stake, or more than 3 million shares for a 457% profit. What did his portfolio manager son Brett say in the same disclosure?
A. We believe the company remains significantly undervalued.
B. We believe Netflix is one of the great consumer bargains of our time.
C. What the hell does he know? My dad cant even set the clock on the microwave over, let alone download a Netflix movie.
D. Answers A & B
E. None of the above
ANSWER: D. Does Bretts father know best? Probably.
7. Which of the following are titles of reports issued by Carson Blocks research firm Muddy Waters this fall about Chinese mobile security software company NQ Mobileundefined?
A. NQs Top Ten Lies Since Friday
B. If You Believe in Yidatong, Youll Believe in Santa Claus
C. NQs US Veneer: Withholding Facts, Conned Men, and a Convicted Racketeer
D. All of the above
E. None of the above.
ANSWER: D. Welcome back Waters! To the same old Chinese stocks that you thrashed about.
8. McDonalds (MCD) announced in late October its plan to replace Heinz as its ketchup supplier, ending its 40-year relationship with the condiment company. The fast food giant took the drastic step because Heinz new CEO Bernando Hees previously was the head of which Mickey Dees competitor?
A. Wendys
B. Burger King
C. McDowells
D. McLovins
ANSWER: B. No Heinz? Come on Ronald. Its enough to make the Hamburglar grimace!
9. Who replaced Thorsten Heins after he stepped down as BlackBerrys CEO in early November?
A. Thurston Howell III
B. The Mighty Thor
C. John Chen
D. Johnny Chan
ANSWER: C. Thurston Howell III may be Blackberrys last chance at a buyer now that Fairfax Financial has bowed out.
10. Fantex scrapped its IPO plan in November after Arian Foster revealed his back injuries were too great for him to return to the playing field. Under Fantexs scheme, Foster would have been the first professional athlete to go public. What team does Foster play for?
A. Houston Texans
B. Pittsburgh Pisces
C. New York Knights
D. North Dallas Bulls
ANSWER: A. Its not the Houston Oilers anymore. Its the Houston Texans.
BONUS: JPMorgan Chase (JPM) was forced to scrap a Twitter question and answer session in November after the bank received a flood of insulting tweets. What is the name of the investment banker that was scheduled to answer all those questions prior to the cancellation?
A. Jimmy Dean
B. Jimmy Lee
C. Jimmy Conway
D. Jimmy Two Times
E. Jimmie J.J. Walker
ANSWER: B. That Q&A was definitely not Dy-no-mite!
Disclosure: TheStreet's editorial policy prohibits staff editors and reporters from holding positions in any individual stocks.