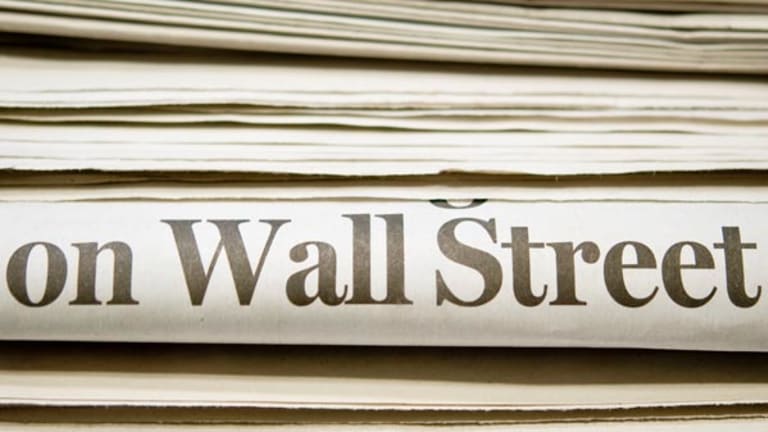 The 5 Dumbest Things 'April Fool's' Quiz
Test your knowledge of Wall Street's antics over the past few months.
NEW YORK (
) -- Happy April Fools' Weekend! We here at The Five Dumbest Lab love April Fools' Day. In fact, it's our favorite holiday because nobody likes to celebrate foolish behavior more than we do.
But before we begin pranking our friends on Wall Street, we leave you with
The Five Dumbest Things April Fools Quiz
, recapping the silly shenanigans of the first quarter of 2012. Answering correctly could win you a gift package full of autographed Jim Cramer goodies.
Enter by midnight Tuesday, April 3, by e-mailing your answers
with the words "Contest Entry" in the subject line. We'll rerun the column on Friday, April 6, with the answers and the name of the winner. If there is more than one correct entry, we'll have a drawing.
Good luck!
1. Shares of
WebMD
(WBMD)
took ill in early January, falling almost 30% after a sudden case of what we called
Acute Dumbness
. Which of the following was not a reason behind the stock's collapse?
A. The company's CEO resigned.
B. The company stopped its sale talks.
C. The company slashed its sales expectations.
D. The company's CEO got sued for malpractice.
2. In early January, private equity powerhouse
Blackstone
(BX) - Get Blackstone Group Inc. Class A Report
registered a slew of domain names to protect itself from detractors. According to
Domain Name Wire
, which of the following was not a Web domain name purchased by Blackstone?
A. Blackstonesucks.com
B. Blackstonegroupsucks.com
C. Steveschwartzmoneysucks.com
D. Steveschwarzmansucks.com
3. Celebrity chef Paula Deen, famous for her colossally high-calorie dishes, confirmed in mid-January that she had Type 2 diabetes, but she also landed a job as a paid spokesperson for the diabetes drug
Victoza
. Which pharmaceutical company is behind Deen's drug?
A. Novo Nordisk
B. Pfizer
C. Merck
D. Eli Lilly
4.
Macy's
filed a lawsuit against
Martha Stewart Living Omnimedia
(MSO)
in late January in a bid to block a licensing deal between Martha Stewart and which Macy's competitor?
A. Kohl's
B. J.C. Penney
C. Sears
D. Target
5.
Jack in the Box
(JACK) - Get Jack in the Box Inc. Report
introduced a new milkshake in early February. What flavor was it?
A. Haggis
B. Mutton
C. Liver
D. Bacon
6. In late February,
Johnson & Johnson
(JNJ) - Get Johnson & Johnson (JNJ) Report
announced yet another product recall, this one leading to the dismissal of CEO William Weldon. Which faulty J&J product proved to be the last straw for Weldon?
A. Infant Tylenol
B. Band-Aid
C. Listerine
D. Johnson's Baby Shampoo
7. Which of the following cruise ships actually completed its voyage as planned?
A. Carnival's Costa Allegra
B. Carnival's Costa Concordia
C. The S.S. Minnow
D. All of the above
E. None of the above
8. Which movie actor signed on with the
FBI
this February as a paid spokesman in a media campaign to combat insider trading?
A. Charlie Sheen
B. Alec Baldwin
C. Al Pacino
D. Michael Douglas
9.
Disney's
(DIS) - Get Walt Disney Company Report
John Carter
may have cost $350 million to make and market, but it finished in second place in its opening weekend at the U.S. box office. Which film came in first?
A.
The Lorax
B.
The Muppets
C.
Alvin & The Chipmunks
D.
The Hunger Games
10. According to a March regulatory filing, how much was
Verizon
(VZ) - Get Verizon Communications Inc. Report
CEO Ivan Seidenberg paid in 2011 despite his leaving the CEO position only seven months into the year?
A. $26.4 million
B. $18.1 million
C. $17.5 million
D. $1 plus free long distance for a full year
BONUS:
BATS
failed in its attempt to go public on March 23rd due to technical errors. What is the company's primary business?
A. Baseball equipment maker
B. Vampire movie producer
C. Belfry supplier
D. Global Stock exchange
--
Written by Gregg Greenberg in New York
.
Disclosure: TheStreet's editorial policy prohibits staff editors and reporters from holding positions in any individual stocks.