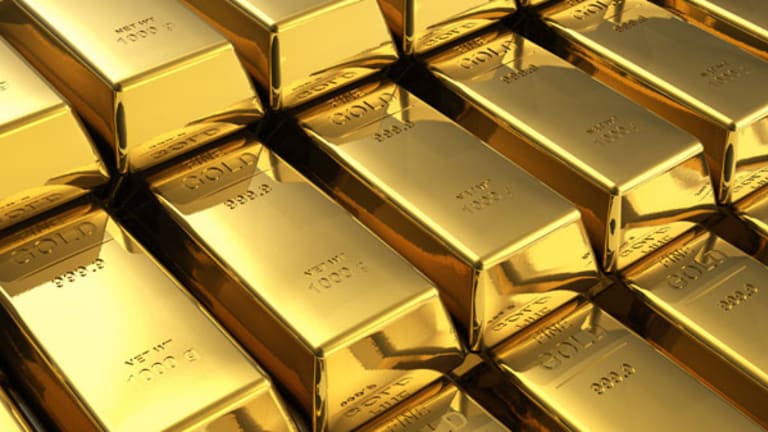 The 5 Biggest Myths About Investing in Gold and Silver
With increasing financial turmoil in recent years, more Americans have considered ownership of precious metals. But unfortunately they must wade through a sea of misinformation.
NEW YORK (TheStreet) -- Gold prices are rallying and in light of uncertainty in the markets and globally, it could be a good time to invest in the relatively safe precious metal -- or companies that deal with it, like Yamana Gold (AUY) - Get Free Report, Barrick Gold (ABX) and Goldcorp (GG) , which all rallied yesterday on the news of higher gold prices (read about them here, here and here). 
Another way to get exposure, outside of buying the stuff and individual companies, is to buy one of the many gold exchange-traded funds, like the SPDR Gold Trust (GLD) - Get Free Report. 
To get you ready for jumping into the market, here are some myths about investing in gold and silver -- and why they just aren't true. 
Myth No. 1: Rising interest rates are bad for precious metals prices.
It's surprising how persistent this myth is given that gold and silver experienced one of their greatest runs during a period of rising rates. That was back in the late 1970s, when bond yields surged into the double digits. 
Today, some analysts are invoking the threat of the Federal Reserve rate hikes as a reason to avoid precious metals. Of course, it remains to be seen whether the Fed follows through on its rhetoric about higher rates later this year. But nominal interest rates do not determine whether precious metals are more or less attractive than interest-bearing debt instruments. 
What matters is whether real interest rates are positive or negative. Negative real interest rates, which occur when rates are running below the inflation rate, are favorable for precious metals. So interest rates could skyrocket at the same time as precious metals prices rise. As long as rate hikes are behind the curve, gold and silver will have a tailwind. 
Myth No. 2: The government raided safe-deposit boxes to confiscate gold during the 1930s.
Yes, it is true that President Franklin Delano Roosevelt's Executive Order 6102 prohibited the "hoarding" of gold bullion and ordered citizens to surrender their gold bullion in exchange for cash. But this 1933 directive relied mainly on voluntary compliance. It didn't authorize government agents to conduct random sweeps of bank vaults. 
Some safe-deposit boxes were indeed seized as a result of bank failures, but gold confiscation only took place on a very small scale. Many Americans who held gold in their own home safes simply ignored the executive order. Government officials back then had no ability to keep tabs on individual bullion owners. And it doesn't today, either, provided that you buy your metal directly from a dealer and hold it outside of financial account structures.
The U.S. government claims the authority to expropriate any private asset in a time of national emergency, but the likelihood of another government demand on citizens' private gold seems low. One reason: The dollar is not on a gold standard anymore, so the restraint of gold backing no longer limits the issuance of more dollars. 
Myth No. 3: Numismatic coins are "confiscation-proof."
This particular myth is spread by rare coin dealers who sell heavily marked-up numismatics, or collectible coins made from precious metals, using false pretenses. In the first place, mass confiscation of any type of gold coin seems a remote possibility now, as discussed above. Second, there is no law that explicitly exempts numismatics from a future order prohibiting gold ownership.
If the fears of confiscation stoked by numismatic coin promoters keep you up at night, then you can simply opt for the U.S. Mint's American Eagles. They are considered to be legal tender coins in the U.S., which would seem to provide at least some legal barrier to any potential gold prohibition effort. Premiums on Gold Eagles are only slightly higher than for most other bullion coins. With rare coins, on the other hand, premiums can be multiples of the actual metal value -- and you may get only a fraction of that back when you sell if collectors no longer find the coin as valuable as they once did.
Myth No. 4: Gold mining stocks deliver two-to-three times the gains of gold bullion.
It's a demonstrable fact that long-term investors have actually fared better with gold bullion than with gold stocks. Not only is bullion less risky, it's also been more rewarding. 
From 2000 through 2014, gold gained 309%. Over that same period, by how much did the mining stocks best those gains? Actually, they didn't. From 2000 through 2014, the benchmark HUI gold stocks index managed a gain of only 122%. And when gold prices were falling during the 1990s, gold mining stocks fell even further.
During favorable up cycles for mining equities, they can potentially deliver outsized gains compared to the metal itself. But during unfavorable periods, the downside for gold and silver mining stocks is much more severe than it is for the bullion. 
Only when you look at fleeting shorter-term time frames do the miners sometimes deliver their fabled upside leverage versus gold. Thus, while mining stocks can be attractive at times for speculators or traders, they aren't suitable for most buy-and-hold investors.
Myth No. 5: The powers that be don't want gold to go up, so it's futile for the little guy to invest in it.
Yes, price manipulation does take place -- not just in the gold market, but in many asset markets. Over the past couple years, interest rate rigging scandals have roiled markets across the globe. Technically, there's no asset class that is safe from price manipulation.
The Gold Anti-Trust Action Committee and its many supporters insist that manipulation is orchestrated by arms of the U.S. Treasury Department and Federal Reserve to artificially suppress gold and silver prices. Others in the hard money community doubt that manipulation extends much beyond a few opportunistic rogue traders who don't care which direction metals prices go beyond any given day. 
Regardless of which side is correct, what's the practical significance to investors? Manipulation would make buying precious metals fundamentally unattractive only if prices were being set artificially high. If they are artificially low, it's a gift to buyers.
Hard assets are ultimately ruled by the laws of physical supply and demand. Industrial users of precious metals and investors in coins, bars, and rounds all require physical product; not a mere paper representation. When demand for physical metal depletes available supply, prices in the physical market must go up. Owning the metal itself and avoiding futures markets, where big institutional traders dominate, is the safest way for the little guy to position himself in precious metals.
This article is commentary by an independent contributor. At the time of publication, the author held no positions in the stocks mentioned.