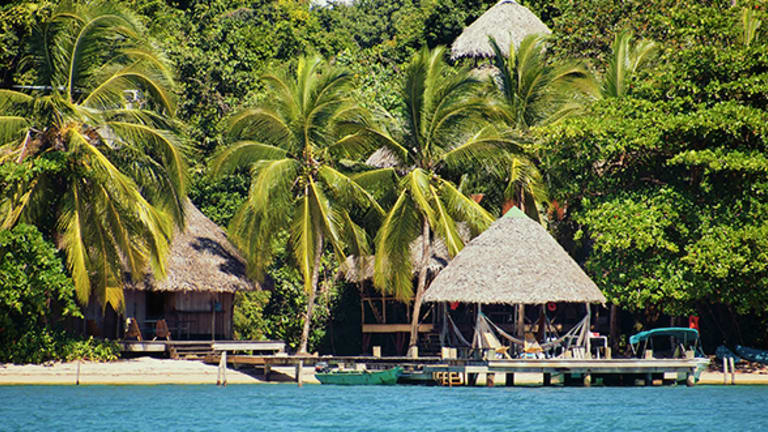 The 4 Most Surprising Things About Moving Abroad
In a Best Places in the World to Retire survey, expats speak of opportunities for personal growth and enrichment.
In a Best Places in the World to Retire survey, expats speak of opportunities for personal growth and enrichment.
NEW YORK ( TheStreet) -- Among the most prominent questions for people who are considering a life abroad are what they might be missing from their previous lives and what could surprise them in moving to another country.
Best Places in the World to Retire surveyed 400 expats recently on these issues in Expats: Expectations & Reality. The expats answered the question "What is the most surprising and/or interesting thing you discovered as an expat?" The answers varied, although some themes repeated. A number of expats spoke of personal growth and enrichment. Some respondents said they had learned to appreciate the slower-paced lifestyle and interesting backgrounds of other expats. 
Best Places in the World to Retire covers key issues about what it's like to live in Panama, Belize, Mexico, Nicaragua and beyond. The company distributes a regular online newsletter and relies on content and input from more than 500 contributors. Here are the four things that most surprised or interested expats about living abroad:

1. Personal Growth, Greater Perspective
Some respondents spoke of achieving a sense of accomplishment from overcoming the challenges of moving abroad. Some of them said that they had to solve problems with fewer or unfamiliar resources. "At a personal level, I've learned how resourceful and enterprising I am," said Sandie Davis, who moved to Panama from the U.S.
Debbie, who moved from the U.S. to Nicaragua, echoed those sentiments. She wrote that she was able to "live without fear of the unknown. Jumping into a new life has given me courage and strength that I never knew I had."
Moving abroad gave some expats a new perspective. One 45-64-year-old married, Canadian woman who has been working full-time in Panama, said that people are molded by the culture where they were born. 
Mary Beth Strawn, an American living in Panama, said that she had not realized before how much alike people are because she had not been around people in significantly different circumstances and from different cultures. Moving overseas provided that opportunity. "We all have the same needs and many of the same dreams, goals, and desires," Strawn said. "Borders, nationalities, languages, etc. don't matter."

2. Meeting Challenges
A common theme was how much easier it was to move abroad than our expats expected. Rona True, who moved from the U.S. to Panama, said that she was surprised at, "How easy it is to adjust to living abroad. Also, how many expats there are."
Cindy Thomas, a U.S. citizen who organizes and participates in charity events in Panama, said she was surprised by the interesting, varied backgrounds of expats. "Other expats are so interesting - highly educated, well traveled and had unique careers," she said.
Mike Cobb, a U.S. citizen who is living with his family in Nicaragua and working full-time, said that he and his wife had planned to stay only a short while and then return to the U.S. After moving, that changed. Cobb said that that his family was surprised by "how happy we are here."
3. Reinvention and An Improved Lifestyle
Surveyed expats said that they had a better opportunity to improve lives than they would have had if they hadn't moved.
Kenny Guinn, who moved from the U.S. to Belize said that he'd benefited from the more laid-back lifestyle. "I enjoy a healthy life and have more work/life balance," Guinn said.
Bob Schmucker, a U.S. retiree living in Panama said that, by becoming an expat he was surprised at how an expat "could adapt and live a very enriching life and experience a much more rounded lifestyle."
The survey found that expats tended to become less materialistic. One U.S. man now living in Panama said he was surprised that he "did not need all the materialistic stuff to be happy."

4. Slower Pace, More Leeway
A number of expats said that they appreciated the slower pace of living. "Don't rush. Everyone else will be late anyway," said one married Canandian man who has been living in Nicaragua for a decade. 
Bob Jensen, an American living in Panama, appreciated the less intrusive nature of government. "I am surprised by how much less government oversight into people's lives there is here," Jensen said. "You are free to do things here that would never be allowed in the U.S. People here are expected to be responsible for themselves."
Former U.S. yacht captain, Texas cowboy and radio personality J.B. Seligman, who now lives in Panama, said that living abroad offered a new opportunity to grow, but only if you embraced it. "Living abroad is what you make of it," Seligman said. "It's in your hands on a day-to-day basis. Here is an opportunity. What are you going to do with it?"
This article is commentary by an independent contributor. At the time of publication, the author held no positions in the stocks mentioned.