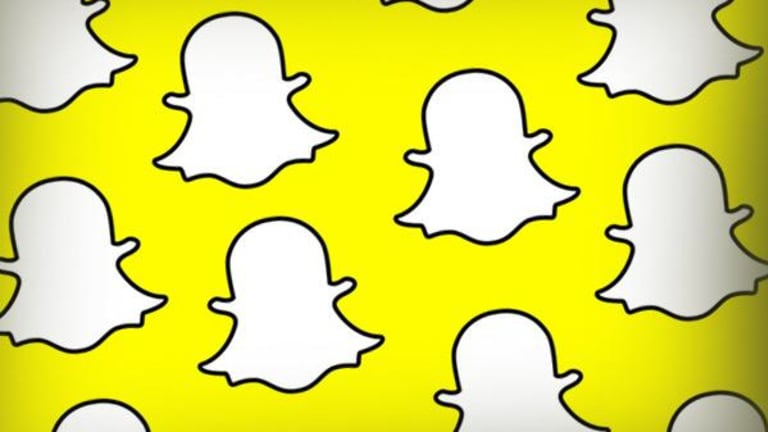 The 10 Most Interesting, Troubling and Adorable Things Found in Snapchat's IPO Filing
Snap's hotly anticipated IPO filing unveils much about the company's risks, vision and co-founders.
Snap, the parent company of disappearing-photo messaging app Snapchat, officially filed its paperwork for an inital public offering with the Securities and Exchange Commission on Thursday.
In a uniquely animated and graphic S-1 filing, the company depicts itself as a camera company that believes that reinventing the camera represents its greatest opportunity to improve the way people live and communicate. 
Launched in 2011, Snap has come a long way.  Snap's initial public offering, expected sometime in March, will be the largest private tech IPO in three years -- since Action Alerts PLUS holding Facebook (FB) went public in May 2012.
Analysts and experts across the industry also believe that Snap's IPO will usher in a pipeline of tech IPOs to warm the public market after a chilling 2016 during which only 16 public offerings raised total proceeds of $1.8 billion, compared to the $8.4 billion recorded in 2015. 
Here are some of the most interesting findings that TheStreet has dug out of Snap's S-1 filing:
1. Snap will be traded on the New York Stock Exchange with the ticker SNAP. This comes after a fierce competition between the traditionally more tech-centered Nasdaq and blue chip-centered NYSE to court the high-profiled Snap IPO. In November, Nasdaq hired a helicopter to film Manhattan's skyline using Snapchat's new video-camera sunglasses, Spectacles, while the NYSE maintained a prominent sign in front of its exchange building enticing users to add the exchange on their Snapchat account.
2. Snap said it had a net loss of $514.6 million on $404 million in revenue for the year ending Dec. 31, 2016 compared to a net loss of $372.9 million on $58.7 million in revenue during the prior year. Snap also admitted in its filings that "we have a short operating history and a new business model, which makes it difficult to evaluate our prospects and future financial results."
3. Despite mounting losses and plenty of risks ahead, Snap touts its fast growing user base as a measure against those challenges. Snap said that 158 million people use Snapchat daily, and over 2.5 billion Snaps are created every day.  The company has 161 million daily active users as of Dec. 31, 2016.
4. Snap has three classes of common stock: A, B, and C. Snap is only offering class A common stock shares in its IPO, which means Evan Spiegel, co-founder and Chief Executive Officer, and Bobby Murphy, co-founder and Chief Technology Officer, will be able to exercise control over shareholder votes and strategic vision.
5. Snap is yet to take the global expansion route that many U.S. tech companies has successfully depended on. The majority of Snap's revenue comes from North America, counting respective 92%, 90%, 89%, 88% of its total global revenue in the first, second, third and fourth quarter of 2016. 
6. Snap's much-touted camera sunglasses Spectacles, officially launched on Sept. 26, 2016 and could be bought only in pop-up vending machines around the country, has generated only buzz not revenue. 
 "There is no guarantee that investing in new lines of business, new products, and other initiatives will succeed," reads the filing. "The launch of Spectacles, which has not generated significant revenue for us, is a good example."
7. Snap identifies some of the industry peers with significantly greater resources and broader global recognition as its competitors. Besides Facebook, Instagram, WhatsApp, Twitter Inc. (TWTR) , LINE (LINE) , It also foresees the risks that certain competitors like Apple (AAPL) and Alphabet's Google (GOOGL)  could use strong or dominant positions in one or more markets to gain competitive advantages against the company in areas they operate.
8. Snap's early venture capital investors could cash out big in its IPO. Benchmark Capital holds 12.7 percent of Class A shares and 22.8 percent of Class B shares for its offering. Lightspeed Venture Partners holds 8.3 percent of Class A shares and 15 percent of Class B stock. 
9. Despite identifying Google as a rival, Snap relies heavily on Google's cloud-computing services for the vast majority of its computing, storage, bandwidth, and other services. "Any disruption of or interference with our use of the Google Cloud operation would negatively affect our operations and seriously harm our business," reads the filing. After signing a five-year deal in January, Snap also said it plans to spend $2 billion with Alphabet over the next five year for its cloud services.
10. Last but not least, although Evan Spiegel and Bobby Murphy founded Snapchat together, the filing suggests that Speigel had been making double what Murphy was. The filing reveals that Speigel received an offer letter that provides an annual base salary of $500,000 in October 2016 whereas Murphy's annual base salary as of December 31, 2016 was $250,000.