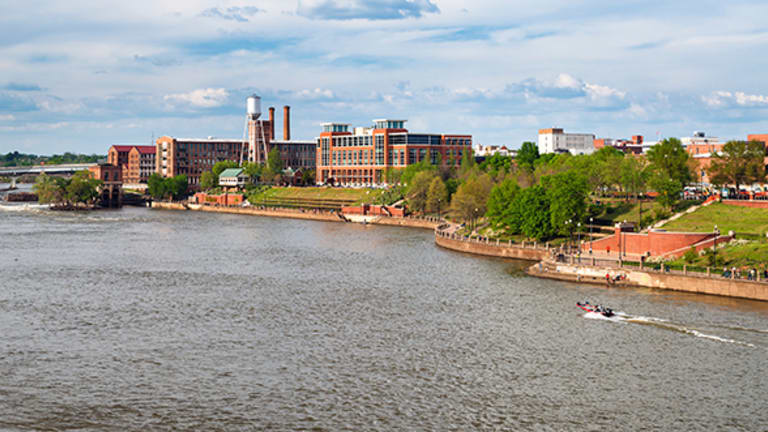 The 10 Best U.S. Cities to Start a Business
Take your entrepreneurial impulses and head to the South. The region is the home of many of the country's 10 best cities to start a business in.
NEW YORK (TheStreet) -- Take your entrepreneurial impulses and head to the South. The region offers some of the best places to start your own business.
New research from WalletHub indicates that cities in the middle and southern regions of the United States offer the top environments for entrepreneurship in the country. Metropolitan hubs in Georgia, Tennessee, South Dakota and Louisiana are among the best places to go to build a new company.
WalletHub, which provides tools and information to help consumers and small business owners make better financial decisions and save money, used 13 key metrics to analyze startup opportunities in the 150 most populous cities in the United States.
Researchers found that Madison, Wis., for example, is home of one of the most educated workforces in the United States. It also has one of the shortest average workdays. Office space is four times more affordable in Toledo, Ohio, than it is in San Francisco. Pembroke Pines, Fla., has twice as many small businesses as Bakersfield, Calif.
Want to start a business? These 10 cities may be the best places to do so, counting down to the best one. And if you want to see what cities to avoid, check out this list. 
10. Columbus, Ga.
According to the U.S. Small Business Association, there are 962,085 small businesses in the state of Georgia, 164,681 of which have employees. In fact, small businesses employ 1.5 million workers statewide.
Columbus provides one of the best settings in Georgia to start a business and is also the home of some of the most wallet-friendly office spaces. WalletHub ranks the city 26th in access to resources and 19th in business environment. Columbus has a civilian labor force of more than 125,000 people and a 7% unemployment rate. The U.S. Census Bureau lists the median household income in Columbus as $41,339, below the state median of $49,179.
9. Greensboro, N.C.
With about 280,000 inhabitants, Greensboro is North Carolina's third-largest city. It has a relatively young population, with just 11.5% of its dwellers over the age of 65. Nearly 90% of those living in Greensboro have graduated from high school, and 35% hold college degrees.
American Express (AXP) - Get Reportclosed its Greensboro service center in 2011 in a move that affected 1,900 full-time employees. The city's unemployment rate is about in line with the national average at 5.5%.
8. Augusta, Ga.
Augusta is the home of U.S. Army installation Fort Gordon, which has more than 15,000 active duty officers. The city itself has a population of nearly 200,000 people, 83% of whom have a high school degree. Augusta's median household income is $37,560, well below the state norm of $49,179.
While Augusta is a good place to start a business, it may not be great for getting a job. A separate WalletHub survey ranks the city 144th out of 150 in a list of the best and worst cities to start a career (Columbus ranks 147th). Its unemployment rate is 6.4%.
7. Memphis, Tenn.
Tennessee's largest city, Memphis is best known for its musical roots. The city is also home to Fortune 500 companies FedEx (FDX) - Get Report, International Paper Company (IP) - Get Report and AutoZone (AZO) - Get Report.
Memphis' unemployment rate hit 6.5% in March, falling from 7.9% in January. According to a different WalletHub report, the city's labor force has a 71.39% participation rate, and the average workweek is 37.7 hours.
6. Sioux Falls, S.D.
Sioux Falls' unemployment rate has been on the rise in recent months, climbing from 2.4% in October 2014 to 3.7% in March 2015. Still, it is far below the national average. Sioux Falls also has among the highest amount of small businesses per-capita among the 150 cities ranked by WalletHub.
South Dakota's largest city, Sioux Falls has an estimated population of about 165,000, 90% of which finished high school. Moreover, nearly one-third of the city's inhabitants hold college degrees. Its homeownership rate is 61.6%, and the median household income is $51,672 -- slightly above the $49,495 state median.
Also worth noting: South Dakota levies no individual or corporate income tax. According to TaxFoundation.org, its 7.1% tax burden ranks it third lowest out of all 50 states.
5. Jackson, Miss.
Mississippi's small businesses employed about half the state's private workforce in 2012, and 96% of all of the state's employers are small firms. As Mississippi's capital and biggest city, Jackson is the home of businesses big and small, including publicly traded entities Cal-Maine Foods (CALM) - Get Reportand Trustmark Corporation (TRMK) - Get Report.
Jackson has a 5% unemployment rate, and about 83% of its population holds a high school diploma. The city's median household income is $32,708, compared with the state median of $39,031.
4. Chattanooga, Tenn.
Chattanooga was the home of the first Coca-Cola (KO) - Get Report bottling plant, and an entrepreneurial, first-mover attitude continues in the city today. The city went from zero venture capital in 2009 to more than five organized funds with $50 million in investible capital in 2014.
Chattanooga's unemployment rate fell to 5.6% in March after starting the year at 6.6%.
3. Springfield, Mo.
WalletHub ranks Springfield, Mo., first in the access-to-resources category. The city also has the third-shortest workday and the second-cheapest office spaces, and its unemployment rate is slightly below the national average, at 5.3%.
About a quarter of Springfield's population is college-educated, and 88% have high school diplomas. However, the median household income is just $32,333 -- far below the $47,380 state median. Moreover, 25% of its population lives below poverty level, according to U.S. Census Bureau statistics.
2. Tulsa, Okla.
Tulsa is the second-best city for doing business in America, and it boasts the best business environment in the country. According to WalletHub, it is also a great place to start a career and is among the hardest-working cities in America. Its unemployment rate is 3.7%.
The oil and gas industry has historically dominated Tulsa's economy, though it has made efforts in diversification over the years. The city approved Vision 2025 in 2003 to provide public infrastructure projects and incentives for private enterprise in Tulsa County. The 0.6% sales tax it imposes is set to expire at the end of 2016.
1. Shreveport, La.
Ranked by WalletHub as the best U.S. city to start a business in, Shreveport has a population of about 200,000, a quarter of which has a bachelor's degree or higher. The median household income is $38,633, and the homeownership rate is 56.1%.
Louisiana is the home of about 425,000 small businesses, though only 78,000 have employees. Shreveport's unemployment rate is 7.0%.
Shreveport may be especially enticing to those looking to start businesses related to film. Tax incentives have allowed Louisiana to build a notable film industry -- the third largest in the country behind California and New York -- although the state Legislature has expressed interest in placing restrictions on its film tax credit program.
This article is commentary by an independent contributor. At the time of publication, the author held no positions in the stocks mentioned.