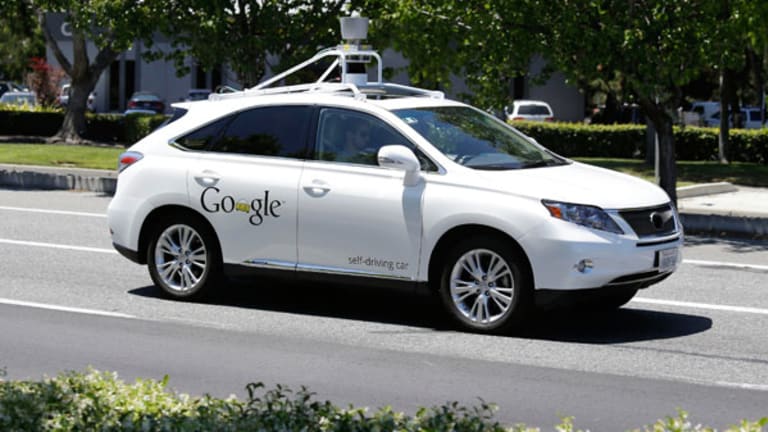 The #1 Reason You Won't Be Seeing Driverless Cars on Your Street
The legal liability involved makes producing and selling such a car too risky for any automaker.
The legal liability involved makes producing and selling such a car too risky for any automaker.
NEW YORK (TheStreet) -- Self-driving/driverless cars are being embraced by such companies as Google (GOOG) - Get Report, Tesla (TSLA) - Get Report and Intel (INTC) - Get Report. But no matter how reliable the technology becomes, driverless cars cab never succeed.
Why? Legal liability, or the question of who pays when something goes wrong.
The top three causes of distracted driving in the United States, according to Drivers.com, are  drunk driving, speeding and distracted driving. According to the National Highway Transportation Safety Administration, at least 32,800 people died in 2013 in car crashes, and most of those accidents were caused by human error.
Courtesy of Google
The concept of the driverless car is beautiful: eliminate human error by eliminating the human. When a driver has an accident, someone has to be at fault. But who or what is to blame when a driverless car goes haywire and (to use a hypothetical example from the new book Think Like a Freak), mows down an entire pre-school class?
In such an example if it was raining heavily, some of the responsibility might lie with the car's owner. But ultimately the liability will probably lie with the automaker.
In releasing a driverless car, an automaker is taking on an exhorbanant amount of risk and liability. When a Toyota (TM) - Get Report software bug in braking software caused several accidents, Toyota was forced to do a recall that cost the automaker $2 billion, according to the BBC. In addition, the automaker was forced to pay a $1.2 billion settlement to the victims of the issue.
At Walt Mossberg's Code Conference last week, Google co-founder Sergey Brin unveiled a new driverless car that doesn't even include a steering wheel. Google's Google X division, led by Brin, has put a lot of time and effort into self-driving cars, building autonomous cars that have driven more than 700,000 miles.
Still, the cars aren't exactly ready for full autonomy. Ron Medford, the project's safety lead, commented that "we imagine at some point there will be an accident with one of these [test] vehicles." Brin and Uber CEO Travis Kalanick seem to think the technology will make it to market within the decade.
Don't get me wrong: The reliability and technology of self-driving technology is amazing. Already self-driving cars have a better safety record than their human counterparts (Serious crashes occur, on average, every 500,000 miles). But the cost of one of these crashing is simply too great.
Until a company tackles how to minimize the liability, these cars won't be materializing for commercial purposes.
At the time of publication the author had no position in any of the stocks mentioned.
This article represents the opinion of a contributor and not necessarily that of TheStreet or its editorial staff.
>>Read more: What Happens to Pandora and Spotify if Songza Goes Google?
Here's my
look back at Google's first 15 years
and what it has accomplished so far.