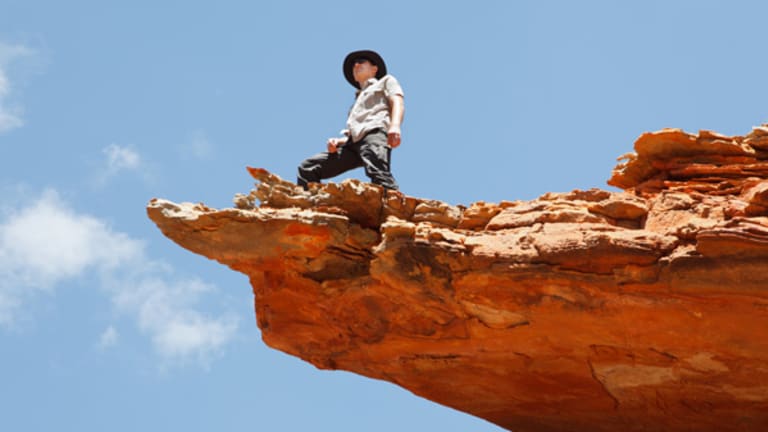 Thar She Blows! The Fed-Induced Stock Bubble Has Popped
Today's selloff across the board came on huge volume.
NEW YORK (TheStreet) -- As many of you who read my articles are aware, I have been pounding the table about the lack of volume in this stock market. On up days the volume decelerates and on down days the volume has accelerated.
Well, what happened in the stock market on Thursday is what happens when the hedge fund-driven machines decide to sell in unison. The Federal Reserve-induced bubble has popped.
The S&P 500 Trust Series ETF (SPY) - Get SPDR S&P 500 ETF Trust Report volume came in at a whopping 182 million shares traded. That is the most volume since Feb. 3, which happened to be another down day.
Thursday was a total distribution day in the markets. The DJIA lost 317 points, or 1.88%, to 16563.30 and the S&P 500 was down 39.4 points, or 2%, at 1930.67. The Nasdaq was crushed to the tune of 2.09%, or 93.12 points, at 4369.77 while the Russell 2000 was down 2.31% at 1120.07.
The DJIA is now down fractionally for the year to date, all its gains wiped out. The Russell 2000 is now down 4% YTD. So forget about the chest-pumping perma-bulls. I have been cautioning everyone about this stock market in the fact that it was not what it appeared to be.
If traders and investors have a risk management process that works, this selloff comes as no surprise.
On Wednesday, the bulls decided that the U.S. GDP number that showed a 4% increase was the real deal. They failed to mention it was a Q2 number and backward looking.
On Thursday we received the Purchasing Managers Index report for July and it came in at 52.6 versus a 62.6 June number. Can you say "growth slowing"? And the last time I looked, the PMI July number was a third-quarter number, not a second-quarter number.
There was some serious damage down to the indexes on Thursday. The DJIA broke below ints low channel price according to my internal algorithm number. That was the first time since January.
The CBOE Market Volatility IndexI:VIX was up 27% on Thursday. The complacency is gone and volatility is back. Take notice.
On a more positive note, the DJIA will be extremely oversold on a down open Friday. That is sufficient for an intraday turn to the upside. The S&P is also oversold, but not extremely. The Russell 2000 and Nasdaq have a ways to go before oversold.
As mentioned Wednesday, I went long Lam Research (LRCX) - Get Lam Research Corporation Report on an extremely oversold algo number. I sold that stock after the market open today for a 1.56% gain. This is all time stamped. That is called having an alpha day.
At the close of trading Thursday, I added Monsanto (MON) back as a long position and Platform Specialty Products (PAH) - Get Element Solutions, Inc. Report long. I shorted Caterpillar  (CAT) - Get Caterpillar Inc. Report with a downside channel break.
At the time of publication, the author was long MON, PAH, and short CAT, although positions may change at any time.
This article represents the opinion of a contributor and not necessarily that of TheStreet or its editorial staff.