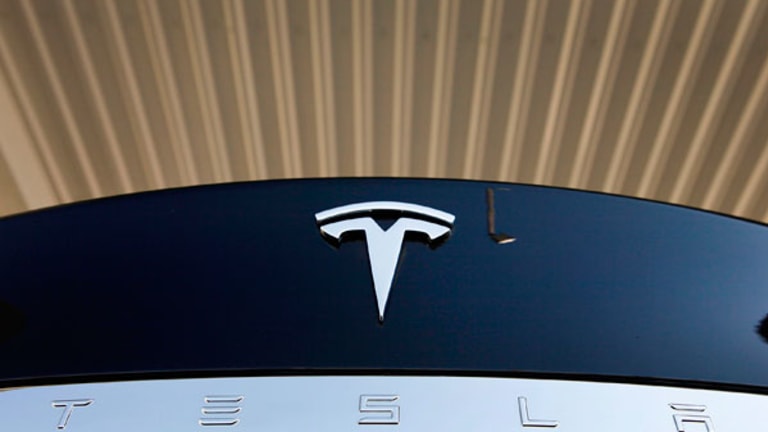 Tesla's Hazard Lights Are Flashing
Don't count on Tesla's profits keeping pace with its stock price.
NEW YORK (TheStreet) -- Unless you're a market timer with exceptional day-trading skills, your chances of making money with Tesla (TSLA) - Get Free Report are diminishing faster than a Wisconsin State Trooper can say, "Impressive car, but I'm issuing you a speeding violation."
You can see my last two Tesla articles
and
. The main takeaway is that Tesla isn't making money selling electric cars.
The little money the company has made is through unsustainable tax credits with little hope of a repeat performance anytime soon. In other words, don't count on Tesla's profits keeping pace with its stock price.
Tesla isn't alone in building electric cars, but it is alone in the relative valuation.
General Motors
(GM) - Get Free Report
and
Nissan
(NSANY)
build electric cars, and, like Tesla, selling electric cars isn't a profit center.
Some of the money is already spent, and there is no putting the toothpaste back into the tube. But other money is subject to the whims of state and federal legislators. Without changes, the federal $7,500 tax credit should
beginning with 200,000 vehicles sold.
Tesla has a long way to go before it sells 200,000 vehicles, but the fact of diminishing returns shouldn't be lost on investors, especially longer-term investors.
In the book
by Jack Schwager, commodities trader Ed Seykota is interviewed and makes one of the most insightful and salient observations in investing. Seykota said that investors and traders get what they genuinely want out of the markets.
>>Also see: SEC's Paltry Settlement With Nasdaq >>
If you are seeking excitement, like a passenger on a flight to Vegas, you will surely find it with Tesla. But if you're a serious long-term investor, you're probably more interested in
Ford Motor
(F) - Get Free Report
, or GM.
The choice is yours, and as an active day trader I understand money can be made long or short with Tesla as a day trade and/or swing trade. My investor caution isn't directed at short-term "hit and run" traders because they rely on up-to-the-second market information to coordinate their positions.
The person who needs to take a step back and watch the share price momentum is the investor. Unless you have seen this movie before you may not fully understand the dynamics of a short squeeze. Momentum traders recognize that euphoria can switch to panic in a split second. It's the primary reason Tesla whipsaws so quickly.
Intuitively, an investor may believe that as the stock moves increasingly higher, shorts are forced to capitulate and further buying is from "real" investment into the company. The reality is that short-sellers come and go and as the stock increasingly becomes overbought, new short-sellers jump on. If the price rise continues, those new short-sellers eventually capitulate and the spike continues higher.
The process repeats until short interest falls enough that the squeeze burns itself out like a bottle rocket, or the remaining short-sellers have the stamina (and thick enough stomach lining) to withstand the drawdown.
>>Also see: Your Top Bets for a High-Paying Job in 2020 >>
According to
, the number of days required for all shorts to cover based on volume is at the lowest level in the last year. This is backed up with the smallest amount of short interest in the last year, too.
There is still heavy short interest in Tesla, but with the increased trading volume it's easy for shorts to enter and exit. Tesla's continued oversized short interest strongly suggests short-sellers believe the reward for maintaining their position is worth the short-term volatility and the risk of being wrong.
At the time of publication the author had no position in any of the stocks mentioned.
This article was written by an independent contributor, separate from TheStreet's regular news coverage.