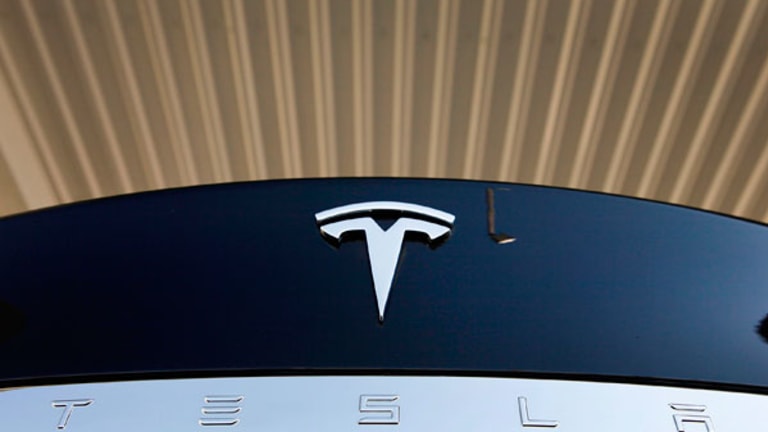 Tesla vs. BMW i3 Electric: First Comparison Test
With one foot on each accelerator, Anton Wahlman compares performance, headroom, leg room and luggage space for the typical driver.
NEW YORK (
) -- The time has finally come. Not since the 1971 Ali vs. Frazier fight at Madison Square Garden has a duel this controversial hit American shores. And this time it's about electric cars, not boxers.
In one corner, the undisputed heavyweight electric car champion of the world,
Tesla
Model S. It has knocked out the competition in luxury car sales in Silicon Valley, and gotten a record 99% customer satisfaction rating by
Consumer Reports
.
In the other corner, the fresh German challenger, BMW i3, which begins deliveries to U.S. customers in April. The world's first mass-produced carbon fiber car, the overall geometry of this electric car makes Tesla seem downright conservative.
The judge: Me. I have now driven both cars, and with well over 30,000 miles of overall electric car driving experience, having driven almost every plug-in electric car that's been made available for sale under the sun over three years, I may be the most qualified person for this comparison task.
And since you are going to ask: No, I have not taken these two cars to the racetrack. I have not measured G-forces in an eight-figure slalom. I have not taken them drifting like a rally driver. Not yet, anyway. I just drove them like a normal city/suburban commuter.
There are some obvious caveats to this comparison. For starters, these two cars are very different in many important dimensions. If these were two conventional gasoline/diesel cars, we wouldn't be comparing them at all.
Tesla is a much larger footprint car. It fits five adults, and you can even stash two short kids in the trunk. With only five people in the car, the luggage space is gigantic -- more than any other sedan. The car is also very wide.
BMW i3 is much shorter and narrower, but taller. It fits only four people, and the luggage space is on the small side, even for a small car.
Tesla has conventional doors.
BMW
has so-called "suicide" doors for the back passengers, with the doors opening like many of those "extended cab" pickup trucks.
You can buy the Tesla in two basic versions: 60 KWh battery and 85 KWh. They are EPA rated at 208 miles and 265 miles. Base prices are around $72,000 and $82,000; options can add tens of thousands more.
The BMW i3 comes in two basic versions: The pure electric car, which will likely average 90 miles on a charge. The second version includes a small gasoline engine with a tiny 2.4 gallon gas tank, which will take you another 90 miles.
For purposes of this price and practicality comparison with the Tesla, I am only considering the loaded BMW version with the gasoline back-up engine. BMW has yet to offer pricing for all of its options, but a somewhat fully loaded i3 will likely be priced near $52,000, in my estimation.
The BMW can be refueled to the tune of up to 2.4 gallon of gasoline in less than one minute, if electricity isn't available or will take too long time. The Tesla obviously takes much longer time, depending on what kind of electric outlet is offered -- voltage, amperage and whether it's DC or AC.
With that out of the way, now for the fun part: Let's start with the interior, before we drive.
The Tesla sits lower to the ground than the BMW, and I found the BMW driver's seat to be slightly more comfortable. I am able to get a good seating position, with the wheel, pedals and seat in a near-ideal place, in the Tesla. However, the BMW is even better, achieving a perfect seating position.
Tesla has a steering wheel more akin to a BMW M-series car; it's a fat sports wheel. The BMW i3 has a thinner wheel, but with excellent materials (leather). Let's call it a tie.
These two cars each have two of the most unique instrument panels in the industry. The Tesla is famous for its two big LCD screens, including in particular the touchscreen. It's got Apple written all over it, and I as well as almost everyone else love it. It is also the easiest to use in the business.
The BMW i3 clearly can't match the Tesla touchscreen, but it wins in all other elements around it. The BMW's quality of the materials and the overall design is just a lot better. The BMW's "center console" is well thought-out and holds phones, keys, etc., very nicely.
From the driver's perspective, I give the slight overall nod to BMW for the interior, despite the superior Tesla touchscreen infotainment system. Reasonable people will disagree here.
For the back seat, the most important difference is that the Tesla fits five people; the BMW four. After that fact, the tables turn. In the Tesla, you have good knee room, but you sit so low to the ground that your legs are bent and are uncomfortable. You also don't have any acceptable headroom unless you're extremely short.
In the BMW, you have zero excess leg or foot room, but you sit higher up, making your legs more comfortable. You also have more headroom, but if you're taller than 5'10", it's still too little.
In other words, neither car has a good back seat. The Tesla will transport three people in the back, but unless they are very short people, they will be uncomfortable. The BMW will transport two people in relatively decent comfort -- as long as they are shorter than 5'11".
Final round: The Drive
Both cars are rear wheel drive and with the powertrains in the back, like a VW Beetle or Porsche 911. The Tesla is simply faster, but as with "regular" gasoline/diesel cars, there comes a point when a car is "fast enough" for most normal people.
And the BMW is fast enough. It will hit 60 MPH in less than eight seconds, which given the availability of the power in any "full power" electric car is more accessible than the raw 0-60 MPH number suggests.
A critical aspect of an electric car is how it handles so-called "one-pedal driving." For the uninitiated, what this means is that the electric car will brake simply by you letting go of the accelerator pedal. How this is calibrated means a lot to how one electric car compares to another.
Tesla has long been considered the standard for one-pedal driving, and accelerator pedal modulation. I am here to tell you that I think BMW at least matches it. This plays a big part into the city/suburban drive evaluation.
One practical consideration in terms of driving two different cars is how easy or difficult they are to park and maneuver in tight spaces. In this area, there is no contest. The Tesla is very wide, and it's a relatively long car. The BMW i3 is relatively short, and it's not unduly wide. Simply put, the BMW is much easier to drive and park in a city environment.
In the end, what are we to make of these two cars? Is Tesla the winner or is BMW i3 the winner?
There is no truly objective answer to this question that applies to all potential customers. Some people need to fit five people and a ton of luggage in their car. Other people need to fit the car in their garage, and in their budget.
Therefore, some potential buyers simply can't cross-shop these two cars. They are by necessity bound to buy one, but not consider the other.
Yet, I will argue that there is also a category of people whose basic requirements can be filled by both Tesla and the BMW i3. They are free to pick any of the lesser criteria to tip the scale in favor of one or the other.
Looking at these cars from behind -- where many people will see them in traffic -- I can't help but to recall an analogy from perhaps 40 to 50 years ago: A Jaguar XJ vs. the VW Beetle. One car is a sleek but wide-footprint sedan; the other has extremely narrow tires, is a bit tall, and has the engine the back. So make no mistake about it, these cars are different.
The one issue that settles the matter in BMW's favor in my most personal opinion is that the Tesla still draws unacceptably much power when it's idle and ostensibly shut off. Whatever the Tesla's other supremely laudable qualities, I find it hard to overlook this one blemish in comparison to other electric cars.
In many important aspects, the Tesla Model S has found its match. The BMW i3 won a few important rounds in this battle, even though it lost others. The judge can't call a clear winner here, but is instead calling on
General Motors
(GM) - Get General Motors Company (GM) Report
to enter the fight and make the next set of rounds even more interesting.
Welcome to the fight, Cadillac ELR and Chevrolet Volt. Stay tuned.
At the time of publication the author held no positions in any of the stocks mentioned.
This article was written by an independent contributor, separate from TheStreet's regular news coverage.