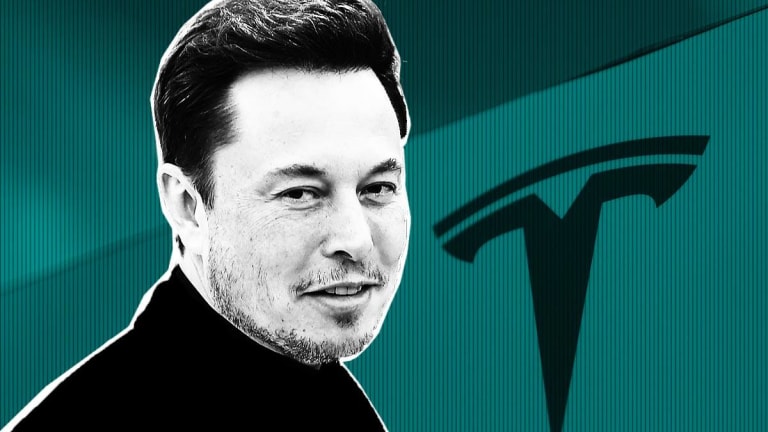 Tesla Soars After Blowing Away Earnings Estimates: 10 Key Takeaways
Elon Musk's company reported much better-than-expected earnings and free cash flow with the help of higher Model 3 margins.
For a company that has long been plagued by profit and cash-flow worries, Tesla's (TSLA) - Get Free ReportQ3 report was very encouraging.
After the bell on Wednesday, the electric car maker reported Q3 revenue of $6.82 billion (up 129% annually), GAAP EPS of $1.75 and non-GAAP EPS of $2.90. Revenue beat a $6.1 billion consensus, while EPS blew away consensus estimates of negative $0.99 for GAAP EPS and negative $0.05 for non-GAAP EPS.
Following the release, Tesla shares climbed as much as 10% in after-hours trading on Wednesday, and opened Thursday up more than 8% to $312.24. With an assist from Citron Research, the stock is now up roughly 20% for the week.
Here are some top takeaways from Tesla's Q3 shareholder letter and earnings call.
1. Free Cash Flow Improved in a Big Way

With the help of a major improvement in Model 3 gross margins (more on that shortly), as well as recent spending cuts, Tesla produced $881 million in free cash flow (FCF) in Q3. That's well above an analyst consensus of $191 million, and represents a big reversal from FCF of negative $739 million in Q2 and negative $1.42 billion in the year-ago period.
That in turn helped Tesla's cash balance improve by $731 million sequentially to nearly $2.97 billion, in spite of the repayment of $82.5 million worth of bonds (the company's long-term debt and capital leases still total $11.9 billion) Not surprisingly, Tesla is still guiding for positive Q4 GAAP net income and FCF; no specific targets are given. CEO Elon Musk had previously indicated that both Q3 and Q4 would be profitable on a GAAP basis and feature positive free cash flow.
On the call, Musk added that Tesla's "aspiration" is to be profitable and cash-flow positive every quarter going forward, save for ones in which the company has a large debt repayment to make. He also noted that Tesla wants to improve its cash conversion cycle to the point where it gets paid by customers for cars before it has to pay suppliers for the parts used to make the car.

2. Model 3 Margins Were Stronger Than Expected

After having previously guided for a Q3 Model 3 gross margin (GM) of about 15%, Tesla says the GAAP and non-GAAP GM for the electric sedan was above 20% last quarter, as greater economies of scale and cost-improvement efforts paid off. In Q2, the Model 3's GM was only "slightly positive."
At the same time, Tesla, which was already guiding for a Q4 Model 3 GM of about 20%, says its Model 3 GM is expected to "remain stable" in Q4, as better manufacturing efficiencies are offset by the impact of "a slightly lower trim mix" and tariffs on Chinese parts. For now, Model 3 margins are benefiting from the fact that the cheapest version of the car, the just-launched Mid Range trim, features a $46,000 starting price (that's up by $1,000 from last week).

3. Tesla Isn't Saying Much for Now About Future Model 3 Production Growth

The company forecasts Model 3 production and deliveries, which totaled 55,239 and 55,840, respectively, in Q3, will rise sequentially in Q4, but isn't saying by how much. Tesla also didn't say anything in its Q3 letter about when Model 3 production will increase to over 6,000 units per week; though it previously forecast it would reach this goal by late August, Model 3 output during the final week of Q3 totaled only 5,300 units.
When asked on the call about expected Model 3 production growth, Musk declined to offer any near-term targets. He did, however, roughly estimate that Tesla's long-term goal is to produce 7,000 to 10,000 Model 3 units per week at the company's Fremont, CA plant, and 5,000 to 8,000 per week elsewhere.

4. The Model S and X Are Mostly Performing as Expected

Tesla reiterated that it expects combined Model S and X deliveries to total 100,000 (slightly above 2017's level) in 2018. Model S and X gross margin improved sequentially in Q3, but is expected to drop slightly in Q4 thanks to the impact of tariffs on Chinese parts.
5. The Energy Business Did a Little Better Than Expected

Tesla's Energy Generation & Storage segment saw revenue rise 26% year-over-year to $399 million, topping a $377 million consensus. The segment's gross margin fell to 17.2% from 25.3% a year ago, but improved from Q2's 11.8% and was also above expectations.
Energy storage system deployments rose 118% annually to 239MWh. And while solar system deployments remain pressured by Tesla's efforts to shift to up-front system sales relative to leases, they did grow 11% sequentially to 93MW.

6. Tesla Is Speeding Up its Chinese Gigafactory Plans

Having already noted that higher tariffs are impacting its Chinese Model S and X sales -- the company's isn't yet selling the Model 3 in the country -- Tesla says it has "decided to accelerate our manufacturing timeline in China," and aims to start producing the Model 3 in the country by 2019. The company adds that its Chinese-made cars "will be designated only for local customers."
7. Tesla Thinks the Model 3's Addressable Market Is Larger Than Many Think

After stating on its Q2 earnings call that many Model 3 buyers are
such as the Toyota Prius and Honda Civic, Tesla shared a chart in its Q3 letter that indicated slightly over half of the cars being traded in for a Model 3 feature an original purchase price of less than $35,000, and that over 20% feature a price between $35,000 and $45,000.
The company adds that such trade-in activity is happening even though it hasn't yet introduced a leasing option for the Model 3. Tesla also noted the European "mid-sized premium sedan" market is more than twice as large as that of the U.S., where SUVs and pick-ups account for a larger portion of auto sales. Tesla plans to start taking Model 3 orders in Europe (and China) by year's end, and start European deliveries in early 2019.

8. Elon Musk Insists Tesla Will Be Able to Profitably Sell a $35,000 Model 3

Musk indicated on the call that Tesla plans to start deliveries of a Standard Battery Model 3, which has been promised a $35,000 starting price, in February or March. And though admitting Tesla has more work to do to bring down the car's production cost before it's ready to start making it, he asserted Tesla's ultimate goal is to bring the $35,000 Model 3's all-in production cost below $30,000.
9. Tesla Went the Extra Mile to Defend its Safety Track Record

Musk and a slew of other Tesla execs took turns on the call defending the safety of both the company's vehicles and its factories. Among other things, they highlighted the safety benefits an electric car delivers relative to conventional vehicles by having their motors and other parts located at the bottom of a car, highlighted ongoing efforts to reduce factory accidents and claimed Tesla's metrics found the Model 3 to have the lowest probability of injury among 900-plus vehicles launched since 2011.
10 Tesla Promises an Easy Upgrade to its Next-Gen Autopilot Computer

Musk indicated Tesla's third-gen Autopilot system, which relies on an internally-developed processor, will be available to consumers by Q2 2019, and that Teslas featuring the second-gen Autopilot system (it became available in late 2016) can be upgraded simply by swapping out the computing board. He added that Tesla will do this for free for consumers who pay for its "Full Self-Driving Capability" option, which currently costs $3,000 for those who have already paid for its Enhanced Autopilot option.
Of course, turning a Tesla into a fully-fledged self-driving car will take more than just a more powerful computer. It will require major software improvements that will almost certainly take years to be delivered. In the meantime, Tesla is working on rolling out new accident-prevention, turning and lane-changing features for Autopilot.
TheStreet also covered Tesla's earnings report and call through a live blog.