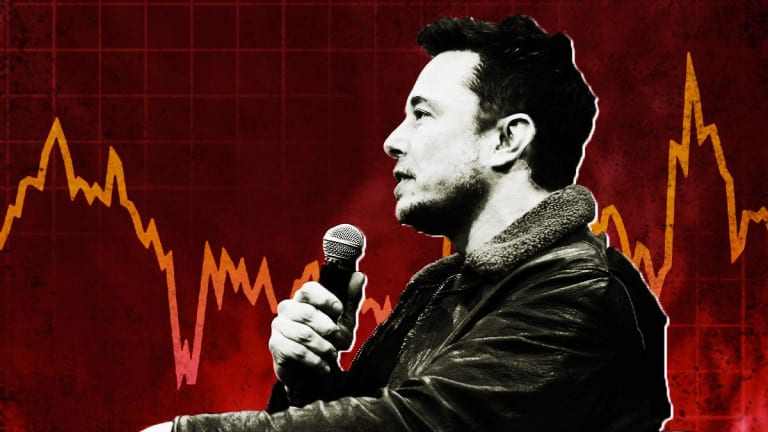 Tesla's Stock Is Finally Pricing in a Lot of its Business Risks
Following their recent tumble, the risks and potential rewards presented by Tesla's stock might finally be in balance, or at least close to it.
Tesla's (TSLA) - Get Tesla Inc Report shares are now down over 45% from last summer's high, and are now roughly flat over the last five years.
Though both the company's die-hard bulls and die-hard bears are likely to disagree, this plunge might leave Tesla's shares close to where they should be, given the positives and negatives surrounding Tesla's story as well as the variety of outcomes that still seem possible.
On one hand, making an investment in Tesla means accepting the following risks and challenges:
Shaky financial execution. This is a company that has lost money for most of its history, and whose cost structure and manufacturing approach have often been criticized.
Intensifying high-end competition. Firms such as Audi, Porsche and Jaguar Land Rover have begun rolling out luxury electric cars to decent reviews.
Model S and X cannibalization. Sales of Tesla's costliest cars have come under pressure. And from the looks of things, demand for the cheaper Model 3 sedan is a factor.
Missed deadlines and promises. Tesla's track record of making good on its ambitious production, sales and product launch targets is, to put it mildly, quite shaky.
Government policy risks. A recent U.S. federal tax credit cut took a toll on Tesla's Q1 sales, and the credit is set to be phased out entirely by year's end. Meanwhile, trade tensions could weigh on Tesla's Chinese sales.
A high debt load. Following its recent capital raise, which included the sale of $1.84 billion worth of convertible notes, Tesla's debt load is close to $14 billion.
Brain drain. A very long list of Tesla execs have jumped ship since the start of 2018.
Elon Musk's antics.No explanation needed.
At the same time, Tesla's story does carry the following positives:
High customer satisfaction levels. Regardless of how one feels about Tesla as a business, it's hard to deny the fact that legions of consumers love its cars, which have frequently topped customer satisfaction rankings.
A giant addressable market. Tesla remains the leader in an electric car market whose share of global auto sales is still fairly low. The 2020 launch of Tesla's Model Y crossover should increase its addressable market, as should the start of vehicle production in China and (eventually) Europe.
Infrastructure advantages. Tesla's large and growing Supercharger infrastructure is a key competitive strength in its fight against incumbent automakers, as is its ability to internally source batteries through its Gigafactories.
Technology strengths. From the performance and handling of its cars, to their drivetrain efficiency, to the quality and functionality of their infotainment systems, mobile apps and ADAS software (i.e., Autopilot), Tesla has plenty of technology strengths to lean on. Collectively, these strengths are a key reason why the Model 3 remains in a league of its own in the sub-$50,000 electric car market (production cost advantages also don't hurt).
Recent financial improvement. With the help of pent-up Model 3 demand and depressed capital spending, Tesla did produce $1.7 billion in free cash flow (FCF) during the second half of 2018. And though only time will tell if it makes good on this target in the face of soft Model S and X demand, Tesla, which continues trying to pare costs, forecast in April it would be cash-flow positive in each of 2019's three remaining quarters.
The advertising option. While rivals such as General Motors (GM) - Get General Motors Company Report , Ford (F) - Get Ford Motor Company Report  and Toyota (TM) - Get Toyota Motor Corp. Reportspend billions on advertising in the U.S. alone, Tesla's ad budget stands at $0. If this changes, Tesla will open up a fresh avenue for boosting demand (provided it can afford to spend money on ads).
With Tesla's stock now flirting with $200, all of these positives and negatives make for a pretty interesting debate. Going into 2019, Tesla sported an enterprise value (market cap plus net debt) of around $67 billion. Now, following a disappointing Q1, a sales model overhaul and a fresh capital raise, the electric car maker's enterprise value (EV) is around $47 billion.
Arguably, an EV in the range of $40 billion to $50 billion is right for a company with such a unique set of bull and bear arguments -- a company that (judging by its late-2018 performance) could eventually produce a few billion or more in annual FCF if all goes right, and which could continue struggling to turn a profit in a worst-case scenario.
Even in such a valuation range, Tesla's stock isn't for the faint of heart. But now at least, the potential rewards feel proportional to the risks involved, or close to it.