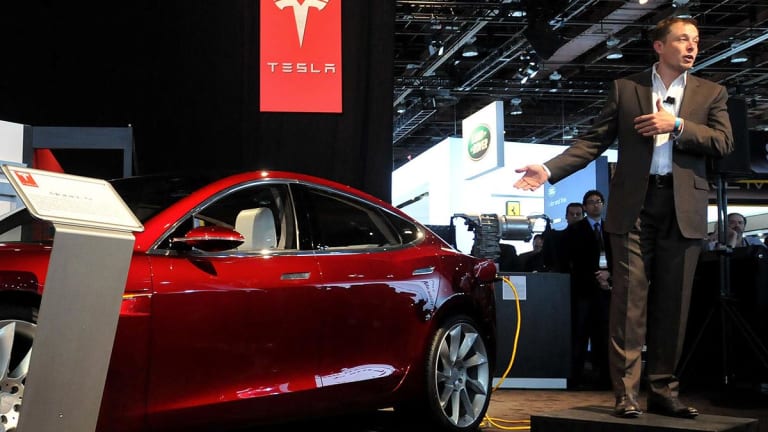 Tesla's Latest Gamble Is a Risky -- But Potentially Worthwhile -- One
If Elon Musk's company has to choose between supporting offline sales and selling cheaper cars, the latter choice is the best of two difficult options.
Whatever else one wants to say about Elon Musk, no one can accuse him of being unwilling to take chances.
In one fell swoop, Musk's company, whose shares fell nearly 8% in Friday trading, finally made good on its promise to sell a $35,000 electric car and more broadly made its vehicle lineup more price-competitive. At the same time, it made jarring changes to its sales model that (assuming they remain in place) are likely to have major consequences.
Tesla's Pricing Actions
As many readers are likely aware, Tesla  (TSLA) - Get Tesla Inc Report announced on Thursday afternoon that the long-anticipated, $35,000, Standard Range Model 3 is available for order. Tesla's website currently gives the car, which has a 220-mile estimated range and a 0-60 time of 5.6 seconds, an estimated delivery time of 2-4 weeks.
Tesla also launched a Standard Range Plus Model 3 trim -- it has slightly better range and performance, and comes with a "partial premium interior" that adds features such as heated front seats, LED fog lamps and a better audio system -- that costs $37,000 before tax incentives. And notably, the company slashed prices for existing Model 3, Model S and Model X trims.
The Mid Range and Long Range Model 3 trims -- they each come with a full "premium interior" package that includes heated rear seats and a "premium audio" system -- now start at $40,000 and $43,000, respectively. The dual-motor, all-wheel drive, Model 3 now starts at $47,000, with a Performance version that goes from 0-60 in 3.2 seconds starting at $58,000.
Tesla is keeping the price of the Standard Range Model S sedan at $79,000, and is no longer selling a Standard Range version of the Model X crossover. However, the Long Range, Performance and "Ludicrous Mode" versions of the cars are each getting price cuts. The Long versions of the Model S and X, which both previously started at $96,000, now respectively start at $83,000 and $88,000.
The Full Cost of the Price Cuts
The big tradeoff associated with Tesla's price cuts: To obtain the cost savings needed to carry them out and launch a $35,000 Model 3, Tesla will only sell its cars online going forward. "Many" of its retail stores will be shuttered, and those that remain will function as "galleries, showcases and Tesla information centers."
In addition, though Tesla is carrying out fresh job cuts and will be "significantly reducing" its sales and marketing spend, Musk says the company, which reported GAAP profits for Q3 and Q4 of last year, won't be profitable this quarter. "Given that there is a lot happening in Q1, and we are taking a lot of one time charges, there are a lot of challenges getting cars to China and Europe, we do not expect to be profitable," he said, while adding Tesla will "likely" be profitable in Q2.
In an industry where the vast majority of consumer sales still involve dealership visits and test drives, eliminating offline sales and shuttering many of the stores where such sales had been happening is a pretty radical move. It undoubtedly risks deterring some consumers who might be willing to buy a Tesla after visiting a store and taking one for a spin.
There have long been questions about whether Tesla, which reported having a 20%-plus Q4 Model 3 gross margin on an average selling price that was well above $35,000, can profitably mass-produce a $35,000 Model 3. And the answer the company just gave is that for now at least, it can only do so by refusing to sell cars the way that virtually every other major automaker does.
Tesla, to be fair, is now promising to give unsatisfied car buyers a full refund within 7 days or 1,000 miles of their purchase. In an employee memo, Musk notes 78% of 2018 Model 3 purchases were placed online, and that 82% of purchases were made without a test drive occurring.
Nonetheless, unlike taking a test drive, buying a refundable Tesla still requires a customer to transfer thousands of dollars or more from one's bank account and go through the other hassles associated with a car purchase. And with Tesla having satisfied much of the pent-up demand that had existed last year for the Model 3 among affluent early adopters, the 2018 stats about online purchases and test drives might not be reflective of the preferences of would-be buyers going forward.
A Risk Worth Taking?
In spite of the risks attached, I think the tradeoff that Tesla is now making -- sacrificing sales convenience and offline marketing reach in order to hit lower price points -- could prove worthwhile for a company whose cars have high customer satisfaction ratings, and which has relied heavily on media buzz and word-of-mouth to drive sales. As Musk has admitted in recent months, Tesla needs to make its car lineup more affordable in order to make good on its ambitious sales and production goals. And certainly, the fact that competition is starting to intensify in the $50,000-plus electric car market ups the pressure for Tesla to become more price-competitive.
One can justifiably criticize Musk for not being candid with either consumers or Wall Street in the past about just how long it would take for his company to launch a $35,000 Model 3, and what kinds of compromises launching one would require. And one can also question whether in the wake of its latest moves, Tesla will have a margin and cash-flow profile that justifies the roughly $60 billion enterprise value (market cap plus net debt) it possesses even after Friday's tumble.
However, given the facts on the ground for Tesla today, it's hard to be too critical of Musk for pulling out all the stops to make Tesla's cars cheaper.