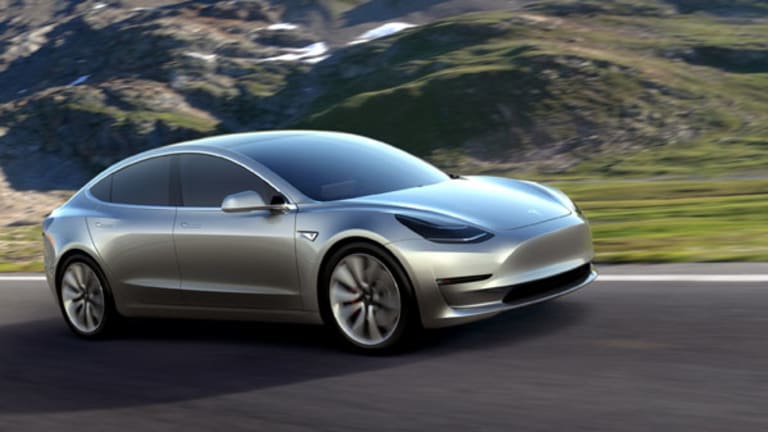 Let the Tesla Debate Continue, Plus Jim Cramer's Take
Bulls and bears get plenty of new fodder from Tesla's earnings report, with CEO Elon Musk setting ambitious goals but few specifics on how company will get there.
Tesla Motors (TSLA) - Get Free Report , as expected, offered plenty of fodder for both bulls and bears in its first-quarter earnings report, establishing a new set of widely ambitious targets that are sure to inspire believers and add to skeptics' concerns that the company is overreaching.
The automaker reported an adjusted first-quarter loss of 57 cents a share, beating analyst estimates, and moved forward its target of manufacturing 500,000 vehicles annually by two years to 2018. The results helped push shares of Tesla up more than $7 in premarket trading, wiping out much of the $9.76 decline on Wednesday that followed word that noted investor Jim Chanos was shorting the volatile electric vehicle manufacturer.
But on a GAAP basis, where items including stock-based compensation expenses and revenue from leased vehicles are adjusted toward accounting norms, the results didn't look so good. Tesla reported a GAAP loss of $2.13 a share, nearly double its $1.22 GAAP loss a year prior.
As importantly, the company noted that the faster production schedule "likely requires some additional capital," with capex now expected to be 50% above its $1.5 billion 2016 guidance, with the company expected to look at debt and equity offerings to cover the shortfall.
The results, as expected, do little to resolve the debate about Tesla's future and instead simply push the argument into the future. Bulls can still point to the company's successful presale campaign for its upcoming Model 3, while bears can question whether that vehicle will be delivered on time and at the promised price and wonder where the money will come from to build it.
CEO Elon Musk "couldn't even make the number of cars he said he was going to make this quarter," said Jim Cramer, TheStreet's founder and manager of the Action Alerts PLUS portfolio. "I would call it financial murder and he's getting away with it." However, Tesla cars are popular enough that "as long as the demand keeps up he can get away with saying these things, because obviously he could sell all the cars."
Musk, during a call with analysts, said that Tesla was now targeting production of close to 1 million vehicles annually by 2020, well more than the company's factory ever produced even in its heyday when it was operated by Toyota and significantly more than what any U.S. automotive plant can currently deliver. It is unclear whether Tesla would get to that level of production by expanding its existing plant or by adding capacity elsewhere, but either option would figure to significantly increase cash burn even above current projections.
By comparison, Tesla hopes to deliver between 80,000 and 90,000 vehicles in 2016. Musk said that he believed it was "actually feasible, maybe not advisable," to build 1 million vehicles annually at its existing Fremont, Calif., facility, leaving the door open to all options.
Musk himself seemed uncertain about how the quick ramp could be accomplished, offering few details but still insisting the new schedule is "an achievable timeframe" and using a somewhat bizarre metaphor to convey his confidence. Tesla, he noted, will have about nine months to round up suppliers and build out its manufacturing footprint and meet its goal.
"If you can create a human baby in nine months, you can pretty much make a tool in nine months," Musk said. "So that's our expectation."
Possible? Sure. Vague and wide-eyed optimistic? Indeed.
Let the great Tesla debate continue.