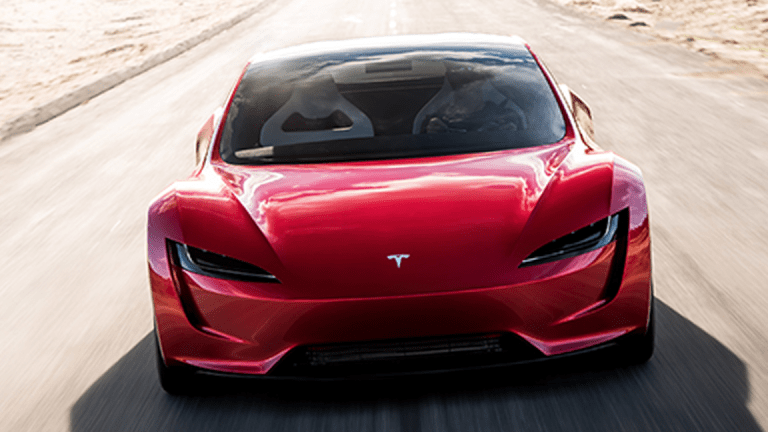 Sorry Ferrari, but Tesla's New $250,000 Roadster Just Changed the Supercar Game
The Tesla Roadster made new records in 0-to-100 acceleration speed, mph and miles per charge. Looks as if this e-car just changed up the entire supercar landscape?
Hey quick Friday question for you: Is your mind blown?
If not, you obviously weren't tuned into Tesla's (TSLA) - Get Tesla Inc Report Thursday night announcements. While all eyes were focused on the semi truck, Tesla pulled a fast one on us -- literally -- and brought out something totally unexpected: A revamped Roadster.
OK, fine. CEO Elon Musk was right: He blew our mind "clear out of [our] skull and into an alternate dimension."
You might remember the Roadster as one of Tesla's original productions. The company sold nearly 2,500 units between 2008 and 2012. At the time, the Roadster was one of the premiere electric vehicles available on the market and could drive more than 200 miles per charge.
The automaker had stopped producing the Roadster as Musk turned his sights to the Model S, the Model X and more recently, the Model 3. Now, though, the Roadster is back and it's better than ever.
Capable of more than 600 miles per charge and accelerating from 0 to 60 mph in sub-2 seconds, it's not just redefining electric cars. Or sports cars. It's redefining supercars, too. With a 1.9 second 0 to 60 mph acceleration, it would be the fastest car on the planet. None can break the 2-second barrier on this front.
The Roadster tops out more than 250 mph, can clock 0 to 100 mph in 4.2 seconds (another production car record) and whip down a quarter-mile strip in 8.9 second (no production car can break 9 seconds).
These aren't specs you'd expect to find on an electric vehicle. Not even close. These are smashing classic supercar specs that the likes of Ferrari (RACE) - Get Ferrari NV Report , Lamborghini, Bugatti, Porsche and McLaren usually put up.
When people think electric, hopefully the are thinking Tesla and not Nissan (NSANY) Leaf. Because Tesla -- cash flow shortage or not -- is in the midst of changing the electric vehicle game. While we have to tip our hat to General Motors (GM) - Get General Motors Company Report  for getting into the electric car game in a big way, good luck competing with the stuff coming out of Tesla's plant.
With so many countries planning to abandon the internal combustion engine as well, one could make the case that Tesla is now ahead of some supercar manufacturers as well. At least on the electric engine front, that is.
But what's un-supercar-like with the Roadster? The price. While similar specs go for many hundreds of thousands or even millions of dollars, the starting price of the Roadster will be $200,000. The first 1,000 purchases will run for $250,000, though. Tesla expects to begin delivery of the vehicles in 2020.
The first thing you may think of is the Ferrari Portofino, which was introduced earlier this year and has a starting price near $240,000. However, it's top speed is "over 200 mph" while its 0 to 60 mph acceleration is above 3 seconds. On the plus side, though, it has a retractable hard top, unlike the Roadster, which has a "removable" glass top.
That may just come down to preference, although I do prefer the retractable hardtop to any other alternative.
So this was the surprise at Tesla's event and I think it's safe to say Musk & Co. shocked everyone at the event. That doesn't even include the very impressive Tesla semi truck it unveiled. 0 to 60 mph in 20 second while towing 80,000 pounds, 0 to 60 mph in five seconds empty, and 500 miles per charge all came in way ahead of expectations.
What was the goal with the Roadster? In the words of Musk, "the point of doing this is to just give a hardcore smackdown to gasoline cars. Driving a gasoline sports car is going to feel like a steam engine with a side of quiche." 
We came for the truck -- which you can read more about here -- and left with the Roadster on our minds.
Tesla stock is up 3.6% to $323.66 in early Friday trading.
The high-end roadster is far from the first time Elon Musk made a show stopping announcement:
More of What's Trending on TheStreet:
Editors' pick: Originally published Nov. 17.
This article is commentary by an independent contributor. At the time of publication, the author had no positions in the stocks mentioned.