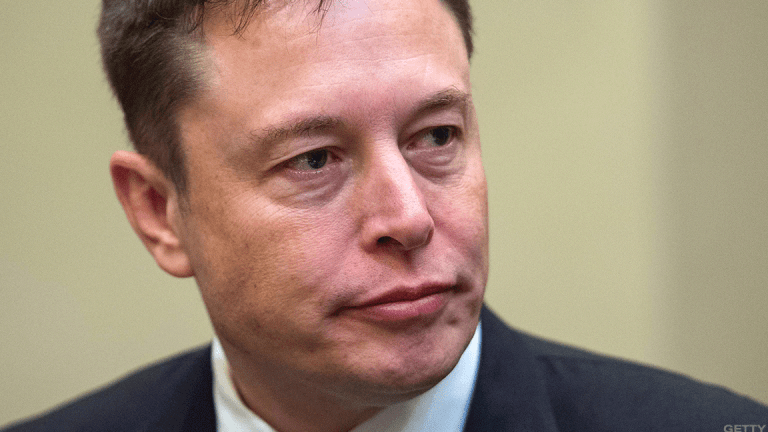 Publish date:
Tesla's Restructuring Shows How Badly Elon Musk Wants to Avoid Raising Money
The electric car maker is bent on avoiding a fresh capital raise. But pulling this off will still require a lot of progress to be made with its Model 3 production ramp.
The electric car maker is bent on avoiding a fresh capital raise. But pulling this off will still require a lot of progress to be made with its Model 3 production ramp.
During his now-infamous May 3 earnings call, Elon Musk stressed that he doesn't want Tesla (TSLA) - Get Tesla Inc Report to raise more capital if he can help it.
Between Tesla's recent spending guidance cuts and the restructuring that was just announced, it's clear that Musk is serious about avoiding a fresh and expensive capital raise. A debt offering, assuming it's possible given growing skepticism among bond investors about Tesla, would carry high interest rates. And a stock offering would both dilute existing shareholders (Musk is a big one) and pressure shares.
But avoiding a new capital raise will require Tesla, whose cash balance fell to $2.7 billion last quarter, to make a lot of progress with its ambitious Model 3 sedan ramp -- both in terms of weekly production and profit margins.
In a memo sent to Tesla employees on Monday, Musk confirmed (following earnings call remarks indicating such a move would come) that Tesla is launching a restructuring that amounts to "a thorough reorganization" of the company. "As part of the reorg, we are flattening the management structure to improve communication, combining functions where sensible and trimming activities that are not vital to the success of our mission," he added.
The memo comes shortly after it was learned that engineering SVP Doug Field, who ceded direct oversight of Model 3 production to Musk a few weeks ago, is taking a leave of absence, and that Matthew Schwall, Tesla's director of field performance engineering, is leaving for Alphabet's (GOOGL) - Get Alphabet Inc. Class A Report Waymo unit. It also follows reports that Tesla is aggressively paring back its use of contractors for manufacturing work, and firing any contractor that a Tesla employee refuses to personally vouch for.
Jim Cramer and the AAP team hold a position in Alphabet for their Action Alerts PLUS Charitable Trust Portfolio. Want to be alerted before Cramer buys or sells GOOGL? Learn more now.
The backdrop: Tesla declared in its Q1 shareholder letter that it expects to be cash-flow positive and produce positive GAAP net income in both Q3 and Q4 -- a feat that, if achieved, would allow it to avoid a new capital raise. The company also forecast it would spend less than $3 billion on capital expenses this year, down from a prior forecast that it would spend over $3.4 billion. And it predicted that non-GAAP operating expenses, which have begun to grow at a slower pace, will "grow sequentially at approximately the same rate as in the past four quarters" this year.
This newfound spending restraint appears to be having an effect on Tesla's production goals. Whereas Tesla previously suggested it wants to ramp weekly Model 3 production to 10,000 units as quickly as it can once it surpasses a 5,000-unit weekly rate, it now says its goal is to gradually get there by adding capacity "in a capital-efficient manner." And an April memo by Musk suggests Tesla will only get to a sustained 6,000-unit weekly rate "a few months" beyond the end of June.
This change of plans could lead cancellations to pick up among Model 3 reservation holders whose names are lower on the reservation list. Tesla had over 450,000 Model 3 net reservations as of the end of Q1.
In addition, Musk said on the call that production of Tesla's anticipated Model Y crossover won't start for about 24 months, and that a decision on where the Model Y will be made -- it won't be  at Tesla's Fremont, Calif. plant, which Musk calls "crazy packed" -- won't happen until later this year. Moreover, there's still no word on when Tesla plans to start production of its Semi Truck, for which it has already received around 2,000 reservations.
Regardless of these moves, Tesla's spending cuts will only do so much to lower cash burn if the company doesn't make good on its goal of quickly ramping Model 3 production to a level of 5,000 units per week. Following months of production challenges and target push-outs, Tesla is now predicting it will reach this production goal around early July. At the moment, Bloomberg's Model 3 tracker, which relies on VIN registrations to make an estimate, suggests production is still below 2,700 cars per week, albeit growing steadily.
Likewise, Tesla needs to deliver on its goal of significantly improving the Model 3's gross margin (GM) during the back half of the year. Though the Model 3's GM was said to be "slightly negative" in Q1 and is only expected to be "close to breakeven" in Q2, Tesla is aiming for it to be "highly positive" in Q3 and Q4.
On the earnings call, Musk and CFO Deepak Ahuja predicted the Model 3's GM will be near 20% by year's-end. That's below a prior goal of reaching a 25% GM by the time Tesla gets to a 5,000-unit production rate -- the company blames tariffs, higher commodity costs, a weak dollar and a decision to pare back its use of assembly-line robots in favor of hiring humans -- but would still represent tremendous progress relative to where things stand today.
Greater economies of scale and factory utilization rates should naturally do a lot to improve Model 3 margins as production ramps. But it's worth noting that for now, Tesla is only shipping the Long Range version of the Model 3, which has a $44,000 starting price. The Standard version, which starts at $35,000 and is expected to see production start later this year, will likely have a lower GM.
Many analysts still have their doubts about Tesla's ability to make good on its second-half profit and cash-flow targets. Even following the Q1 report, the consensus is for the company to post GAAP EPS of negative $2.64 and free cash flow (FCF) of negative $491 million during the last two quarters of the year. Moreover, Tesla is expected to post FCF of negative $702 million in Q2, and to burn another $557 million in cash in 2019 before producing positive FCF in 2020.
Expectations do vary a lot from one analyst to another. Q3 FCF estimates, for example, range from negative $914 million to positive $79 million. But collectively, there is a lot of skepticism that Tesla, which posted Q1 FCF of negative $1.05 billion, will put an end to its cash burn in the short-term.
Bond investors have their concerns about Tesla's financial position as well. Following a recent selloff, Tesla's 2025 bonds, which at face value carry a 5.3% yield, trade for about 87 cents on the dollar. This makes it quite likely that Tesla will try to sell stock rather than debt, should it have no choice but to do a new capital raise.
Musk is bent on preventing this from happening, of course. But to make his wish a reality without carrying out truly drastic spending cuts, his latest Model 3 promises can't join the very long list of production and financial targets that Tesla has failed to reach over its lifetime.