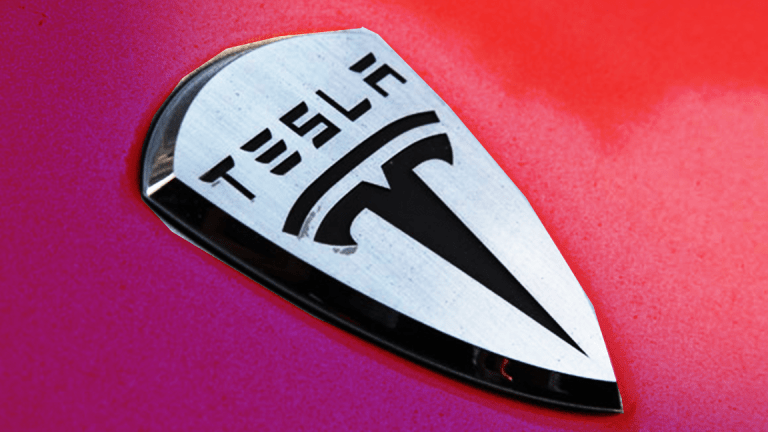 Why I Have Major Concerns Tesla Is a Viable Company
Tesla bulls may wan to revisit their investment thesis on the electric car company. Here are several reasons why.
One of the most satisfying aspects of analyzing equities is the necessity to dispassionately analyze reported figures.
With certain stocks, though, that type of analysis goes out the window in favor of chest-thumping by bulls and bears. Tesla (TSLA) - Get Tesla Inc. Report is one such name. Tesla supporters are convinced that Elon Musk and Co. are going to change the world and that the company's massive cash burn is just a hiccup in the way to world domination.
Similarly, Tesla bears give the company no credit for creating a luxury automotive brand from nothing and hastening the evolution of electrified power-trains.
This timely in-depth analysis appeared on RealMoney last week. Why'd you miss it? Don't miss it again, visit here.
I continue to be very much in the bear camp on Tesla. My bearishness stems purely from Tesla's massive losses -- the numbers really are scary -- not any innate opinion of the company.
Adherents on both sides of the Tesla trade took what they wanted from Tesla's recent earnings report, but I find it more informative to look at the numbers themselves than the market's reaction. So here are the key figures for Tesla from the quarter, all of which should give investors serious pause.
Profit Margins
Tesla's automotive gross margin (AGM) was 13.8% for the fourth quarter, versus a figure of 18.7% in the third quarter and 22.2% in the fourth quarter of last year. I use the AGM figure that excludes tax credits. Musk has thrown out a target figure of 25% for AGM in the past, but at just over half that rate, Tesla cannot possibly be profitable.
Tesla's gross profit of $438 million in the quarter was less than half of its combined R&D and operating expense spend of $1.04 billion. A company that produces that much red ink is not sustainable. Tesla has not yet filed its 10-K for 2017, but if I were working for Tesla's auditing firm, I would argue for use of the "going concern" language in the auditor's statement.
Model S Shipments
Tallied 15,200 in the fourth quarter versus 14,065 in the third quarter, and 15,800 in the third quarter of 2016. Only an eye-closed Tesla bear would fail to concede that the Model S is the most important new automotive model of the 21st Century. Tesla shipped fewer Model S's in the fourth quarter of 2017 than it did in the third quarter of 2016 (I use third quarter 2016 as a comparable since fourth quarter 2016 was a period of production problems for Tesla).
That model's age, small number of buildable combinations and high price point give it an attractive margin profile, but it is being sacrificed, it would seem, for Musk's goal of entering the mass market with the Model 3.
Debt
Long-term debt and capital leases totaled $9.46 billion at December 31, 2017 versus $5.97 billion at December 31, 2016. Tesla has leveraged its balance sheet in order to finance the expansion of its model line, but that leverage is happening against the backdrop of negative cash flows. That is a terrible combination to a credit analyst.
Burning Cash
Tesla's cash burn rate was $915.2 million in the fourth quarter versus $1.251 billion in the third quarter, and $461.4 million in the fourth quarter of 2016. Ignore Tesla's reported "cash from operations" figures as those are simply obfuscation. The purest way to measure cash flows at an industrial company is simply to subtract capital expenditures from earnings before interest, taxes, depreciation and amortization (EBITDA). That's the burn rate, and Tesla's is frighteningly large.
Again, I am not an auditor, but if I were I would have serious concerns about whether a company burning this much cash qualifies as a viable enterprise.
This timely in-depth analysis appeared on RealMoney last week. Why'd you miss it? Don't miss it again, visit here.