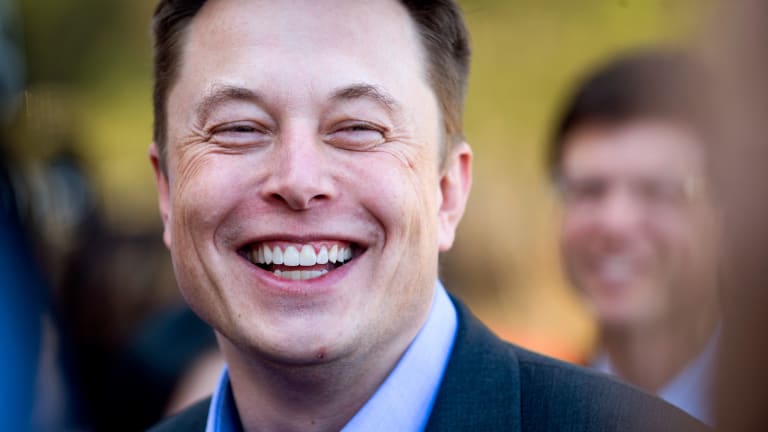 Tesla Offers up to $2.8B for Solar Panel Maker SolarCity
The latter company, like Tesla owned in part by Elon Musk, has struggled of late. Adding its shaky balance sheet to the automaker seemingly would make for a dangerous combination.
Tesla Motors (TSLA) - Get Tesla Inc Report made a surprise stock offer of up to $2.8 billion for struggling solar energy company SolarCity (SCTY) after the markets closed Tuesday in a bid that would combine two-thirds of entrepreneur Elon Musk's empire under one corporate roof.
Tesla in a blog post said it was offering $26.50 to $28.50 per share for SolarCity, which like Tesla counts Musk as owner of more than 20% of its shares.
In after-hours trading, the news powered SolarCity shares to a 16.1% gain at $24.60, while Tesla shares plummeted 11.7% to $194.01.
The offer, which is subject to due diligence and a final agreement, represents a premium of 21% to SolarCity's Tuesday close of $21.19. A bid would be subject to approval of a majority of "disinterested" stockholders in both companies, with Musk and Antonio Gracias, like Musk a board member in both companies, recusing themselves from voting on the proposal at Tesla and SolarCity board deliberations.
Tesla said it was disclosing the bid publicly because of Musk's capacity as a shareholder in both companies but said it intends to proceed with the bid "only on a friendly basis." SolarCity in a regulatory filing said it would evaluate the proposal carefully, with CEO Lyndon Rive telling employees "there are tremendous synergies between these two companies."
Rive and Musk are cousins.
SolarCity is a San Mateo, Calif., provider of solar power systems for homes, businesses and governments, while Tesla is a Palo Alto, Calif., maker of electric cars and residential energy storage systems. Unlike Tesla, which remains a Silicon Valley darling, SolarCity has fallen on hard times of late, with the shares losing more than half of their value in the past 12 months before the Tesla offer.
The solar vendor in May reported a larger-than-expected quarterly loss and issued cloudy guidance for the full year. Famed short seller Jim Chanos around that time predicted financial difficulties for the company this year, including more than $500 million in quarterly cash burn in the quarters to come, and called SolarCity a "subprime" finance company.

Tesla in its blog post said buying SolarCity and adding solar power generation to its suite of products would "complete the picture," offering a vision of the future where customers can drive Tesla cars and use residential battery packs recharged by SolarCity's panels. The company sees opportunities to cross-sell SolarCity panels at Tesla stores and have SolarCity installers work with Tesla residential batteries.
The company said it would be "the world's only vertically integrated energy company." Though Tesla is best known as an automaker, Musk has spoken repeatedly about the potential for energy generation and storage, saying last month at the automaker's annual shareholders meeting that he believed the potential for Tesla's energy storage business could one day exceed demand for electric cars.
The deal, however, is fraught with risk from a Tesla perspective. Musk already has set an audacious timetable for the automaker to begin rolling out its lower-priced Model 3 vehicle, setting a deadline of producing 500,000 vehicles by 2018 and 1 million vehicles annually by 2020. The company earlier this year raised $1.4 billion in a stock sale to fund Model 3 development and production, but analysts have warned Tesla still could need further funding to build out its capacity.
Adding money-losing SolarCity seemingly only would add to the pressure on Tesla's balance sheet, and the integration could distract Tesla management from its auto goals. But Musk, who is also CEO and founder of privately held rocket maker Space Exploration Technologies, or SpaceX, is already one of the busiest CEOs in corporate America, and reducing his responsibilities from two publicly traded companies to one larger one would by some argument give him more time to devote to Tesla.