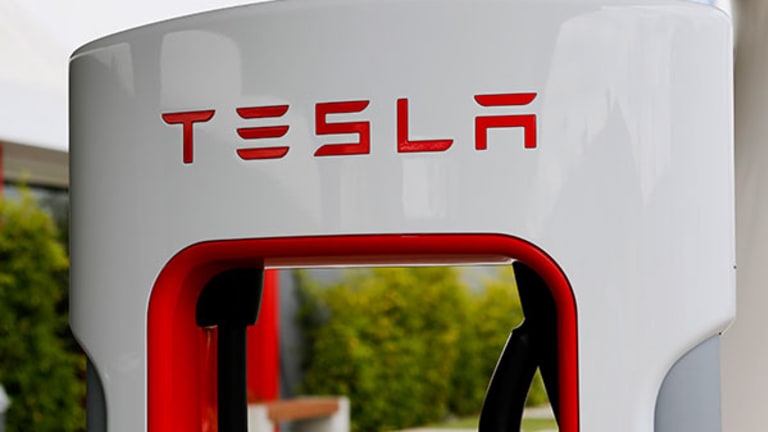 Tesla Motors' Bet on Home Battery Could Pay Off Big Time
The electric-car maker is pitching its energy-storage product to consumers and businesses.
HAWTHORNE, Calif. (TheStreet) -- It didn't matter that Elon Musk was late. Tesla's (TSLA) - Get Tesla Inc Report hangar at the airport here near Los Angeles was rocking and ready for batteries.
The big, hyped unveiling on Thursday night launched the electric-car maker into the energy-storage business with Tesla pinning its hopes on selling millions of its new battery units that can make a home more energy efficient or take it off the grid entirely with solar panels.
"Our goal here is to fundamentally change the way the world uses energy," Musk, Tesla's chairman and CEO, told reporters ahead of the announcement. "At the extreme scale."
In pre-market trading on Friday, shares of Tesla were up 1.4% to $229.10.
The four-foot tall, six-inch thick wall-mounted Powerwall home battery represents a new stage for the 12-year-old company that has yet to turn a profit since its 2010 initial public offering. But it's also a long-term bet that Musk can create a small market and build a profit center for Tesla, said Brian Buchwald, CEO of marketing firm Bomoda.
"It's a big opportunity," Buchwald said in a phone interview.
"The market is incredibly immature, so the question for Elon and Tesla is, do they have the wherewithal and stamina to stay with this for the next five to 10 years?" Buchwald added. "Because it will probably take that long for the market to develop."
The lithium-ion Powerwall units -- which range in price from $3,000 for 7 kilowatt-hours to $3,500 for 10 kwh -- store excess energy produced by solar panels for use when there is little sunlight or stores energy from cheaper, low-demand times for homes on the grid.
The batteries will start to ship this summer in the United States and expand to Germany later this year, and then to Australia.
"Based on initial indications of demand, I don't think we're going to have too much trouble selling it," Musk said, adding that production could be ramped up to a larger scale next year.
But Tesla won't wait for consumers to line up. The company has already pitched its
larger, industrial Powerpack unit to companies such as Amazon (AMZN) - Get Amazon.com, Inc. Report and Target (TGT) - Get Target Corporation Report.
By courting businesses as well as consumers, Tesla could very well be tapping into the "cord-cutting" spirit of people ditching cable TV for Internet streaming, helping energy consumers break up with their utility companies, according to Karl Brauer, an analyst at Kelley Blue Book.
"As solar panels get cheaper and easier to install, the only thing keeping consumers tied to the energy grid is a need for electricity when the sun isn't shining," Brauer said in a statement. "If Tesla can help consumers bridge the moments between abundant sunlight, it could force electric companies to deal with same issue threatening home phone and cable companies."
There is still risk for Tesla. The young company faces competition from the likes of General Electric (GE) - Get General Electric Company Report and Samsung (SSNLF) . Consumers haven't been clamoring for an in-home rechargeable energy-storage battery, and Tesla has yet to produce a mass-market car to go along with its only product, the S model.
"It has not yet shown it can get to large-scale production and large-scale consumption," Buchwald said. "So to a certain extent, he (Musk) is taking his eye off the ball and moving into a market with no real ready consumer."
Musk said he expects the battery business to have a "low but growing gross margin" by the fourth quarter and be profitable by next year.
Like the computer 40 years ago, the Powerwall unit -- though slickly designed and available in six colors -- could take decades for widespread acceptance and need among consumers.
"That's what Elon's betting on," Buchwald said. "Over time, prices will come down, the utility will become greater, and it's something that consumers will ultimately buy."
This article is commentary by an independent contributor. At the time of publication, the author held no positions in the stocks mentioned.