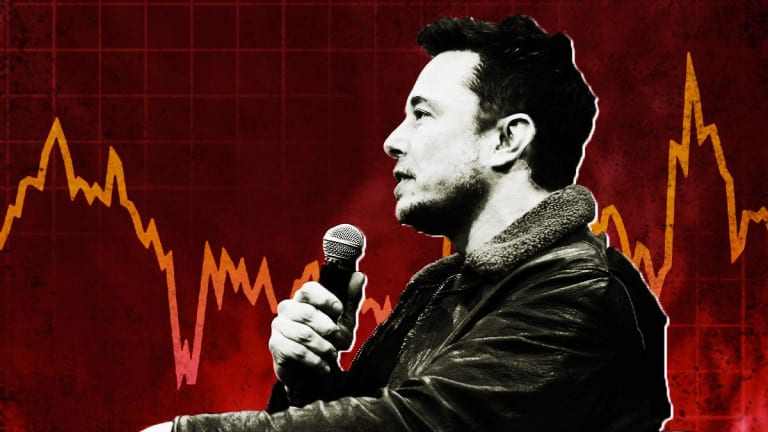 Tesla's Model S and X Shortfall Is More Worrisome Than Its Model 3 Miss
Sales of Tesla's costliest vehicles fell sharply last quarter. Seasonality, a tax credit cut, tougher competition and the Model 3 might all be culprits.
The most concerning thing about Tesla's (TSLA) - Get Tesla Inc. Report Q1 deliveries miss arguably isn't the magnitude of its total shortfall, but the size of the shortfall it saw for its costliest vehicles.
Also worrisome: What Tesla did and didn't share about its profit outlook and capital needs.
On Wednesday evening, Elon Musk's company disclosed that it produced 77,100 vehicles and delivered 63,000 vehicles in Q1. Deliveries, which were hurt by the fact that many Model 3 sedans meant for Europe and China remained in transit following the recent start of Model 3 sales in those regions, fell well short of a FactSet consensus estimate of 76,000 (on Thursday, Musk also made an appearance at his contempt of court case with the SEC). 
Deliveries, which were also likely pressured by seasonality and the halving of the U.S. federal electric vehicle tax credit to $3,750, fell by 31% sequentially. They were still up 110% annually, following last year's big Model 3 production ramp.
As of the time of this article, Tesla's shares are down 7.6% in Thursday trading to $269.50. They're now down 19% on the year.
Q1 Model 3 deliveries came in at 50,900, below a consensus of 54,600. That isn't necessarily a cause for major concern, given that so many Model 3 units were in transit and that the vehicles appear to be off to a strong start in both China and a number of European markets.
More troubling is the fact that total deliveries of Tesla's Model S luxury sedan and Model X luxury crossover amounted to just 12,100. That's far below a consensus of 18,900, and also easily below Q4 deliveries of 27,550 and year-ago deliveries of 21,880. A mix shift towards the Model 3 relative to the Model S and X hurts both Tesla's average selling price (ASP) and its gross margin.
Aside from seasonality and the tax credit cut, tougher competition might have also weighed on Model S and X sales. While the Model 3 handily outclasses rivals such as the Nissan Leaf and Ford (F) - Get Ford Motor Company Report Focus in the sub-$50,000 electric car market, the Model S and X have begun facing serious competition from electric cars launched by the likes of Audi, Porsche and Jaguar Land Rover.
In the case of the Model S, Model 3 cannibalization is likely a headwind. While Tesla has gone to great lengths to point out the ways in which the Model S specs are superior to those of the Model 3, the Model 3 can be had for much less. Moreover, many reviewers and Tesla customers have remarked that they like the Model 3's driving experience better than the Model S'.
In spite of its Q1 shortfall, Tesla is maintaining its full-year deliveries guidance (issued in its Q4 shareholder letter) of 360,000 to 400,000 units. However, given the company's track record when it comes to making good on targets, as well as how much Q1 Model S and X deliveries came short of expectations and the uncertainty surrounding Tesla's recent shift to an online-only sales model, some on Wall Street might have their doubts about whether Tesla will hit that target.
Some on Wall Street are also bound to be wondering whether Tesla will make good on its previously-announced goal of becoming "sustainably" profitable this year. A month ago, while announcing price cuts, the launch of a $35,000 Model 3 and plans to shift to an online-only sales model, Tesla said it doesn't expect to be profitable in Q1, after having reported GAAP profits for Q3 and Q4 of 2018. And in its Q1 deliveries report, Tesla notes its Q1 net income was hurt by its deliveries shortfall and recent price cuts.
Tesla, which a month ago said it would "likely" be profitable in Q2, also offered no profit commentary for time periods beyond Q1. And though the company said it had "sufficient cash on hand" at the end of Q1, that's hardly surprising given that Tesla ended 2018 with $3.7 billion in cash (along with about $12 billion in debt).
The bigger question is whether Tesla will also have "sufficient" cash at the end of future quarters, given its Model S and X sales headwinds as well as its plans to spend about $2.5 billion this year on capital expenditures. If it turns out that Tesla needs to raise additional funds, the company can probably pull it off, given its current $47 billion market cap as well as the financial progress it has made in recent quarters. However, the deal terms probably won't be great.
There's still much to respect about what Tesla has achieved to date -- from its success at becoming a high-volume electric car manufacturer, to its high levels of customer satisfaction and loyalty, to its Gigafactory and Supercharger network investments, to its ability to push the envelope in a number of technology and engineering fields. And with global EV penetration rates still fairly, the company still has a lot of headroom to grow if it executes properly and maintains a reasonably high market share.
However, this is also a company that has long sported a valuation that leaves it with a pretty limited margin of error. Until that margin of error gets meaningfully larger, it's quite understandable that markets would react harshly to numbers such as the ones that Tesla just provided.
Will You Have Enough Money to Retire?
Want to learn about retirement planning from some of the nation's top experts? Join TheStreet's Robert "Mr. Retirement" Powell live in New York on April 6 for our Retirement Strategies Symposium. For a limited time, tickets are available for $99 for this full-day event. Check out the agenda, learn about the speakers and sign up here.