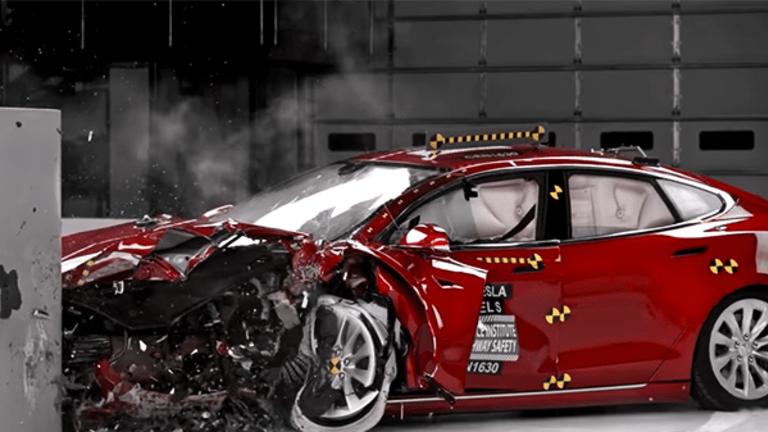 Tesla (TSLA) - Get Tesla Inc Report now has some electrified problems.
The electric car maker led by the big-thinking Elon Musk said Monday evening that it delivered 220 Model 3s during the third quarter. The problem: Musk boasted in August that Tesla would produce 1,500 Model 3s just in September, ramping up to 20,000 a month come December. Overall, Tesla delivered 26,150 vehicles in the third quarter, logging a personal best for sales of the Model S and Model X. 
But the bad whiff on Model 3 deliveries raises two key questions on this stock market darling. One, why in the world is Tesla still trading on a market cap of more than $57 billion? The reason why Tesla shares have skyrocketed 50% over the past year is in large part due to optimism on the Model 3. If Musk can't deliver these cheap electric cars in mass, and keep emerging rivals like General Motors (GM) - Get General Motors Company (GM) Report at bay, the market has to readjust its thinking on Tesla. Bottom line.
And that ultimately raises question two. What is the status of Musk right now?
It seems that nowadays, Tesla is nothing more than a side project Musk. Take for example last Friday, where Musk's latest idea of flying people in rockets from coast to coast blew up Twitter. So did his overall views on space travel and the future of his SpaceX creation (he spoke at a space industry conference). Surely, Musk will be tweeting more about space travel and the hyperloop (and God knows what else -- maybe new SolarCity solar panels that help solve world hunger) in the weeks and months to come. That should remind every Tesla investor of this risk factor buried in the electric car company's annual report:
"We are highly dependent on the services of Elon Musk, our Chief Executive Officer, Chairman of our Board of Directors and largest stockholder. Although Mr. Musk spends significant time with Tesla and is highly active in our management, he does not devote his full time and attention to Tesla. Among other commitments, Mr. Musk also currently serves as Chief Executive Officer and Chief Technical Officer of Space Exploration Technologies, a developer and manufacturer of space launch vehicles."
From the outside, Musk looks increasingly stretched at a time in which all his attention should be on making Tesla profitable. He has an obligation to shareholders to deliver (actual results such as Model 3 deliveries, not just a higher stock price), and whether he is able to fulfill that is a major unknown. It's time he looks in the mirror, acknowledges his true passion (perhaps space travel) and hands the baton off to an outside CEO to run Tesla.
Because let's face it, Musk hasn't done a good job of building his executive bench. Just take a look at the sparse executive team at Tesla.
Meanwhile, you see this Nissan Leaf?
More of What's Trending on TheStreet: