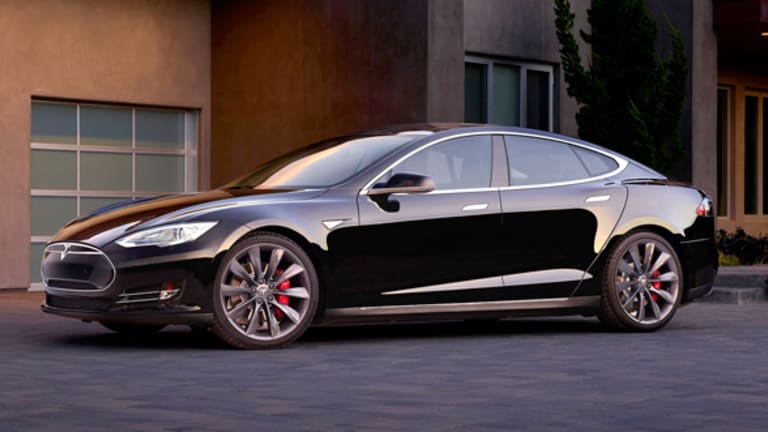 Tesla Demand Reinforces Upgrade, Cramer Says
Investors worried about the automaker's ambitious plans are cheering a vote of confidence from a legendary investor and an upgrade to buy at Goldman.
Goldman Sachs and George Soros are among those buying into the promise of Tesla Motors (TSLA) - Get Tesla Inc Report .
Goldman analyst Patrick Archambault on Tuesday upgraded the Bay area automaker to a buy, seeing a 22% upside to its $250 share price target. Shares of Tesla traded at $211.23 in early trading on Wednesday, up about 3.2%.
Tesla is the subject of considerable debate among investors, with bulls drawn to the audacity of company founder Elon Musk's plan to produce 500,000 electric vehicles annually by 2018 and 1 million annually by 2020 while bears remain skeptical the company has the wherewithal to come anywhere close to that number.
Archambault, in his note upgrading the shares, said that while "the volume targets are ambitious" Wall Street is so fixated on skepticism about that timetable it is losing sight of the company's long-term prospects.
"We do not believe Tesla shares are fully capturing the company's disruptive potential," Archambault wrote in a note that also compares Musk favorably to Steve Jobs, Henry Ford and the Maytag repairman. The analyst also noted that Tesla shares in recent years have seen considerable support when falling below $200, providing at least some hope that there is limited downside to getting in at these levels.
Jim Cramer, TheStreet's founder and manager of the Action Alerts PLUS portfolio, pointed to the strong demand for Tesla's vehicles, irrespective of its ability to meet projections.
"When you can't get a car, there's a hot factor that portfolio managers love," he said. "The action at Tesla makes sense. If you make a product that there's such demand for that you can raise the price, which is the case at Tesla, then it's hard to not recommend the stock." 
That demand, he added, should be compared to "GM (GM) - Get General Motors Company Report and Ford (F) - Get Ford Motor Company Report where there's a surfeit of cars."
Soros, in his latest 13F filing, disclosed the purchase of about $2.15 million worth of convertible notes. It is the billionaire investor's second investment in the company, following a $17 million stake purchased in 2013 and sold a year later.
But the Goldman note seems likely to garner the most attention, providing a fresh spark to investors who since Tesla's early May earnings call have dwelt on the tremendous challenges and capital requirements needed to reach the company's goals. Musk, during a call with investors earlier this month, said that the expedited time line would increase capex spending and likely require some fundraising, with Barclays estimating the company could attempt to raise upward of $3 billion by selling additional shares.
Archambault estimated Tesla can get by with an additional $1 billion in capital, assuming the company will need a total of about $7.5 billion to get the factory up and running. He expects the company to generate more than $5 billion in Ebitda during the ramp-up, and also anticipates the company tapping the remainder of its credit lines. But the analyst also noted that there are "fewer near-term catalysts in 2016" to get investors excited. That could be trouble for Tesla if the automaker, which to date has never brought a vehicle to market on time, falls behind on its plan to begin deliveries of its new Model 3 by the end of 2017.
Archambault acknowledged there are many risks, but countered that any positive news on sales or production of the company's currently for sale Model X "would strongly support the shares."