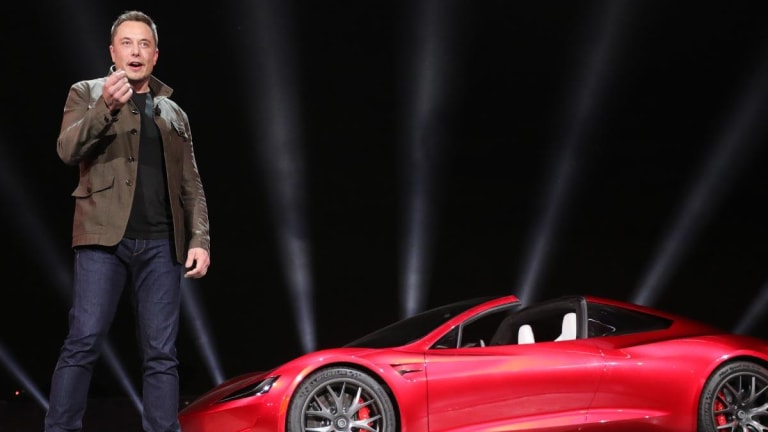 Tesla Jumps After Forecasting Second-Half Profits: 8 Key Takeaways
The electric car maker maintained its guidance for Q3 and Q4 profits, and also forecast a strong improvement in Model 3 margins.
Tesla (TSLA) - Get Tesla Inc Report said the right things about margins and profits, and its stock is getting a large boost in response.
After the bell on Wednesday, Tesla reported Q2 revenue of $4 billion (up 43% annually) and non-GAAP EPS of negative $3.06. Revenue slightly beat a $3.99 billion consensus; EPS was below a consensus of negative $2.88.
Nonetheless, shares rose 9.4% in after-hours trading to $328.99, thanks in large part to the company's remarks about its expected Model 3 gross margins, second-half profitability and future capital needs. Tesla's stock is once more up on the year.
Here are some takeaways from Tesla's earnings report and call.
1) Tesla is Maintaining its Second-Half Profit Guidance
Though Elon Musk's company had a $718 million GAAP net loss in Q2, as well as free cash flow (FCF) of negative $739 million, it still expects to be GAAP profitable in Q3 and Q4. And -- while it's worth noting this covers cash from vehicle and solar financing activities in addition to FCF -- the company forecasts it will "generate positive cash" going forward.
As a result, though indicating it could raise debt in the future to finance its planned Chinese and European Gigafactories, Tesla continues to insist it won't need to raise additional capital this year. The company, which ended Q2 with $2.2 billion in cash and $11.6 billion in debt, predicts its cash balance will grow in both Q3 and Q4.
2) Model 3 Margins are Improving
In spite of the extraordinary steps it took to ramp Model 3 production during the quarter, Tesla's Model 3 gross margin (GM) is said to have been "slightly positive" in Q2 (they were "slightly negative" in Q1), which is a little better than guidance for GM to be "close to breakeven." More importantly, Tesla is predicting GM will rise to about 15% in Q3, and about 20% in Q4, with the help of better economies of scale.
For now, Model 3 GMs are boosted by the fact that Tesla is only selling versions of the car that cost $49,000 or more; the planned start of deliveries for the Standard Battery version of the Model 3 (it starts at $35,000) in early 2019 will likely impact GMs. Nonetheless, Tesla forecasts its Model 3 average selling price (ASP) will remain high for the next several quarters with the help of initial European and Asian deliveries, and that cost improvements will help offset the "normalization" of the Model 3's ASP during the back half of 2019.
3) Tesla Outlined Some Fairly Aggressive Production Goals
Tesla is maintaining its guidance for upping weekly Model 3 production, which reached 5,000 units at the end of June, to reach 6,000 by late August, and predicts it will rise further in the following weeks. And notably, the company says it aims to up weekly output to 10,000 units per week "as fast as we can." That contrasts a bit with Q1 report remarks about getting to 10,000 units per week "in a capital-efficient manner."
And when asked on the earnings call about whether it maintains a goal (first outlined in 2016) to make 1 million vehicles in 2020, Musk didn't affirm the goal, but did claim Tesla has "a shot" at reaching it and that (with the help of the Shanghai Gigafactory) production of 700,000 to 800,000 cars "seems pretty likely." If Tesla, which has missed its share of production goals over the years, pulls that off, it would still represent a giant ramp relative to 2017 output of a little over 100,000.
4) Spending Is Being Reined in... and Tesla Claims Efficiency is Playing a Role
After having cut its 2018 capital spending guidance by over $400 million in May, Tesla is cutting it by another $500 million. The company now expects to spend less than $2.5 billion on capex this year, which compares with 2017 capex of $3.4 billion. And after having carried out job cuts last quarter, Tesla says its non-GAAP operating expenses "should remain relatively stable" at Q2 levels during the rest of 2018 after backing out restructuring costs.
On the call, Musk and other Tesla execs went to great lengths to talk about how they're making cars in a more cost-efficient manner, and thus don't need to spend as much on capex as once expected to grow production. Musk also suggested that Tesla will only need "a fraction" of the capex that was needed to grow weekly Model 3 output from 0 to 5,000 units per week to get from 5,000 to 10,000, and that it will need much less capex to build its Shanghai Gigafactory -- he indicated around $2 billion will be needed to make cars at a 250,000-vehicle annual rate -- than was needed for its Reno Gigafactory.
5) Model S and X Sales are Humming Along
Tesla reiterated a goal of delivering a combined 100,000 Model S and X units in 2018, and claimed it saw a record number of Q2 Model S and X orders last quarter. For now, the Model 3 doesn't seem to be too badly cannibalizing Model S demand.
Tesla did note higher Chinese import tariffs will have some impact on its Chinese car scale. But the company insisted its global deliveries won't be heavily impacted.
6) Energy and Services Remain Margin Headwinds
Tesla's Energy Generation & Storage business had a GM of just 11.8%, which is down from 2.9% a year earlier. The segment's revenue rose 31% annually to $374.4 million, but that's below a $418 million consensus. Powerwall and Powerpack battery system sales continue growing, but solar sales remain under pressure.
Tesla's Services & Other segment, whose margins are pressured by (among other things) the free Supercharger network use many Tesla owners enjoy, had a gross margin of negative 43% on revenue of $270.1 million (up 25%). Tesla does promise that Services & Other will have a smaller negative margin by year's end, as used car sales, repairs and other revenue streams continue growing.
7) Model 3 Buyers Include Many Former Owners of Cheaper Cars
On the call, Musk said that the top five non-Tesla cars being traded in for the Model 3 are the Toyota Prius, Honda Accord, Honda Civic, Nissan Leaf and BMW 3-series. With the exception of the 3-series, those cars are all markedly cheaper than the most inexpensive Model 3 version available today. "[T]hat's promising from a market access standpoint," Musk noted.
8) Elon Musk was More Polite This Time Around
Musk made a point of apologizing on the call to Bernstein's Tony Sacconaghi, one of the analysts whose questions he refused to answer on the Q1 call. And more generally, he offered polite -- if at times, long-winded -- responses to tough financial and operational questions.
TheStreet's Eric Jhonsa and Bret Kenwell previously covered Tesla's earnings report and call through a live blog.