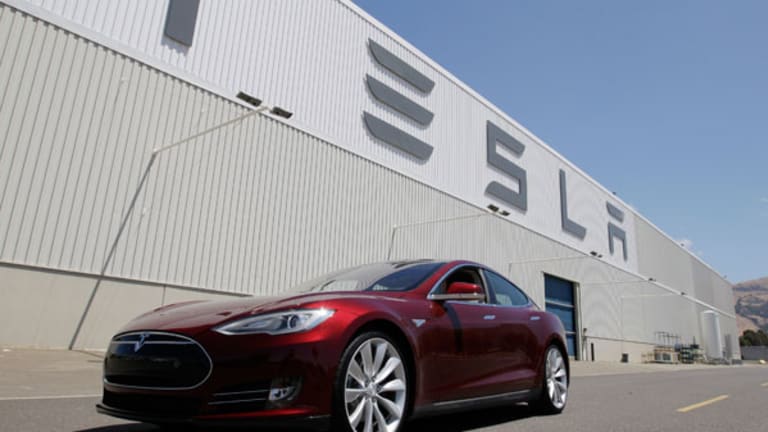 Tesla's Biggest Victory Yet (Update 1)
Tesla is joining two Nasdaq-related ETFs, starting next week. Not only does this give credence to the company, but also to the electric car market.
Updated from 8:32 a.m. EST to provide analyst comments in the twelfth paragraph.
NEW YORK (
) -- First,
Tesla Motors
set out to revolutionize the
Now, it's revolutionizing the ETF business.
Late on Monday
Nasdaq
announced that the Palo Alto, Calif.-based company will be joining its NASDAQ-100 Index, as well as the NASDAQ-100 Equal Weighted Index prior to the beginning of trading on July 15, 2013. Tesla will replace
Oracle
(ORCL) - Get Oracle Corporation Report
, which is joining the
New York Stock Exchange
.
Tesla shares were higher in early Tuesday trading following the announcement, gaining 3.08% to $125.35.
This announcement solidifies the coming of age of the electric car and the Model S, and most importantly, Tesla itself.
The company could not be immediately reached for comment for this story.
It's pretty incredible that a company that's only 10 years old has joined the Nasdaq 100. As
CNBC's
Herb Greenberg points, Tesla joined the Nasdaq 100 faster than
Netflix
(NFLX) - Get Netflix, Inc. (NFLX) Report
, and on a similar trajectory to
Amazon
(AMZN) - Get Amazon.com, Inc. Report
.
Having test-driven a Model S, I can say without a shadow of a doubt, it's the most incredible driving experience I've ever had. The interior of the car is immaculate, and has every gadget and toy you could possibly want. Drivers can go from 0 to full torque instantly. It's truly an experience like no other, and speaks to the innovation that CEO Elon Musk and Tesla have incorporated into their vehicles.
Tesla's incredible run this year (it's now a $14 billion market cap company) is fueled not only by the fervor for its cars, but surprise at the company's achievements. There was an epic short squeeze earlier in the year, as shorts cried in pain when Tesla announced it was profitable for the first time ever. Then, the company
raised capital
to take advantage of the high stock price, and the stock went even higher! It's been nothing short of an incredible run for Tesla in 2013, and this latest bit of news adds further credence to the story.
data by
Demand has been so high for the Model S that the company raised global deliveries guidance on its last
. It now expects to deliver 21,000 vehicles this year, up from a prior goal of 20,000 cars.
Not only are Tesla fans showing interest in the product, but so is the general public.
Consumer Reports
gave the Model S a near-perfect score of 99, citing the car's power, handling, and interior.
Analysts are falling over themselves to
on Tesla. One analyst went so far as to call Tesla
, behind
Ford Motors
(F) - Get Ford Motor Company Report
,
General Motors
(GM) - Get General Motors Company (GM) Report
and
Chrysler
. The hype surrounding this company is approaching, and in some cases, has surpassed
Apple
(AAPL) - Get Apple Inc. (AAPL) Report
levels. Judging by the results, it's clearly warranted.
Not everyone believes the hype, though. Bank of America Merrill Lynch analyst John Lovallo, who rates shares "underperform" with a $39 price objective, believes the optimism surrounding the company might be unwarranted. "
We estimate that a $120 share price implies over 321K vehicle sales in 2020, which is a full 300K units higher than our current 2013e and would represent a 7-year CAGR of 48%," Lovallo wrote in the note. Current estimates imply Tesla would be able to achieve EBIT (earnings before interest and taxes) margins of 12.5% in 2020, nearly 380 basis points more than its closest competitors, BMW, Mercedes, Audi, Bentley, and Porsche, generated in 2012, and more than 400 basis points better than the group is expected to generate in 2015. "While nothing is impossible, particularly with Elon Musk at the helm, we believe these assumptions warrant a healthy degree of skepticism," Lovallo wrote.
Tesla's story has come an incredibly long way over the past seven months. It's raised 2013 guidance based of demand. Musk has seemingly become the next Steve Jobs, with his ability to cater to fan boys, investors and the media alike. Lastly, the company is taking the
, and revolutionizing the automobile market faster than Henry Ford when he came up with the assembly line.
--
Written by Chris Ciaccia in New York
>Contact by
.