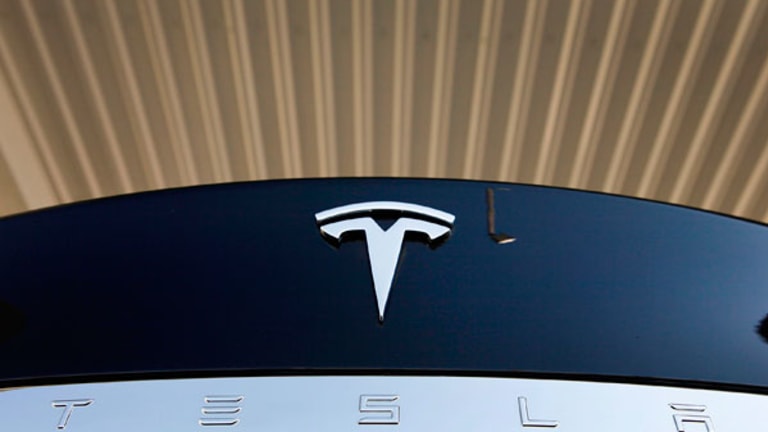 Tesla Is Shaking Things Up in New Jersey
Tesla is appealing a rule that bans direct car sales to consumers. A win by Tesla could have far-reaching effects.
Tesla is appealing a rule that bans direct car sales to consumers. A win by Tesla could have far-reaching effects.
NEW YORK (TheStreet) -- Tesla Motors' (TSLA) - Get Report appeal of a ruling in New Jersey that bans the car maker from selling its luxury electric vehicles directly to consumers in the state shows Tesla is intent on shaking up the car industry, potentially hurting sales of traditional gas-powered cars.
In a claim filed Wednesday, Tesla said that the ruling last month by New Jersey's Motor Vehicle Commission was antiquated and anti-competitive. It claimed that states were bowing to the pressure of car dealers.
According to Tesla's claim, if car dealers had to sell Tesla vehicles, then they would have to explain why electric cars are better than gas-powered cars, which would be a conflict of interest considering franchise car dealerships get most of their revenue from gas-powered vehicles.
James Appleton, president of New Jersey's Coalition of Automotive Retailers, says that Tesla wants full control over the distribution of its cars, potentially eliminating all its competitors. He said that franchises promote competition, benefiting the consumer.
The fight against Tesla's direct-sales method is not limited to New Jersey. Texas and Arizona also bar Tesla from setting up retail locations, while auto-dealer lobbying groups in New York and Ohio have approved measures that limit the number of retail locations Tesla can open up.
The fight against Tesla looks to be rooted in fear as the company's cars appear to be going from a fad concept to a disruptive force in the auto market. Tesla's cars sell for $60,000 and up, but the company plans to develop its own lithium batteries, which should cut the price of its cars to around $30,000 or less, moving the cars into the mass market.
As younger customers gravitate toward smaller, electric vehicles, the old guard in the car industry is relying on regulation to stop Tesla before it becomes too large. But if Tesla can win its case in New Jersey, the sales of its electric vehicles could grow, denting sales of gas-powered cars.
At the time of publication, the author had no position in the stock mentioned.
This article represents the opinion of a contributor and not necessarily that of TheStreet or its editorial staff.